As expected, Annaly Capital Management (NYSE:NLY) announced today that it has cut its quarterly dividend for the fourth consecutive quarter, declaring a dividend of $0.55 per common share for Q1 2012. The dividend is payable April 26, 2012, to common shareholders of record on March 30, 2012. The ex-dividend date is March 28, 2012.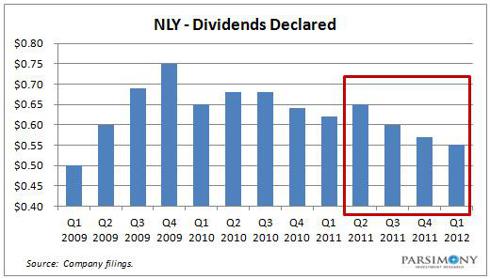 Many Wall Street analysts were predicting a dividend cut of $0.05 -$0.07 per share, so the $0.02 cut is actually a positive announcement. Investors seem to agree as the stock is up over 1% after hours. Based on today's closing price ($16.11), the adjusted annualized yield is 13.7%.
Despite the negative trend in dividends, we still believe that NLY is one of the best run mortgage REITs and we think the company will continue to prosper in 2012.
Prudent Risk Management Has Driven Dividend Reduction
NLY management has been slowly reducing its leverage (see chart below) which has been the main driver of the dividend reduction. While lower leverage leads to lower profits (and dividends), it also reduces risk. We view this as a positive risk management technique, which is why we are still bullish on NLY.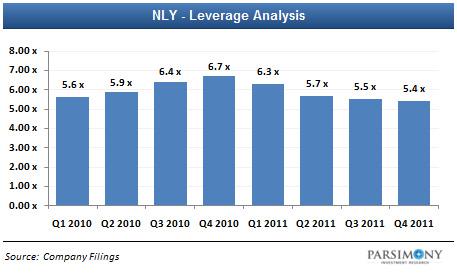 As CEO and President Michael Farrell commented in the Q4 earnings release, the company continues to focus on risk management:
Participants in the global financial system continue to grapple with many issues in the market: sovereign credit risk here and abroad; a relatively weak global economic outlook; the uncertain pace and extent of regulatory reform; the potential policy decisions of central banks; and reduced investment return expectations in an extended period of low interest rates. In this environment, I believe that it is best to be conservative in our approach to risk and performance. It is intended not only to protect our portfolio but also to prepare us to take advantage of opportunities as they arise.
Annaly's CIO, Wellington Denahan-Norris, added:
During the quarter, in our portfolio we saw prepayment speeds increase slightly, took advantage of market opportunities to harvest gains, and maintained a prudent level of leverage.
In other words, NLY is taking advantage of the recent run-up in agency MBS to take profits (and they aren't chasing the market just to put money to work). This is comparable to an equity fund manager taking profits if they feel stocks are overbought and due for a pullback.
NLY is raising cash by reducing leverage. If agency MBS prices come in, as management expects, NLY will have the opportunity to add to its portfolio at lower prices (which could lead to dividend hikes down the road).
The Current Environment is Ideal for Agency mREITs
We think agency REITs continue to be a suitable investment for investors seeking good risk-adjusted yield. Agency mortgages are guaranteed by government-sponsored entities (implying limited credit risk). Conversely, non-agency securities do not carry a similar implied guarantee, making them inherently more risky due to the higher relative credit risk.
Even though interest rates are higher than they were three months ago (i.e., the yield curve has shifted to the right), the current yield curve is still very steep, which is an ideal environment for mREITs.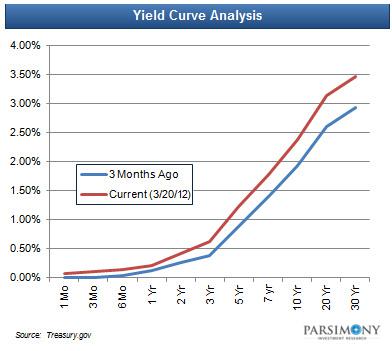 Contrary to popular belief, higher interest rates are not necessarily a bad thing for mREITs. A mortgage REIT's principal business objective is to generate income for distribution to its stockholders from the interest rate spread (i.e., the spread between the interest income received on its mortgage-backed securities and the cost of borrowing to finance its acquisition of mortgage-backed securities). In other words, the slope of the yield curve is one of the main factors that drive mREIT profits.
As we have stated in previous articles, we think it is prudent to diversify mREIT holdings as managers deploy different strategies within the complex.
Below is a list of other agency-focused mortgage REITs for investors to consider:
Agency REITs with bias toward Fixed Rate Mix
Annaly Capital Management
American Capital Agency (NASDAQ:AGNC)
Agency REITs with bias toward Floating Rate Mix
Anworth Mortgage Asset Corp. (NYSE:ANH)
Capstead Mortgage Corp. (NYSE:CMO)
Hatteras Financial Corp. (NYSE:HTS)
We are long-time holders of NLY and AGNC, which continue to be our two favorite mREITs in the space.