Molycorp Inc (MCP) is the only rare earths producer in the western hemisphere. MCP owns the largest rare earth mining and manufacturing facility outside of China. MCP's competitors, Avalon Rare Metals Inc (NYSEMKT:AVL), and Rare Element Resources (NYSEMKT:REE), do not yet have mines in the production phase.
The rare eaths story has its fair share of believers and doubters. SA contributor Simit Patel recently wrote a compelling piece about the bullish outlook for rare earth stocks. However, not everyone shares such a rosy outlook for the rare earth industry, SA contributor Investanomics wrote a piece in late 2011 highlighting the negatives for rare earth stocks and MCP specifically.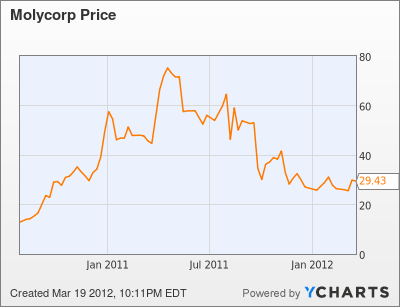 In its brief history as a public company, MCP shares have been extremely volatile. MCP offers both high risk and high reward. For this reason, I believe MCP is a perfect candidate for a LEAPS strategy. Buying LEAPS on MCP instead of MCP stock limits the amount of risk taken while allowing for significant upside if the bullish thesis plays out.
Strikes & Prices
January 2014 Calls
Strike, Asking Price
35: $4.95
40: $3.95
45: $3.05
50: $2.75
55: $2.29
Conclusion
If the bullish thesis plays out, which looks more and more likely after the U.S. filed a complaint with the WTO, owners of the January 2014 LEAPS will make a significant amount of money as MCP will likely reach a new all-time high above $80 per share. However, if the bullish thesis on rare earths does not play out investors will lose only the premium paid for the LEAPS.
Disclosure: I have no positions in any stocks mentioned, and no plans to initiate any positions within the next 72 hours.