Back in late September I reviewed four stocks in the LED semiconductor sector, arguing for a buy, two holds and a strong sell in the industry. After the publication of that piece, the sector continued to struggle, following a 2011 trend that saw the stocks lose 50% or more of their value. But 2012 has been far more kind, with all four stocks up 35% to 60% year-to-date
Click to enlarge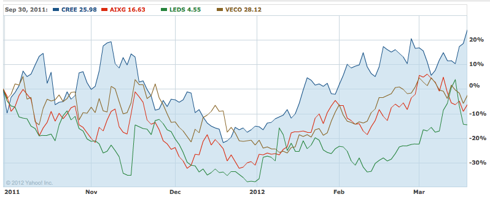 Click to enlarge
CREE in blue; AIXG in red; LEDS in green; VECO in brown; chart since 9/30/11 courtesy Yahoo Finance.
Ironically, 2012 has brought a more optimistic perception of the sector's stocks, but that improvement in sentiment has nothing to do with earnings strength. All four companies have missed Wall Street consensus in their most recent reports, yet all four have seen recent rises owing largely to analyst upgrades.
The most notable was Deutsche Bank's upgrade of Veeco Instruments (NASDAQ:VECO) and Aixtron SE (NASDAQ:AIXG) last week, which boosted the stocks by 13% and 10%, respectively. Industry leader Cree (NASDAQ:CREE) and smaller chipmaker SemiLEDs (NASDAQ:LEDS) received "sympathy rallies" as well. It appears that the recent weakness - particularly on the top line - at chip makers Cree and SemiLEDs, and equipment manufacturers Veeco and Aixtron, is now being construed by Wall Street as signs that the bottom in the industry is at hand.
A supply glut of LED chips has savaged pricing power and lowered capacity utilization, leading to the decline in stock prices over the past year. (Despite recent strength, the four stocks are still trading between 35% and 75% off their 52-week highs.) The potential in the business - some estimate LED lighting alone as a $50 billion industry - makes these stocks potentially high-reward. But the current supply issues, and the political exposure of the business - whether through China's ban on incandescents or the Republican Party's blockage of the same ban here in the U.S. - make the stocks volatile and high risk. Below, an updated look at four of the sector's key stocks, and their prospects going forward:
SemiLEDS: In September, I recommended a short in LEDS, and indeed the stock quickly fell from $4.03 to $3 per share over the next five weeks. It spiked some 31% on news of the Chinese incandescent ban - the company's joint ventures and subsidiaries have tremendous Chinese exposure - before retreating again to multiple support at the $3 per share level. But the stock has gained over 50% since early February, in coordination with rising analyst optimism toward the sector.
The recent move does nothing but provide a stronger entry point for a short of LEDS stock. LEDS, quite simply, appears headed for possible bankruptcy. Revenue in the fiscal first quarter was barely half of sales in the year-prior quarter (though it was up 27% sequentially.) The company burned $9.5 million in the quarter; it has burned $28.6 million over the last three quarters after raising $95 million in its initial public offering in December 2010. The company expects a similar loss in its fiscal second quarter, ending in February, with gross margin again negative, and likely further cash burn eroding the company's balance.
With prospects dimming (no pun intended), the company seems to be pinning its hopes on subsidiary China SemiLEDs, in which the company owns a 49% stake. Per the most recent 10-K:
Given the significance of the China market as part of our business strategy, our net income growth and overall growth prospects are significantly dependent on the success of China SemiLEDs.
LEDS's share of China SemiLEDs's loss was $3.1 million in the year ending August 2011. For the fiscal first quarter, its share was another $1.5 million. Why? From the most recent 10-Q:
The increase (in loss from the prior quarter) was primarily due to the increase in the net loss reported by China SemiLEDs, as it commenced commercial production, began to incur research and development expenses and a higher level of costs and expenses beginning in April 2011. China SemiLEDs is still in an early stage of business development and has not had any material sales to date.
In short, according to its own filings, SemiLEDs is a publicly traded U.S. company which has burning roughly 12% of its current cash balance each quarter since its IPO, an offering that made little sense to analysts in the sector. In response, its plan for future success is, by its own admission, reliant on a minority interest in a business which has yet to make a single material sale in two years of operation (the company was formed in January 2010), whose co-owners are state-run companies controlled by a single-party government, and whose industry is dominated by Communist Party bureaucrats. And yet this stock is trading at over 4.5 times trailing twelve-month sales. LEDS seems an awfully huge risk to take. With so little possibility of movement on the horizon, a short sale seems like the logical near-term play. Certainly, investors bullish on the sector's potential can find a better, safer and more realistic vehicle.
Cree and Aixtron SE: Both Cree and Aixtron have survived the recent slowdown, maintaining profitability despite facing headwinds in the second half of 2011. Both companies offer solid balance sheets, with each holding cash equal to roughly 20% of their market capitalization, with no debt. As such, unlike LEDS, both stocks appear capable of riding out the near-term storm.
The question is whether the valuation of the two stocks matches the risks and rewards in the potential LED market. Aixtron CEO Paul Hyland was emphatic on the most recent conference call that demand for his company's equipment would pick up by next year. "There is no doubt in my mind; by 2013, LED lighting will have arrived," he told listeners. Cree Chief Chuck Swoboda agreed on his company's call: "Our business outlook remains very optimistic," Swoboda said in his prepared remarks.
The problem is, as CLSA's Mark Heller noted last month, that even a rebound in demand may not improve margins at the two companies to earlier levels. Even if analysts are predicting a near-term bottom in the sector, their bullishness is muted. Indeed, three of the analyst upgrades that have helped move AIXG up 25% since March 1st (at Avian, Canaccord Genuity and Citigroup) were from "Underperform" to "Neutral," hardly a ringing endorsement.
And, of course, valuation concerns remain. CREE trades at 21 times forward earnings; AIXG nearly 53 times its consensus 2013 earnings of just 36 cents per share. Relative to each company's multi-billion dollar market values, free cash flow has been miniscule over the past few years, requiring substantial, multi-year top and bottom line growth based on current metrics. Given the headwinds, and the uncertainty, facing the industry, that growth is hardly assured, and these valuations represent substantial risk.
Most importantly, given the gains year-to-date - 46% for CREE, 47% for AIXG - potential investors in either stock should seriously consider the likelihood of a better entry point. As noted, earnings reports in January and February were weak all around, and the stocks have made significant gains based on single upgrades and downgrades by analysts of other stocks in the sector. With the VIX at a multi-year low, and option premiums reduced, hedging strategies are less effective as well. At current levels, CREE and AIXG deserve a look, but not substantial investment capital.
Veeco Instruments: VECO's stock price has held up well since September, with its 14.2% gain only slightly behind the broad market's performance. Unfortunately, the company's earnings projections have not shown the same type of resilience. Consensus earnings estimates for 2012 have been slashed to $1.15 per share (non-GAAP) from $3.57 per share in September. (The most pessimistic of 21 analysts at that time still projected the company would earn $1.80 per share this year.) 2013 consensus of $2.11 per share is down from an estimate of $4.89 a year ago. The downward revisions are projected to come from serious weakness on the top line. The consensus 2012 revenue figure has been nearly halved, from $1 billion to $540 million. The company would be hard-pressed to disagree with Wall Street. Its own first quarter guidance represents almost an exactly 50% drop year-over-year at the midpoint.
VECO faces the same struggles that its fellow players do. But its valuation, and its recent history, should provide more confidence to investors. VECO earned $5 per share in 2011 on a non-GAAP basis. Free cash flow was 8% of its enterprise value that year, despite severely negative working capital adjustments. In 2010, the company generated $184 million in free cash, nearly one-quarter of the company's current enterprise value.
Unlike CREE and AIXG, who must not only survive the downturn but then create high levels of growth, VECO need only rebound to provide solid returns at its current valuation. Its $12.48 per share in net cash - 40% of current market capitalization - provides downside protection and perhaps, another stock buyback program. (The company repurchased $154 million worth of stock in the third quarter of 2011. Unfortunately for VECO investors, the average price paid was $38.63 per share, still well above the current price.) The company has dissolved an unprofitable solar business, moved to limit expenses, and prepared itself for lean times ahead. If it can maintain its profitability, generate cash and meet its already-depressed expectations, VECO looks best-positioned to prosper if and when the LED sector finally emerges from its currently troubled state.
Disclosure: I have no positions in any stocks mentioned, and no plans to initiate any positions within the next 72 hours.