Shopper beware! There is an error in the technology supermarket aisle. The market has mispriced Google (NASDAQ:GOOG) and Apple (NASDAQ:AAPL). These goods are badly mislabeled: Google has been marked up; Apple remains underpriced. The smart shopper recognizes the mart's mistake. It's easy to spot: Google trades at a higher multiple than Apple despite the iCompany besting Google in earnings and revenue growth.
As evidence, here's the upside down valuation: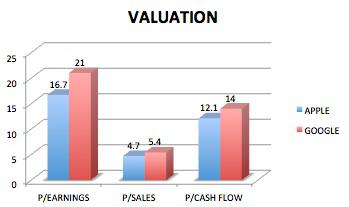 Prices are mislabeled: Who bungled the labeling?
Expensive goods deliver more -- a better product, more nutrition, a tastier meal. Apple deserves a premium price: It has outperformed Google in yearly revenue growth for years. Google's growth pales by comparison.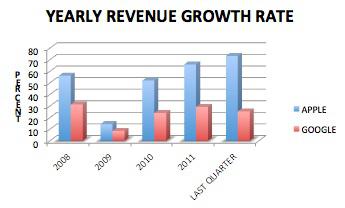 Apple trounces Google's earnings growth. Apple's earnings have charged ahead. In contrast, Google has experienced decelerating earnings growth.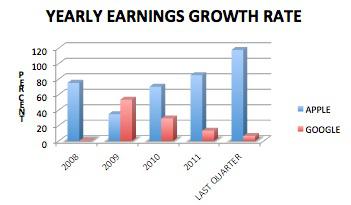 Apple's return on equity has been climbing year after year reaching a stratospheric 46%, well-above Google's.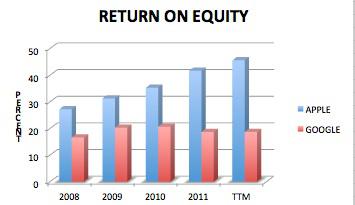 The market is mispricing Google and Apple. It is assigning a higher valuation to Google despite Apple's greater growth and return on equity.
With Apple's dividend launch, Cook & Company look all the more appetizing compared to Google's zero dividend policy.
Normally an error of this magnitude doesn't last: It gets corrected. However, Google has been valued more than Apple for most of the last 9 years. A crazy mistake that has lasted too long; finally, Apple is closing in on Google's valuation.
My prediction: Apple will be assigned a higher value than Google by year end as shoppers realize a bargain when they see one. Apple is still way too cheap: That's why shopping carts have been loading up.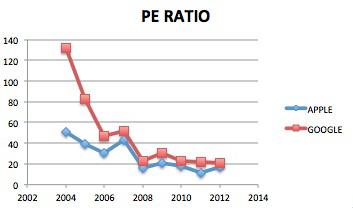 Disclosure: I am long AAPL.