Industry Leader Qualcomm (NASDAQ:QCOM)
Qualcomm is the innovator of code division multiple access technology, a key communications standard used in wireless networks. The company has leveraged its CDMA expertise into the semiconductor market, where the firm is a key supplier of chips to wireless handset makers and also generates royalty revenue by licensing its intellectual property. The firm is also the world's largest wireless chipmaker, supplying many leading handset makers with cutting-edge processors.
Essentially, phones are unable to connect to the CDMA network without paying a royalty to the company; Qualcomm's licensing arrangements with virtually every handset maker allow the firm to collect about 3%-5% of the total price of each handset unit sold. Qualcomm is poised for strong licensing revenue growth and improved profitability during the next several years, as all 3G (third-generation) wireless networks use CDMA technology. Going forward, Qualcomm also has key patents that are used in all 4G technologies, such as Long Term Evolution (LTE).
The company's wireless based and chip business has been successful in both basic handsets and smartphones, but Qualcomm should see healthy growth as the shift toward high-end smartphones requires more powerful- and higher priced- applications processors from Qualcomm and others. Furthermore, Qualcomm's processors are well-positioned to capitalize from the emergence of PC-like tablets. Qualcomm benefits from a more favorable chip product mix toward high-end Snapdragon processors, contributions from recently acquired Atheros, and healthy licensing revenue driven by higher handset average selling prices as smartphones become a greater proportion of the overall handset industry.
Risk and Qualcomm
But remember not all the moves Qualcomm has made have been successful. The investment in mobile TV, branded as FLO TV, was a noteworthy flop. Also, the wireless processor and chip industries are quite competitive, and Qualcomm will have to fend off other large chipmakers such as Broadcom (BRCM), Texas Instruments (NYSE:TXN), and Intel (NASDAQ:INTC) in the handset and tablet space in the years ahead. Finally, the company has invested in several new ventures and there is no guarantee that these projects, such as the company's Mirasol mobile display unit, will work out.
Latest from world of QCOM
"Qualcomm chips are in the latest iPads and iPhones from Apple (NASDAQ:AAPL), based on teardowns of those machines, since Apple recently chose Qualcomm over Intel as a supplier of communications chips, according to Barron's." In fact the 3G and 4G LTE wireless chips of all iPads and iPhones, that include baseband chip and transreciever chip, are QCOM chips. Even in latest iPad, the A5X processor is manufactured by QCOM.
Other customers include HTC, Nokia (NYSE:NOK), Samsung, and Motorola (MOT), and chipsets for video and graphics could drive Microsoft's Windows 8 tablets when those Microsoft products reach the market, the investors' weekly said.
The revenue has grown by 36% in FY 2011 and the expectation for FY2012 growth is at 23%. But based on the recent reports from Barron's the growth might end up exceeding 30%. Barring any unforeseen event, QCOM will continue to generate stellar earnings for the anticipated future.
Valuations
So based on the above information, I believe the company will earn more than the earlier estimate of 3.75$ for FY 2012. And just going by the forward P/E of 20, I am looking at a price target of 75$+. Over last 5 years, the P/E of QCOM has ranged from 13-25.
To get a Discounted Cash Flow valuation of the company, I use 36% revenue growth for 2011 and 30% for 2012. I assume, on the conservative side, that the company will grow 5% on average from 2013 to 2016. The operating margins are assumed to be 32% for 2013 and 30% thereafter. Considering 9% as cost of equity, I am looking at a fair value of 70-73$. The reasons for such low wacc are almost zero debt, earnings stability, low beta of 1.09 and cash flow yield of 5%.
Weekly Charts of QCOM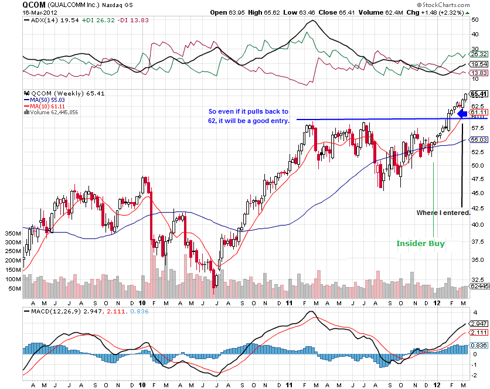 Based on the above chart a pullback to $62.5-63.5 should be a good entry point. If you plan on making this move, please set a stop loss of $57.5. $59 mark should provide strong support. Qualcomm is a worthwhile investment with price target up to $75.
Let's look at the earnings and sales numbers over the past few years.
Year
EPS
High ($)
Low ($)
2007
2.01
47
35
2008
2.25
56
28
2009
1.91
48
32
2010
2.46
50
31
2011
3.2
59
45
2012
3.75
2013
4.14
Last 4 Quarters
EPS
% Change
Sales (million)
%Change
Fund Owners
Q4
0.86
46%
3870
45%
2647
Q3
0.73
28%
3623
34%
2713
Q2
0.8
18%
4117
39%
2805
Q1
0.97
18%
4681
40%
2883
P/E
19
P/E 5 Year Range
13-25
Earning Growth
12%
ROE
23%
Cash Flow/Share
3.85
R&D Expense of sales
20%
Debt
0%
Beta
1.09
The above numbers are pretty enticing compared to the size of the company. It seems that management clearly knows what it is doing. QCOM is truly riding the wave of smartphones and tablets in the correct direction. The icing on the cake is the number of funds that are adding QCOM to their portfolio is going north.
Disclosure: I am long QCOM.