When the market is acting like it has been since the beginning of the year, it is easy to get carried away based on momentum with no regards to the fundamentals. We look at one of the best performing stocks of 2012, Sears Holdings Corporation (NASDAQ:SHLD), and present a few reasons why we believe Sears is a good candidate to short. If you do not believe in shorting, please do yourself a favor by at least staying away from this stock by all means.
Stock Run: SHLD has more than doubled since the beginning of the year. A lot of focus has been on Apple's (NASDAQ:AAPL) paraboblic run but that is backed up by a solid business and a tremendous quarter. Sears has been going up purely based on short squeeze, speculations and manipulation. History has too many ugly examples of how such undeserving runs end.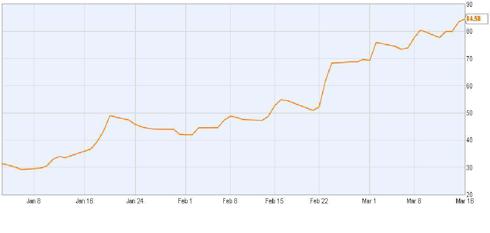 Click to enlarge
click to enlarge
Personal Experience: People familiar with our articles know we advocate Peter Lynch's "Buy what you know" rule. And in the case of Sears, we translate that into "Short what you do not like". Our family members visit Sears frequently and we couldn't help notice the lethargy in the stores as the customer service was appalling to say the least. We took a family portrait and when it was finally delivered to us, it was way past the date we were promised delivery. Let us not even get into its in store pickup mess. On a funny note, we found it ironic that we had to search around for a cart in a store with more employees than customers.
Clear Signs Of A Struggling Business: On top of existing plans to shut down lots of stores, Sears just announced plans to close 62 more stores. While one might think a company might also turn around in such situations, the increasing number of shut downs is staggering in this case. It can be seen as a cost cutting step but it's also a clear sign of conceding its share to the rivals and throwing in the towel.
Financial Outlook: Just take a look at this page and one would lose count of the number of red alerts here. Even in this hyper-positive market, Sears' target price from various analysts is about 1/3rd of its current price. And if you still need more reasons to be concerned about numbers, take a look at this recent piece from SA contributor Paulo Santos.
Alternatives: This is not a direct reason to short Sears but those who are looking for stocks to invest in this sector/industry can find much better alternatives like J.C Penny Company (NYSE:JCP). While JCP has had its own share of issues, the presence of Ron Johnson offers hope to investors. While investors wait for Mr. Johnson's magic, the stock pays a dividend of 80 cents per share, yielding just above 2% at current PPS.
Conclusion: With the market reaching various landmarks as indexes reach multi year highs, we believe a pull back is due to happen. And when it happens, only the fittest would survive and by all the means shown above, Sears is not a good candidate to hold onto. Over the years, one of Sears's mottos was "Shop at Sears and Save." If one were to use the motto today, it must read "Shop at Sears and Save Us."
Disclosure: I am long AAPL.
Additional disclosure: We would be placing an order to short SHLD as soon as shares are available to short. Right now, broker says shares aren't available.