By G C Mays
Mosaic (MOS) recently announced its intent to release its third quarter fiscal year 2012 earnings results on March 28, 2012. Back in January I wrote an article entitled, "Mosaic's Q2 Yields Higher Earnings, But Q3 Customer Slowdown Looms". Did that slowdown occur? If so, what impact will it have on earnings.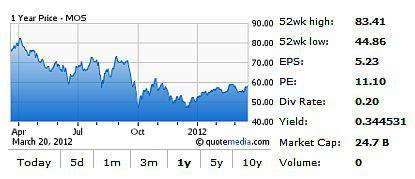 Potash
Tons of potash sold during the company's fiscal 3rd quarters over the last couple of years have been flat. This year's mean estimate of 1.35 million tons sold would be 27% below last year's total. Production was also slashed late in the third quarter so the company will most likely fall short of its goal of producing at 80% of operating capacity during the quarter.
Click to enlarge: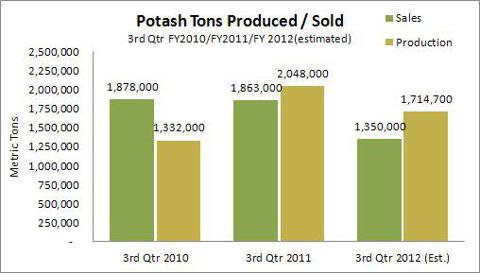 a
Source: The Mays Report
During the company's second quarter conference call company management said they had no plans to curtail production due to already low inventories. However, on February 3rd the company announced its intention to cut potash production by 20% for the next 4 months as distributors were still delaying purchases to draw down existing inventories. Neither the production cuts or delayed purchases have had a material impact on selling prices. Potash prices are roughly flat compared to the second quarter when the average selling price was $440 per ton, which is near the mid to low-end of the company's 3rd quarter estimates.
Despite rising inventories and reduced production, potash prices look like they held up well during Mosaic's 3rd quarter, compared to phosphate.
Click to enlarge: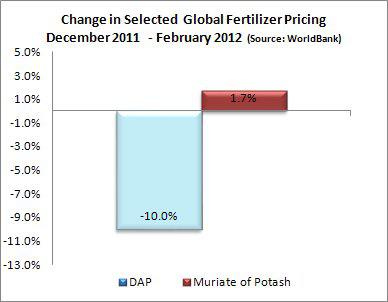 Source: The Mays Report
The company has reduced its third quarter potash selling price estimate slightly to $430 - $465 per ton. I think $430 - $440 per ton is the most likely range for the quarter.
Phosphates
Phosphate tons sold and production has also been flat over the last couple of fiscal 3rd quarters.
Click to enlarge: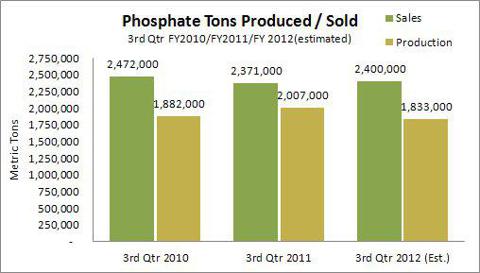 Source: The Mays Report
Prices have fallen roughly 10% compared to the $611 per ton pricing in the 2nd quarter, but an average market price of $540 during the 3rd quarter is in line with company estimates of $530 - $550 per ton.
There has been a divergence between fertilizer prices and wheat, corn and soybean prices. During Mosaic's third quarter, the prices of all three crops moved higher.
Click to enlarge: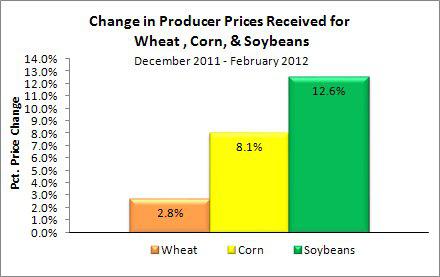 Source: The Mays Report
Even wheat prices showed a modest gain despite projected ending stocks being at or near all-time highs. As long as no material decline in demand occurs, soybean production issues are likely to continue to lift all crop prices.
The company estimated that it would sell 1.2 to 1.5 million tons of potash for between $430 to $460 a ton and 2.2 to 2.6 million tons of phosphate for between $530 - $560 per ton. These estimates give us a revenue range of $1.68 billion to $2.15 billion.
I think the phosphate estimates are pretty good, but I like an average price of $540 per ton. However, given the company's decision in February to curtail potash production by 20% at the beginning of the last month of the quarter after saying that inventories were low enough to keep production at current levels, I think potash tons sold will be at the low end of company estimates, with price between $430-$440 a ton.
Third quarter results could be a little disappointing to investors and could slow the stock's recent upward trajectory over the short-term.
Disclosure: I have no positions in any stocks mentioned, and no plans to initiate any positions within the next 72 hours.