As I've noted before, I expect U.S. stocks to primarily trend upwards through 2014. From this perspective, I don't have much interest in taking on short positions. However, finding the right stocks to short, and putting on near-term short trades when the market appears like it might be topping, can be a way to partially hedge against macroeconomic factors.
In this regard, I thought it would be a worthwhile exercise to identify overvalued stocks that have limited upside if the bull market continues, and may correct especially sharply to the downside if a broad market correction occurs. Below are my two favorite sectors for those looking to incorporate some shorts into their portfolio: wind and social media.
Wind Stocks
Cutting spending is rarely on a politician's list of things to do, as obviously going on a shopping spree with someone else's money can be quite enjoyable. But the U.S. tax credit for wind power is due to end on December 31, and I consider it reasonable that it will not be renewed in spite of desperate pleas to the contrary. Wind is a very low quality form of energy that simply is not economically viable without subsidies. Moreover, even once-loyal environmentalists are starting to turn on wind, given the tendency of wind turbines to kill many endangered birds and bats; over 90 environmental groups are now campaigning against wind power. With growing opposition from environmentalists and those in favor of greater power sources, subsidies are likely to get cut, in my opinion -- which will expose just how economically nonviable wind truly is.
FAN, an ETF for wind power, has noticeably underperformed the S&P, although is still up just over 1% on the year (see the chart below). In a broad downturn, I think it could fall even further -- and thus may be interesting from a short perspective.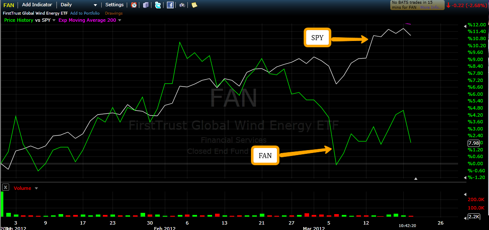 Social Media Stocks. I've written extensively about Bubble 2.0 in my previous articles on SeekingAlpha, and I remain convinced of that position. These companies are coming to the public market drastically overvalued, after big banks like Goldman Sachs (NYSE:GS) and JP Morgan (NYSE:JPM) used their stimulus money to promote the shares of these stocks in the secondary market. Even venture capitalists focused on the social media sector have called it a bubble.
In a broad market crash, the overvalued stocks that have appreciated at a steep rate may experience the sharpest declines, as bubbles are typically followed by parabolic busts. Of particular note here are Zynga (NASDAQ:ZNGA), LinkedIn (NYSE:LNKD), and Zillow (NASDAQ:Z). Here's a quick summary of where those three companies are at:
Zynga has appreciated over 40% in the past three months in the public market, has negative earnings, and was bubbled up in the private market via funding from Goldman Sachs offspring DST.
LinkedIn is up over 40% year to date and has a bloated P/E ratio of over 760 in spite of a market capitalization of over 9 billion. To put that in perspective, LinkedIn is the only American company to have a P/E above 500 and a market cap above 9 billion.
Zillow is up over 47% year to date and has a P/E ratio of over 800. It has a market capitalization of over 948 million at the time of this writing, making it one of 9 US-listed companies to have a market cap over 948 million and a P/E over 800.
In conclusion, I'd like to add my opinion that shorting is a trader's game, and best left to those well-acquainted with technical analysis and short-term money management strategies.
Disclosure: I have no positions in any stocks mentioned, and no plans to initiate any positions within the next 72 hours.