I first began covering Galena Biopharma (NASDAQ:GALE) back on February 1, 2012 when it was priced at just $0.64. After a series of events, and the market taking notice of its value, the stock has since returned a 315% gain (making it one of my best all-time investments). The stock jumped a massive 25% on Tuesday, on news that it received a patent that covers the use of its late stage breast cancer drug NeuVax, in low to intermediate HER2 patients. This news is massive for the company and I think further illustrates the value and potential for this stock and its drug.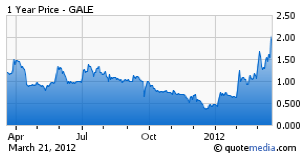 When I first began covering GALE, the stock was a $0.64 unknown and undervalued stock with a late stage cancer drug showing encouraging results. I believed it was the best kept secret in the market because of the many advantages that its lead drug, NeuVax, presented. Not only was the stock valued at just $27.5 million, but it was enrolling patients for its phase III trial and had recently released the results for its 36 month study that showed NeuVax to be both safe and well-tolerated.
During its 36 month study, the recurrence of breast cancer was tested among patients. The vaccinated group (with NeuVax) had a 0% recurrence rate compared to a 22% recurrence rate in the control group. This proves the drug to be very effective and useful in the treatment of breast cancer. And although the effectiveness of the drug is what earns the FDA approval it is only one piece of a large pie that has investors so excited of this company's potential.
Breast cancer is one of the most common forms of cancer and is a disease with few options regarding treatment. Just look at Roche-Genetech's (OTCQX:RHHBY); the company's drug Herceptin is one of the few advanced treatments for breast cancer patients, but only treats 25% of those diagnosed. NeuVax is believed to treat up to 75% (50% for sure) and with Herceptin returning $5 billion in annual sales, and only targeting 25% of patients, I think it is obvious why investors are so excited regarding the potential market for NeuVax.
In addition to having a massive potential market, its production of NeuVax is quite low. NeuVax is produced for less than $1,000 per dose, which reflects the potential for very large margins considering Dendreon's (NASDAQ:DNDN) Provenge which has an off-the-shelf product being produced for roughly $20,000. Therefore, with a solid product, a large market, and a low production cost I think it is obvious why I deemed the stock as the best value based on valuation and potential.
The stock is no longer an under-the-radar investment with the biotechnology community, and its news on Monday is yet another reason for investors to be excited. The company announced that it had received a patent that covers the use of NeuVax for treating a target population of low to intermediate HER2 patients. This basically means that Galena just received rights to NeuVax, a drug that treats at least double the number of patients as Herceptin, the $5 billion in annual sales drug. It's no wonder the stock jumped 25% on the news. This is a stock that is still valued under $100 million and a patent such as this could be huge for the future of this company (both in sales and attractiveness to big pharma).
Now that the company has a patent on NeuVax it makes the drug exclusive to Galena Biopharma and the company doesn't have to worry about another company replicating its technology. The company will have a number of years to reap the benefits of this low cost and high profit potential drug. It also creates confidence among investors, because in biotechnology a patent can change the direction of a stock.
Just look at the company Amarin (NASDAQ:AMRN) which was one of the true momentum stocks of the first half of 2011. It lost 60% of its value in the last 6 months of 2011, which was due to many reasons but in large part because of its failure to receive a patent for AMR101. Yet over the last 5 days the stock has increased nearly 70% as new hopes for its patent arise after its examiner noted only minor issues.
I think AMRN is one of the best examples of the effect that a patent can have on a company with a late stage promising candidate. The advantages of having a patent on a lead candidate are limitless, as it assures investors, gives sole ownership of a product, and creates a very attractive situation to a large pharma company.
The news of GALE being awarded a patent for NeuVax is huge, and will create opportunity long after the stock completes its three day rally. It's good news for just about everyone involved with this company and will create an unprecedented level of optimism among both the company and investors. I think we will see even more quality scientists and leading professionals, in the field of breast cancer, wanting to work with Galena on the now patented drug NeuVax.
Disclosure: I am long GALE.