Investors are concerned that macroeconomic policy in Argentina could affect growth in the country this year. Global X FTSE Argentina 20 ETF (NYSEARCA:ARGT) may see volatility if the government continues to clash with the largest domestic oil and gas company.
The Argentine government is requiring YPF SA (NYSE:YPF), the nation's largest oil and gas company, to reinvest the last two years earnings in production and exploration instead of paying dividends to stockholders, reports Dave Fry for The Street. The clash between oil company and government has sent the Merval, Argentina's benchmark stock index, down.
The dispute thickened when YPF SA was stripped of two oil field concessions, after the company failed to meet investment promises. Citizens are fearful of nationalization, and tension between Spain and Argentina is exacerbated due to Spain's 57.43% ownership of YPF SA.
Argentina has been suffering from a steep decline in oil and gas production since 1998, about 32%. About $5 billion of the country's trade surplus was erased due to the need for oil and gas imports.
Any more moves by the government against YPF SA will chill the investment in Argentina and take sentiment down.
The Argentine peso was little changed against the U.S. dollar, compared to the weakness seen last year. The government has clamped down on currency transactions, and has made it difficult for the bank to make dividend payments.
Economist Gustavo Ber said Monday that concern about the policies appears to be factored into stock prices already. But that isn't enough to push prices higher when global markets are doing better, he said in a WSJ.com report.
Global X FTSE Argentina 20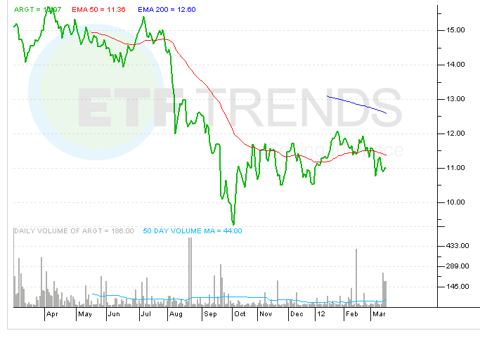 Click to enlarge
(Click to enlarge)
Tisha Guerrero contributed to this article.
Disclosure: I have no positions in any stocks mentioned, and no plans to initiate any positions within the next 72 hours.