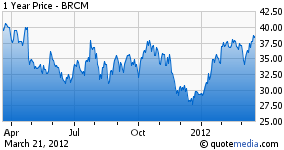 Apple (NASDAQ:AAPL) is garnering a lot of attention this month as investors digest the recent tear-down by iFixit and the company's plans to institute both a dividend and a buyback.
But the frenzy of interest surrounding Apple shares shouldn't take investor attention off Apple's supply chain. Particularly given media attention is providing valuable marketing buzz for unit sales growth.
One of the big winners in Apple's supply chain remains Broadcom (BRCM), which supplies chips for both the new iPad and the new third generation Apple TV.
The company once again supplies the Bluetooth and WiFi chip in the iPad.
The Broadcom chip inside the new iPad is the BCM4330, which is also inside Samsung's Galaxy S II, Galaxy Nexus and Galaxy Tab. The chip is an upgraded version of the BCM4329, which was inside the iPad 2.
The big difference between the newer 4330 and the previous 4329 is support for Bluetooth 4.0, WiFi Direct and Bluetooth High Speed. These features help connect your new iPad to other compatible devices quickly and easily, which means faster and more integrated sharing across your iPhone, iPad and Apple TV. At the same time, the upgraded chip is more energy efficient, which helps battery life.
Broadcom also won two other slots in the new iPad. The BCM5973 I/O controller and the BCM5974 touch screen controller appear in both the new iPad and the iPad 2.
Additionally, the BCM4330 is inside the newly released Apple TV. Although sales of that device may remain in hobby territory given consumer appetite for a full fledged Apple TV instead of a set-top box.
R&D protects future slot wins.
Going forward, Broadcom's R&D is focused on keeping these slots by improving the 4330. At the end of February, the company announced its new BCM4334 and BCM43241.
These chips shift to a smaller 40 nanometer process from 65 nanometers, which reduces power by 40%-50%. This keeps competitor Texas Instruments (NYSE:TXN) which announced its own 45 nanometer update to its WiLink family in mid February, on its heels.
Broadcom holding onto Apple's slots is good news for 2012 unit volume. The ramping supply chain for the iPad launch was likely behind Broadcom boosting Q1 sales guidance at the end of January.
Analysts have responded in kind, taking their 2013 earnings forecasts to $3.22 per share, up from $3.07 a share 30 days ago. This gives Broadcom a forward price to earnings ratio of roughly 12, which is on the low end of its five-year range. Investors can take additional solace given Broadcom has over $8 per share in cash.
Disclosure: I am long BRCM.