I woke up Wednesday morning and went through my usual list of emails and Websites. Near the top of the slate - Radio-Info.com's daily email blast. In it, I came across this news, which actually made me feel sort of weird. It's as if I exist along the same wavelength as the people at Pandora (NYSE:P):

Chance are you've never heard of Phil Hendrie. And that's OK because this is far from a game-changer, but it's incredibly meaningful news to investors interested in P.
If you listen to Howard Stern on Sirius XM (NASDAQ:SIRI), however, you might know of Hendrie. Stern admires Hendrie's talent and has gone on glowingly about Hendire on more than one occasion. At one point, Stern even asked Hendrie if he could sit in and watch his show while in Los Angeles. That's high praise.
In a nutshell, Hendrie does characters, but he does not use the same old routine everybody else uses. Hendrie is himself on mic and the character on the phone. He expertly transitions between mic and phone making the conversation sound as if it's going on between two - and sometimes more than two - people. Night after night, people call in and get duped by the outrageous statements made and positions taken by Hendrie's litany of maniacs.
My first full-time radio gig away from home came in 1995. I was 19 and headed down to Miami to work for an all-sports station, WQAM. Hendrie did afternoons on the crosstown news-talker WIOD. From the first time I heard his show, he became my favorite radio talent, next to Stern. While he has enjoyed great success and a prolific career in both LA and nationally-syndicated radio, for one reason or another, Hendrie never broke out to become a true national superstar. That's why this is not a game-changer, but it's still an incredibly important development.
I tuned into Hendrie on Pandora this morning (I have Miranda Cosgrove radio up for my daughter!):
Click to enlarge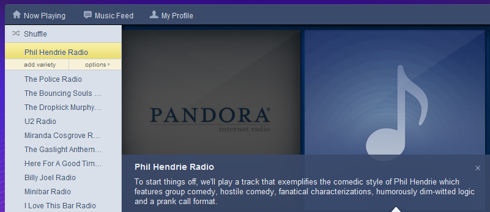 Despite the ability to create stand-up comedy stations, Pandora has always been hyper-focused on music. Now, enter Hendrie. While he's funny, he's not comedy. He's full-fledged radio. Some strange, but relatively high-level form of talk radio.
I have emails in to people at Pandora. I also have a couple meetings setting up with key executives (including co-founder Tim Westergren) over the next several weeks. I will try to get more color on this.
At day's end, I view it as a relatively low-cost way for Pandora to further test the waters of spoken word radio with a talent who has a considerable following, but, on his own, could never break the game. Hendrie fits well with the relatively young, 18-34 year old audience Pandora attracts, one that he has not been able to consistently garner on older-skewing terrestrial radio. In fact, all else being equal, on the basis of demographics alone, talents like Hendrie (and Stern) probably belong online before terrestrial or satellite. And, because Hendrie does not yowl about abortion for three hours everyday, Pandora enters the talk fray in somewhat atypical fashion.
All in all, it's a good move and a prudent way to investigate the potential of broadening the scope of Pandora's content offering without breaking the bank. Of course, this, what I will call a pilot, should have little near-term impact on the stock, which has had held up remarkably well in a choppy market after a post-earnings swoon.
I am sitting in with a cost basis of $12.99 now. I bought more shares yesterday and plan on buying more next week. I am hoping for some sort of broad market event that sends P shares below $10.00. At that point, I will step up the buying by 50%. While I am not ready to make the move, I have my eye on the P January 2014 LEAPS options introduced just last week.
Disclosure: I am long P.