America is running out of oil? Nonsense, says Harold Hamm, chairman and CEO of Continental Resources Inc (NYSE:CLR), in his blog haroldhammonline. The economic miracle that is the Bakken oilfield has made North Dakota the third-largest oil-producing state in the nation, overtaking California, according to the Institute for Energy Research. Continental Resources has 901,000 acres of leased mineral rights at Bakken, which is currently producing around 55% of the company's annual 22,600 MBoe (thousand barrels of oil equivalent), and it expects to triple its size by 2014. The Bakken field sits astride North Dakota, and Montana, and other major operations are located in Colorado, Wyoming, and Oklahoma. The company's in-house experts are constantly on the lookout for further strategic acquisitions.
Continental Resources' goals are simply stated: to increase shareholder value by finding and developing crude oil and natural gas reserves at costs that provide an attractive rate of return on investment. The company achieves this by focusing on crude oil (64% of total proved reserves and 73% of total production in 2011) rather than on natural gas, by devoting capital expenditure to new drilling projects and acreage acquisitions, and by using unconventional and superior technologies including horizontal drilling, advanced fracture stimulation and resource harvesting by water and high pressure air injection. Its cost-effective and environmentally friendly ECO-pad drilling system is able to drill four wells from a single pad, using a technology unique in the oil drilling business. The ECO-pad technology enables the company to realize 10% reduction in cost over its competitors. The company currently has mineral rights for 0.7 million developed acres and 1.2 million undeveloped acres, 1,100 horizontal wells, 49 water flood and 6 high pressure air injection units, and total proved reserves of 0.5 million MBoe. These proved reserves (more than 18 years' worth at current production levels) are valued at over $9 billion in net income before tax. Form 10-K 2011
The bulk of Continental Resources' crude oil production is sold to end users at major market centers, mostly transported there by pipeline. The balance, plus the oil sold directly to customers at the production point, is transported to refineries, or to other sales points and pipeline systems, by truck or rail. These transportation facilities, including the pipelines, are all owned by third parties and are beyond the control of the company, thus presenting an operating risk. A further significant risk arises from the fact that a single customer, Marathon Petroleum (NYSE:MPC), accounted for more than 40% of Continental Resources' annual revenue in 2011, and more than 50% in the two preceding years.
Government scrutiny and regulation of the oil and gas exploration industry are likely to increase in the face of current debates about the negative effects of greenhouse gases and hydraulic fracturing. Further pressures are exerted by volatile energy prices (mitigated by a hedging program), and global and national economic conditions. On top of all this, Continental Resources must compete for customers, for mineral resource acreage, for trained personnel, for finance and investment, with other major players like Occidental Petroleum (NYSE:OXY), Apache Corporation (NYSE:APA), Anadarko Petroleum (NYSE:APC), Devon Energy (NYSE:DVN), Chesapeake Energy (NYSE:CHK) and ConocoPhillips (NYSE:COP).
The major risk factor, however, is cash flow and finance in the capital-intensive crude oil and natural gas industry. In 2011 the company invested $2.2 billion in its capital program, with a further $1.75 billion projected for 2012. This must be financed by a combination of cash flow generated from operations, borrowings under the company's revolving credit facility and the issue of debt and equity securities. In 2011 the company generated $1.1 billion from operations, increased its revolving credit facility borrowings by a net $328 million, and issued $660 million of additional common stock. In March 2012, it announced a senior notes issue of $0.8 million, which, together with a contribution of a possible $1.5 billion from increased operations, should take care of 2012 capital expenditure as well as permitting the repayment of a portion of the existing revolving credit facility (source). Current long-term debt for the company stands at $1.25 billion.
With the exception of the usual dip in 2009, the company's revenue has grown from $0.6 billion in 2007, to $1.6 billion in 2011. Operating margin, which reached 55% in 2008, is still recovering, and in 2011 it stood at 46%. Net income for 2011 was $429 million, $2.41 per diluted share. Interactive Financial and Operating Data Company guidance for 2012, discussed in the Q4 earnings conference call, projects an increase in production in the range of 37%-40%. During the call, CEO Harold Hamm emphasized the company's technical experience and ability to plan ahead and allocate resources, a situation which facilitates its good relationships with landowners, drilling and service contractors, and pipeline and transport operators. He also remarked that the company was running significantly ahead of the 5-year growth plan it announced in 2010.
With such large proved reserves and so many undeveloped acres, the main factor limiting Continental Resources' growth is the restriction on capital expenditure exerted by cash flow and oil price fluctuations. Recent injections of capital and debt reduce the company's dependence on the ideal source of funding - its own profitable operations - allowing it to predict growth of up to 40% in 2012.
Continental Resources is currently listed as #28 on Investor's Business Daily IBD 50 and its stock price has gone ballistic in the six months as shown below:
(Click chart to enlarge)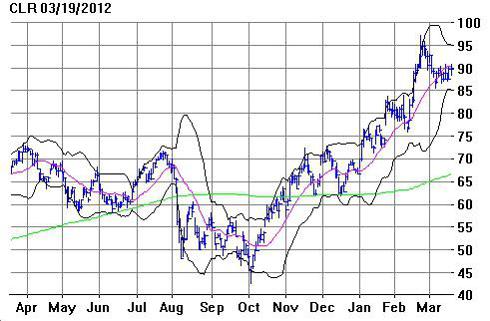 Click to enlarge
Continental Resources' largest risk is commodity prices. For example, if the price of oil were to suddenly drop, the company could find itself in difficult straights trying to pay salaries, interest on debt, etc. An investor seeking to invest in Continental Resources and reduce some of the risk associated with commodity price swings might consider a protected covered call or collar strategy for the company. A protected covered call may be entered by selling a call option against a stock and using some of the proceeds from selling the call option to purchase protective put option. The strategy sets an investor up to receive income if the price of the stock remains stagnant or increases, and limits the loss on the position to a known maximum.
Performing a protected covered call search using PowerOptions tools reveals a position for Continental Resources with a potential return of 2.1% (23.2% annualized) with a maximum potential loss of 7.5%, even if the price of the stock goes to zero. The specific call option to sell is the 2012 Apr 90 at $2.90 and the put option to purchase is the 2012 Apr 80 at $1.10. A profit/loss graph for one contract of the protected covered call is shown below: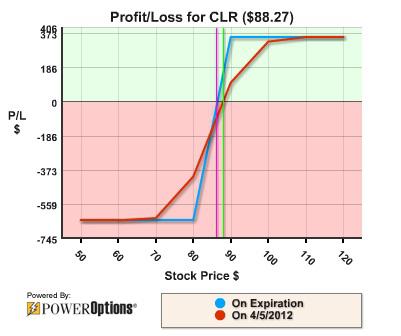 As a bonus, if the price of the stock is greater than or equal to the $90 call option strike price at option expiration in April, the position will return 4.1% (45.3% annualized). Additionally, if the price of the stock increases to around $95-$100, the position can most likely be rolled in order to realize additional potential income.
Disclosure: I have no positions in any stocks mentioned, and no plans to initiate any positions within the next 72 hours.