Thanks to the Federal Reserve and anemic worldwide economic growth, we continue to inhabit an ultra-low yield world. In searching for solid dividend yield, an income investor must be open to opportunities off the beaten path. One stock that has been battered (Unfairly in my opinion) by the problems in Europe looks like it has bottomed and yields a very robust 10% currently.
Telefonica (NYSE:TEF) - "Telefonica, S.A. provides fixed and mobile telephony services primarily in Spain, rest of Europe, and Latin America. Its fixed telecommunication services include PSTN lines; ISDN accesses; public telephone; local, domestic, and international long distance and fixed-to-mobile communications; corporate communications; video telephony; supplementary and business-oriented value-added services; network services; leasing and sale of handset equipment; and telephony information services". (Business Description from Yahoo Finance)
7 reasons TEF is a solid value at $17 a share:

It has solid operating cash flow (under 4 times market capitalization) and yields a robust 10%.
The company gets more than 2/3's of its revenues from fast growing Latin America so is shielded significantly from the problems in its home country. Increasing smartphone penetration is also increasing its revenue per user. Telefonica Brasil is a particularly strong performer in its portfolio.
The stock is cheap at under 8 times forward earnings and less than one times revenues (.91).
The company has a low beta (.99) despite the problems in Europe. It also sports a "Buy" rating and a $20 price target from S&P.
Earnings estimates for FY2011 and FY2012 have gone up over the past two months.
The stock is selling at the very bottom of its five year valuation based on P/E, P/S and P/B.
The stock has strong, long term technical support in the $16 to $18 range (See Chart)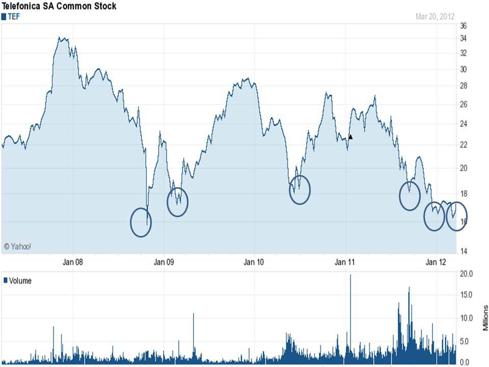 Click to enlarge
Disclosure: I am long TEF.