Sammy Pollack made a bullish case for investing in rare earth producer Molycorp (MCP) - and recommended the purchase of January 2014 LEAPS call options.
The bullish case might be very compelling (although I don't have an opinion on MCP or the sector one way or the other). But if I did intend to invest in Molycorp, I'd avoid the 2014 LEAPS. The key reason? You won't have a lot of company as an owner of those 2014 call options.
Here's a look at the LEAPS that Sammy had listed, along with the bid and the ask as of around 10 a.m. on March 21.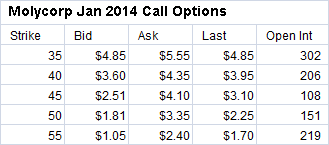 Note the open interest. It's really low. If you were interested in buying 10 contracts of the 35 calls, your position would represent 3% of the open interest. If you bought the 45 calls, you'd have 8% of the open interest. Would you buy a stock with liquidity like that?
Stuck in LEAP-land
Let's assume that you look at the MCP chart and think there's an excellent chance that it's headed for $50.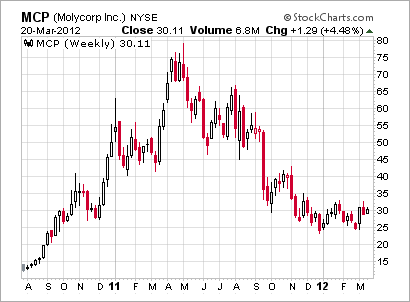 Based on this chart, perhaps you might consider buying a 2014 40-strike call.
Given that the volume of all 2014 LEAPS for this stock has been only a few dozen contracts per day over the past few weeks it's likely that the call you buy will be sold to you by a market maker.
Think about why a market maker would want to be short a call option with more than 20 months to expiration. Well, it's not because they're interested in doing you a favor.
And what will you do if the price rises to 50 in the next couple of months? Well you could get out of your position, and probably make a profit doing so, but it's going to be a pain to get filled if the liquidity remains thin. If you want to stay in the trade, it might be smart to roll your options up as the stock rises. But each time, you'll likely be losing a fair amount of gains from the high spread on each transaction.
If you think the move you're expecting could happen in the next few months, the January 2013 are a more practical way to approach the trade. They don't exactly have high liquidity or low spreads either, but open interest is a lot higher than for the 2014 series and they will be even more liquid a few months from now.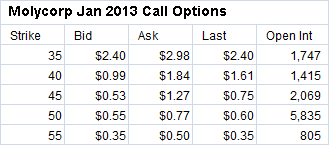 It's not that buying 2014 LEAPS is a "good" or a "bad" strategy. Some stocks do have a lot of liquidity for the 2014 expiration cycle, Bank of America (BAC), for example. And there may be reasons why you'd want 2014 options on Molycorp.
When LEAPS make sense
If you think that MCP will go up, but the move won't happen for a year or so, then the 2014 LEAP may make sense. By this time next year, those options will have higher liquidity and then you can sell, roll your options up, or take advantage of other strategies. Just remember that if these calls get deep in the money, the time premium will begin to disappear.
So if you're intending to hold for awhile, buy those LEAPS and sit on them for awhile, it might make sense. But as a short- to intermediate-term trading vehicle, low liquidity LEAPS with well more than a year until expiration are a pain in the butt.
And consider your trade size. If you want to put $30,000 into a trade like this, you could buy 1,000 shares of stock. Or you could buy 100 call options at $300 per contract, but that's a very high-leveraged trade. Are you sure you want to do that with a series of options with such poor liquidity?
Or you might take a hybrid approach - buy 800 shares and a few extra LEAPS to juice up your return a bit. I can't quibble with that. That would give you the opportunity to sell shorter-dated calls against your position. If you're called, it's far more practical to part with the actual stock than to try and close a spread with a 2014 LEAP in it, especially if both options are deep in the money.
LEAPS may seem attractive because they have a lot of time left until expiration, but unless you'll be in good company buying them, think before you LEAP.