In a Seeking Alpha article published Wednesday morning, I highlighted several stocks that have performed well this week against a relatively choppy market. Because I have no interest in going long, I did not include Netflix (NASDAQ:NFLX). The stock does, however, deserve a nod of recognition for its strength in the face of weakness.
Click to enlarge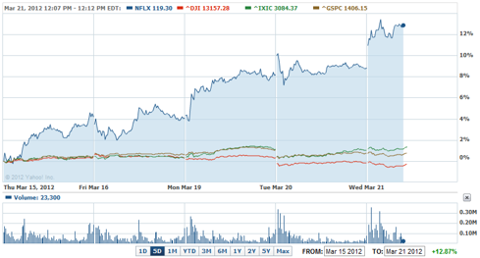 Yet, as is quite familiar, the move happens on nothing but air. In fact, if anything it should be quite clear that the rumors of cable television's demise have been greatly exaggerated. From SNL Kagan, via Minyanville, Steve Birenberg writes:
In another blow to the cord-cutting fears, premium networks added over 2.2 million subscribers in the fourth quarter against a gain of just 300,000 multichannel subs. All the premium networks added viewers. It was just last year when Time Warner shares were continually under pressure due to declining subs at HBO.
From any angle you approach the debate, it's clear that Netflix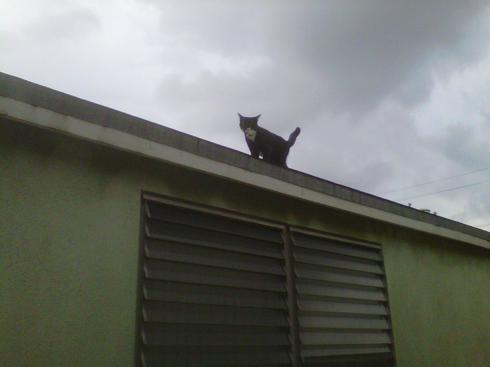 is cable, premium pay TV's, the programmers' and the movie studios' (insert 'B' expletive here). When I think of the way Time Warner (NYSE:TWX) CEO Jeff Bewkes talks about Netflix - one day they're "the Albanian Army," the next they're a "flying hamburger" - I picture my cat, Crosby (named after Sidney), using a real live mouse as his play toy.
Crosby is a hunter. He goes outside daily. He scales rooftops. Often, he comes back with a tiny little mouse in his mouth. It breaks my heart every time. But, I know that Crosby does not want to kill the little mouse, even though he could and ultimately does. Instead, he plays with it. He toys with it. And he likes to have "it" (an endless supply of mice) around because it gives him something to do. Mice entertain Crosby. And Crosby is dominant over mice.
I don't know the guy or his peers at other giant media outlets, but I feel pretty confident when I say that's how Bewkes views Netflix and its CEO Reed Hastings. Cable and big-time television could literally stomp Netflix out in a nanosecond. For all intents and purposes, it already has. The company faces a cash crunch, evidenced by the financing it needed to secure last year, increasing expenses almost across the board and looming losses this year.
I cannot drive this point home enough: For Hastings to contend that Netflix can put together an original programming powerhouse that even resembles HBO in relative short order is an insult to the people at Time Warner. If Netflix mattered much, folks at TWX might actually be offended. I don't think they are.
Why in the world, then, is NFLX up these days? It's the same question we asked all last year on the run past $300, which died hard and frighteningly fast. Don't buy into this 2012-style, tempered version of NFLX momentum. Remember how cats like Ingrid Chung at Goldman Sachs embarrassed themselves last year on the stock. This comes from an article I wrote late last year:
For example, has anybody heard from Ingrid Chung at Goldman Sachs? I asked her for an interview when Netflix was momo-ing its way to $300, but she refused, noting that her firm does not allow her to do interviews. After Netflix's disastrous Q2 and weak Q3 guidance in July, Chung waxed bullishly, not only reiterating a buy rating and her $330 price target, but raising EPS estimates from 2011 through 2013.

Before you read this next sentence, call some family, friends or co-workers over to your computer screen, because there's nothing like sharing a laugh with others around the holidays. For 2012, Chung predicted Netflix would post EPS of $7.69.
And now people like the usually-reliable Mark Mahaney from Citi look to reproduce what was little more than a disastrous history. While I sure do not think you should listen to me or anybody else with an opinion for that matter, I will say, at the very least, proceed with caution and realize that sometimes not acting is the best course of action. If you choose not to decide, you still have made a choice.
That said, a subscriber to the options investing newsletter emailed and asked the other day, what criteria I use when considering ITM versus OTM option contracts. I intend to address that subject thoroughly in Tuesday's issue, but, in a nutshell, I rarely go deep out of the money. At this point, it looks like a mistake that I hung onto some of my deep OTM NFLX puts I bought last year. I took some profits in 2011, but I should have taken it all off of the table. That said, things change fast.
And I firmly believe that, in some point in 2012, we will see one or more full-blown implosions in this stock like we saw last year. It could not be setting up any better. We're seeing what's almost a carbon copy of last year, but with lower prices. Yet they're still absurd considering the reality that Netflix will lose money all of this year.
So, I tend to only go OTM on two occasions. In a case where I use long-dated calls like LEAPS to play what I think will be long-sustained strength on a stock like Amazon.com (NASDAQ:AMZN). I like January 2014 OTM calls on AMZN because I think it soon passes $200 and, by and large, stays there. I do not think these calls will be OTM for much longer. Therefore, I will end up reaping all of the benefits of riding ITM calls, but I was able to get in at less of a premium (or so the anticipated scenario goes).
And stocks like NFLX and Research in Motion (RIMM) make up the second time when I would go OTM, particularly deep OTM. When I really feel like I can "know," as best as you can "know" something in this crazy business, that a company is just broken beyond repair. These situations come up rarely so do not go looking for them. That's a suicide mission. Despite my confidence, I only make these plays with money I can afford to lose. It's the cash others blow on a car payment every month that I use to follow my bearish conviction.
Disclosure: I have no positions in any stocks mentioned, but may initiate a long position in AMZN over the next 72 hours.
Additional disclosure: I am long TWX. I am long NFLX June $40 put options. I may initiate a long position in slightly OTM (around $100) NFLX puts over the next 72 hours.