Market Recap: The market continued its battle back from early losses today as the market ended mostly neutral with tech strong and blue chips weaker. The Nasdaq was helped by solid earnings from Oracle (ORCL). The company had a strong Q3, which was a sigh of relief, after a weaker than expected Q2 three months ago. The solid earnings may be a signal for what is to come for application software companies in April. Additionally, the market reacted to existing home sales that came in just under expectations. The market moved lower to start the day, but with Europe stronger and good earnings from Oracle, downside was very limited all day.
The market is actually continuing to look very bullish to us. Every dip is being bought, and the strong, momentum stocks continue to move higher. Until we lose Apple (AAPL), tech, and other strong momentum stocks like Starbucks (SBUX) and Panera Bread (PNRA), we see the market as continuing to be strong and reject bearish pushes. Here are two stocks we like right now:

We got involved with Salesforce.com (CRM) today, and we were close to starting a trade in Fossil (FOSL). Both stocks we like as trades for now as both are very overvalued for long-term trades or investments, but we cannot deny the strength in these two stocks and momentum they have. CRM was already on a solid uptrend, and the news from ORCL helped to increase the stock's value even further. The stock broke a key price channel today, and we think it is headed to 157.50 tomorrow and 160 by the end of the week. For FOSL, the company got another solid upgrade on its PT from Jeffries to $160. FOSL is also very strong and looks like its momentum will continue to push it higher. We think both are good trades for the rest of the week with the downside risk in the market looking limited without anything terribly market moving on the schedule.
Click to enlarge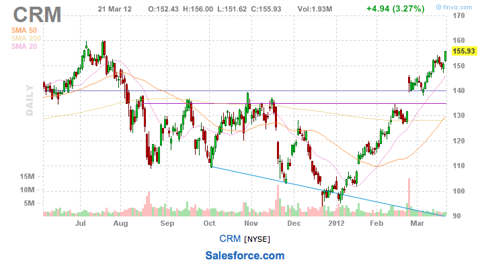 Tomorrow's Outlook
The market's second rejection of a bearish move is a solid sign for the market. We think that the initial jobless claims report and leading indicators report that is due out tomorrow will be pretty important to the market's next move as well. Other than that, we do have some interesting earnings. None, though, are going to move the market strongly like Oracle. The key ones are Lululemon (LULU), FedEx (FDX), Discover Financial Services (DFS), Sonic (SONC) and Dollar General (DG). FDX probably is the only one that can really impact the market as it is a bellwether, but all the others are definitely important to their own industry. Further, just getting some more insight into earnings will be good for the market as it prepares to move into earnings season. Europe and Asia are fairly quiet as far as economic data tomorrow.
Analyst Action
We mentioned the FOSL upgrade. Other interesting analyst action was that LinkedIn (LNKD) got an upgrade to Buy from Goldman Sachs (GS) and a PT increase to $135. That price jump was an increase from $80, and we are just not sure how these valuations are coming about for companies. We have 500% growth in operating income factored into our model for the next four years, and we have a mid-$60s PT. We maintain that LNKD is pricing in way too much growth to invest into right now, and we believe that it is creating quite a bubble. Halliburton (HAL) was downgraded by Morgan Stanley (MS), and we could not agree more that HAL right now is just not the strength of the energy industry.
Commodity Talk
Oil got a nice bump up on inventory draw, which was not expected. The commodity has remained rangey between 105 - 109, and we believe right now is the time to buy oil. The inventory draw, continued strength in equities, and overall improving macro conditions will keep a floor on oil. We would not want to hold over 108.50, and we would short on a move to around 109. We like to use Ultra Proshares DJ-UBS Crude Oil (UCO) for the trade.
Our Moves
We did not close any positions today as we continue to build our positions back up after last Friday's option expiration day. We are nearing lots of exits, and we added a few more things today. We went long on Salesforce.com with a target of 157.50. We got into a reverse iron condor on Lululemon with 72.50/70 bear put spread and 75/77.50 bull call spread that can make over 50% if LULU goes above 77.50 or below 70 on earnings. We also added a Starbucks options position with 52.50/50 bull put spread as we like SBUX to continue its current strength.
We have the following positions. In our Short-Term Equity Portfolio we are long CRM, PNRA and American Tower (AMT). In our Options Portfolio, we are long CF Industries (CF), Starbucks, Ralph Lauren (RL), GOOG and IBM (IBM). We are short Apollo Group (APOL). In our Earnings Portfolio, we are long Monsanto (MON), Ulta (ULTA), Monster Beverage (MNST), Finish Line (FINL), and GS.
Chart courtesy of finviz.com.