In a few weeks, Facebook (NASDAQ:FB) will have gone public and be flush with cash.
Many Facebook users check their Facebook through their smartphone, or through a "Facebook App" on a mobile device (tablet, smartphone.) The issue is that Facebook earns no money from advertisers when users log into Facebook through these mediums. Facebook only earns money from advertisers when people log onto Facebook from their computers.
With estimates of over 800 million users, if 30% of Facebook users view their profiles and access Facebook through the above mediums, than you have 240 million customers not being monetized. Furthermore, this percentage could only increase over time based on how technology is developing and the increasing use of tablets and smartphones.
What I am suggesting is that Facebook take a controlling interest in Research In Motion RIMM.
As purely a software enterprise with a single move, Facebook could enter into the hardware game to compete with Google GOOG. Google, with its +1 social media experiment has demonstrated that Facebook is not without competition.
Maybe the solution for Facebook is to take control of its own destiny by acquiring the combination of hardware, combined with its software. Facebook would not be at the mercy of Apple's (OTC:APPL) I-phone or Google's Android hardware.
Facebook will be able to afford it. Facebook is going to raise" $5 billion in an IPO that looks likely to be the largest by a web company since Google in 2004 and could place the social network's value as high as $75 billion to $100 billion."
If Facebook were to buy a controlling interest in RIMM, it would be buying arguably the most sought after Canadian technology company at historically low prices.
With a P/E ratio of 3.44 according to NASDAQ.COM and a book value of $18.49 even without goodwill, creates a historically amazing opportunity for a deal to be put together.
(Total Assets - Goodwill - Total Liabilities / # of Shares Outstanding)
(14037 - 659 - 3840 ) /515.7 = $18.49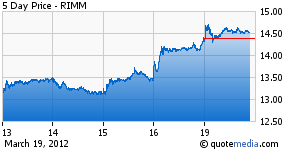 The main question over Research In Motion is the pipeline issue of whether it will have products that customers want in 2013, 2014 and the like? If Research In Motion were to partner with Facebook the demand question is no longer an issue. Research In Motion could offer proprietary Facebook features not available on any other hardware device. This would ensure demand for BlackBerry, Playbooks, and whatever else it chooses to roll out.
The benefit for Facebook is that it can recover some of the opportunity cost based loss it incurs while not receiving revenue from smartphone devices. Furthermore, Facebook would never be reliant on any third party. If the hardware market should undertake a shift in paradigm, or if Google and Apple tried to squeeze out Facebook, they would be unable. The other benefit for Facebook, is the price they would be paying for Research In Motion is cheap.
Assuming that RIMM earns $2.25 a year, it would give the shares a P/E ratio of about 6 times earnings. The shares would be trading at below book value. Facebook would be paid back in six years on the current earnings alone from the acquisition, if RIMM could maintain $2.25 a year. We will see what Research In Motion announces at the end of this month when it reports earnings.
Facebook is a young company and the timing seems almost perfect for Research In Motion and Facebook to use in each other what each company can offer the other!
Disclosure: I have no positions in any stocks mentioned, and no plans to initiate any positions within the next 72 hours.