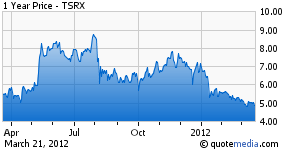 Biotech investing is often an exercise in "hurry up and wait". Once clinical trials are underway, there's not much for investors to do but wait and hope for positive news like partnerships, setbacks at competitors, or new additions to the pipeline. There's a risk that shares of Trius Therapeutics (TSRX) will go to sleep ahead of pivotal data in early 2013, but biotech investors may want to take a serious look at this under-owned name.
A New Antibiotic For A Market That Needs One
Despite the much-publicized rise of methicillin-resistant staphylococcus aureus (MRSA) and its growing threat to public health, antibiotic development is not a major priority for most large drug companies and biotechs. Some of this is due to difficulty (drugs that are very good at killing bacteria are often quite dangerous for the human taking them), but even more may be due to limited revenue prospects - the entire branded antibiotic market in the U.S. is smaller than the market for many individual cancer drugs.
This creates a real opportunity for Trius's lead compound tedizolid. Tedizolid is a 2nd-generation oxadolidinone that Trius is developing as an IV or oral antibiotic for gram-positive bacteria and conditions like acute bacterial skin and skin structure infections (ABSSSI), pneumonia, and bacteremia.
At this point, tedizolid is in a second pivotal Phase III study, with results due in early 2013. Based on the positive results of the first pivotal study, the odds look good for this drug and Trius could be in position to receive FDA approval as early as 2014. While Trius formed a partnership with Bayer (OTCPK:BAYRY) to market the drug in emerging markets, Trius has held on the marketing rights in the U.S. and Europe and seems to be planning on launching the drug itself in the U.S.
The Benefits And Opportunity
Trius is not positioning tedizolid as a more efficacious antibiotic, but rather a safer and more convenient drug that offers no compromise in efficacy. In the first pivotal study, tedizolid showed fewer serious adverse events than Pfizer's (NYSE:PFE) market-leading Zyvox (24% vs. 31%), substantially lower GI side-effects (16% v. 25%) and lower platelet suppression (9% vs. 15%).
Tedizolid was administered as a once-a-day pill for six days, whereas Zyvox was administered twice a day for 10 days. The measurements of efficacy for the two drugs were virtually indistinguishable.
The company's current pivotal study (#113) is a little different. It's designed as an IV-to-oral step-down study with a slightly different set of endpoints. Under an SPA with the FDA, Trius will be excluding early clinical failures and pain measurements, but the basic aims of the study are the same as in #112. While the #112 results were solid, investors should realize that no trial is risk-free - there is a chance that the FDA could look at reduction in lesion size vs. stoppage of lesion spread, for instance. That said, the efficacy results seen thus far would suggest that the drug should be approvable if the data from this second study is consistent with the first.
If and when approved, I believe that tedizolid will earn a spot as a drug-of-choice in many hospital settings. Doctors will continue to use vancomycin and Zyvox (particularly after it goes off-patent), but the safety and treatment time advantages of tedizolid should earn it significant usage - time is money in hospital stays and tedizolid holds the real prospect of shaving multiple days off of hospital stays. What's more, with its availability as a pill, tedizolid has definite usage advantages over Cubist's (CBST) Cubicin (which is only available intravenously).
I believe that tedizolid could reap $500 million in sales by 2019, with definite potential upside from broader usage in MRSA settings. The company is also looking to put tedizolid into advanced studies in pneumonia and bacteria, and the upside from those indications and broader MRSA usage could double that initial revenue estimate.
Weighing The Risks
Arguably the biggest risks for Trius shareholders right now are that something bizarre and unexpected goes wrong in the 113 study and/or the FDA finds serious nits to pick when the company files its NDA. Beyond that, too, are the normal risks that go with building a salesforce and conducting a product launch - risks that include the likely need for more capital.
Longer term, there are also competitive risks to consider. Despite increasing resistance and potentially serious side-effects, vancomycin still holds about 70% of the antibiotics market. Then there also other drugs on the market like Zyvox and Cubicin that doctors are already familiar with and comfortable using. Tedizolid has real advantages in safety and its administration profile, but these other drugs are not going to vanish.
Despite my initial lead-in about how relatively little antibiotic development there is, there are other companies with experimental antibiotics in trials. Cempra (NASDAQ:CEMP) is looking to move Taksta into Phase 3 studies, and Durata and Rib-X also have antibiotics in advanced studies (dalbavancin and delafloxacin, respectively).
Rib-X also boasts Big Pharma support, as it signed an $800 million worldwide licensing deal with Sanofi (NYSE:SNY) in mid-2011. That said, Rib-X seems to be positioning/preparing delafloxin more as a stronger/better alternative to vancomycin/Zyvox, as opposed to a safer/easier/more convenient antibiotic.
There's certainly room for more than one new antibiotic on the market, but investors should keep these would-be rivals in mind when thinking about the long-term revenue potential for tedizolid.
One final risk worth mentioning with Trius is the virtually non-existent pipeline behind tedizolid. While the company has some sponsored research activities aimed at developing more potential gram-positive and gram-negative antibiotics, the cupboard is currently bare. Antibiotics take less time to advance through trials than many other kinds of drugs, but the inability to find promising follow-on drugs will create some dis-economies of scale if Trius stays independent and builds out a U.S. salesforce.
The Bottom Line
Tedizolid has clean IP, a well-understood mechanism of action, and what looks like a clean efficacy and safety profile. What's more, it raises the very real prospect of an effective alternative for resistant hospital-acquired infections, as well as a means of shortening hospital stays and reducing overall treatment costs.
On the basis of $500 million in potential sales in 2019, a 30% discount rate, and some assumed future dilution, Trius shares could be worth nearly $12 today. This analysis assumes a future revenue multiple of 7x, which is arguably aggressive. The good news is that even using the much lower multiple of rival Cubist (3.6x) results in a target fair value north of $6 - certainly not so exciting, but still supportive of the idea that Trius is undervalued.
With the results seen to date in tedizolid, the need for new, better antibiotics, and the potential for a significant licensing agreement for European rights, Trius shares seem worthy of serious due diligence from biotech investors.
Disclosure: I have no positions in any stocks mentioned, and no plans to initiate any positions within the next 72 hours.