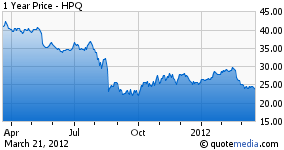 Hewlett-Packard's (HPQ) personal computing and printing divisions go together like peanut butter and jelly. They'd make a snug fit, something I've advised here before. PCs need printers. A natural fit.
HP is reportedly putting just that plan into action, combining the two divisions. Trimming head count, starting with veteran Vyomesh Joshi, the printing group leader.
Unfortunately for the company, the move didn't please: HP dropped another 2%. I'm inclined to agree with the market. Shuffling offices isn't enough. More is required.
Seems to me, this reorganization could become one tasty sandwich, provided HP goes one step further.
The PC/Printing group represents roughly half HP's revenues and over 40% of its earnings.
The other HP segments - servers, enterprise, software - hold sexier high-margin businesses. To extend the analogy, if the more commoditized PC/Printing group is the peanut butter and jelly, the rest of HP is the brie and Filet Mignon.
My recommendation to Meg: Spin off the PC/printing group and you'll leave HP far more digestible for investors. HP can stop trying to be a smorgasbord of technology and focus on becoming great again. As any food critic will tell you, peanut butter and jelly sandwiches, no matter how appetizing, shouldn't be served with caviar and fine red wine.
It's time for HP to break itself into more manageable companies: Investors will find the resulting courses deeply satisfying. So, package 'em up and spit them out. It's the only way to create value here and get focus back.
In the meantime, HP remains a mishmash plate of technology, unpalatable at best. For now, HP has $20 written all over it.
Disclaimer: The opinions in this document are for informational and educational purposes only and should not be construed as a recommendation to buy or sell the stocks mentioned. Past performance of the companies discussed may not continue and the companies may not achieve the earnings growth as predicted. The information in this document is believed to be accurate, but under no circumstances should a person act upon the information contained within. We do not recommend that anyone act upon any investment information without first consulting an investment advisor as to the suitability of such investments for his specific situation.