One thing is for certain: The market cares about Apple (NASDAQ:AAPL). The bearish article we posted on Apple stock on Monday received quite a bit of attention, and fervent arguments on both sides. Moreover, when Apple stock started suddenly declining toward the end of today's session, it took the entire stock market with it. The Apple options market seems to reflect this fever pitch.
Apple Options
Shown below is a chart of Apple put options traded in white, and call options traded in orange.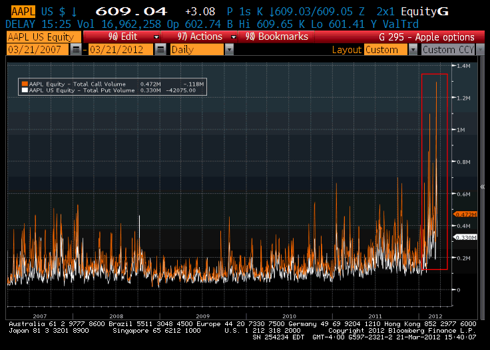 As can be seen, the options volume on Apple is absolutely enormous, with an astonishing 1.3 million call options traded on March 14th. This means that the call options traded on just March 14th alone are enough to change ownership of 13.9% of the entire company, the largest in the world.
We frequently use volume, price action and other technical-type observations to gauge positioning and sentiment in the market. If this amount of call options traded in the market is not exuberant speculation, we don't know what is.
Moreover, Apple has been moving in essentially a perfect parabolic curve since late November as shown by the chart below.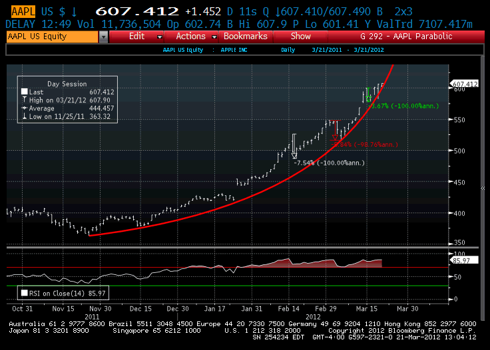 Each successive pullback along this curve has become smaller and smaller, which makes sense as the parabola increases in upward trajectory. However, the history of parabolic moves moving to the right of the parabola is not good.
Shown below are charts of silver and gold once they broke their parabolic trajectories in April 2011 and August 2011, respectively.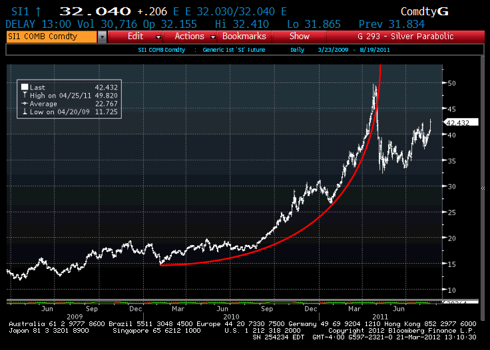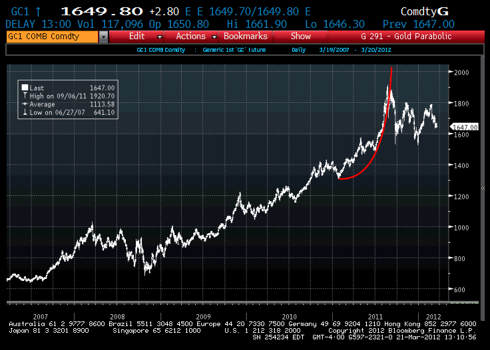 As can be seen, when the security moves to the right of the parabolic trend line, it breaks down very quickly. While we are far from technical analyst extraordinaires, this analysis does make rational sense.
The investors who purchase gold at $1,800 on the way up, or silver at $40, or Apple at $575, are not ones who suddenly came around to the fundamentals of the investment. They are investors who are looking for a quick buck because momentum of the trend is extremely powerful. In all three cases, fundamentals looked exceedingly good, with no fundamental analyst able to point out any real weak spot, other than it's gone up too far too fast. This is a hallmark of a bubble formation in investing. Fundamentals always look good for investments in a bubble. What has changed is that everyone around you now knows about those fundamentals and has invested/acted accordingly, and the momentum-riders have exacerbated the trend even more. However, the reversal of that trend can be severe, sudden and unexpected.
What can cause such a decline in Apple shares? A general risk asset correction could easily do the trick. Given how much money has flown into Apple over the course of the past couple weeks, a general move toward risk aversion could easily set things off in the downward direction for all stocks, which would include Apple.
Fundamentals
A few commenters on our previous article noted that we had made no fundamental argument. First off, God himself cannot tell you what an appropriate P/E ratio is for a company. While every analyst on Wall Street is coming out of the woodwork to cite PE/G ratios and all other sorts of fundamental metrics, the truth is there is no right answer.
What we do know for a fact is that, after the most recent earnings report, investors valued Apple at 12.7x trailing 12 month earnings. Today, the market values Apple at 17.1x earnings. What happened in the last two months that made investors comfortable with owning the stock at a multiple almost 5 handles higher?
We know that it can't be reported earnings, because these metrics are taken after the most recent earnings report, so they include the jump the stock took when investors revalued the stock due to a better than expected earnings report. Bulls will claim a massive awakening by investors to the superior prospects of Apple, but given that this was the largest company in the world even before its recent run-up, covered by hundreds of analysts, this seems unlikely. In our opinion, what is occurring is that the attitude toward speculation in U.S. markets is reaching a fever pitch, and Apple has become a chief beneficiary due to its massive marketing footprint and general benevolence toward products.
Is 17x earnings too much to pay for Apple stock? This is a difficult question to answer, because the answer depends on what the next guy will be willing to pay for it. From a dividend perspective, a 1.7% dividend is clearly not enough to compensate for the risk of an asset that can easily move 5% or more in a week. If you consider that there must be more investors willing to come aboard and buy the stock from you at increasingly higher prices in order for you to profit, you may understand why we are currently focusing on factors that may be considered technical in nature, such as option volume and pricing.
As a final note on valuation, the next largest company in the world down from Apple, Exxon Mobil (NYSE:XOM), trades at a 10.2x earnings multiple, and yields 2.19%. While investors may be correct that Exxon's future growth prospects are not nearly as good as Apple's, consider that Exxon makes the one product that the entire world needs, energy. No matter who works for Exxon, how their marketing performs, or to some extent even how efficiently the company performs, Exxon will be incredibly valuable under almost any socioeconomic environment. Moreover, Exxon's earnings, while subject to fluctuations in energy prices, are fairly predictable given global demand for energy.
On the other hand, Apple makes consumer products - wildly popular consumer products, but consumer products nonetheless. Ten years ago, there was a company whose name was synonymous with the creme de la creme in consumer products by name of Sony (NYSE:SNE). Purchasing a Sony TV signified without question that you were purchasing the best. Now, Sony is abandoning the TV business entirely due to five straight years of losing money as a company. Five years ago, Research In Motion (RIMM) was synonymous with power business phone users. Now, the stock is on life support because consumers have shifted their preference toward Android and iPad devices.
Because Apple makes consumer products, predicting earnings five years from now is about as accurate as throwing darts at a dartboard. After all, who could have predicted how popular the iPhone and iPad could have been and drove earnings to these lofty heights five years ago when the iPhone had not even been released yet?
This also highlights the other large pitfall for Apple as a company, which is the fact they rely on each product launch to be much bigger than the last. Five years ago, 75% of Apple's revenue came from the iPod and Mac computers. Today, those products account for 26% of the business. Can Apple produce new products that are bigger and better than the last and even more revolutionary? Sure, anything is possible, but when you are already the largest company on earth, and investors are predominantly bullishly disposed toward the company, one has to believe that much of the future optimism has been priced in to the stock. Unfortunately, you cannot grow to infinity, so there is a limit to how many iPhones and iPads can be sold as the market reaches saturation.
In summation, the company that makes products based on consumer preferences trades at a 70% premium to the company that makes the one product that every human on earth cannot live without. Fundamentally, that sounds like cause for concern.
Trade Recommendation
We continue to recommend short positions in Apple as a tactical, short-term trade, expressed through options. Details can be found here.
Disclosure: I am short AAPL.