With the S&P 500 up around 11% year to date, behemoth dividend ETFs are turning in forgettable performance. Well known and widely owned ETFs like DVY, VIG and SDY have only gained between 3 - 5%. There is even a dividend ETF that has somehow managed a negative return year to date, FDL. The best performing dividend ETF in 2012 isn't a giant, in fact-- it qualifies as a diamond in the rough based on its AUM. Yet this ETF delivers a 30 Day SEC Yield of 5.8%, has gained 18% in 2012 and invests in three countries that most investors actually feel pretty good about-- Australia, Canada and Brazil. The ETF is the Guggenheim ABC High Dividend ETF (NYSEARCA:ABCS) and it has earned a closer look.
Performance
ABCS has not just led all global and domestic dividend ETFs in 2012 performance, it has crushed the field. Consider the performance chart below from Index Universe, which shows dividend ETFs sorted by year to date performance. Notice that ABCS has outperformed the second place SPDR S&P Emerging Markets Dividend ETF (NYSEARCA:EDIV) by almost 400bps. For some dividend ETFs, that's a whole year of income distributions. Here's the top five performing domestic and global dividend ETFs year to date.
Click to enlarge

Click to enlarge
Note that ABCS is about at the midpoint in expense ratio among the leaders. Also, kudos to WisdomTree (NASDAQ:WETF) for delivering two of the top five performers year to date, DEM and AUSE. Finally, no domestic dividend ETFs made the top cut so far this year.
Yield
A 5.8% 30 Day SEC Yield is certainly attractive, but how does it compare to the top five dividend ETF performance leaders? The answer is that it's actually the least competitive. Based on Sponsor website data, here's the 30 Day SEC Yield breakdown by ticker:
ABCS: 5.85%
EDIV: 6.75%
HILO: Not on website or any materials that I could find...
DEM: 6.51%
AUSE: 6.85%
ABCS isn't leading the pack due to an unsustainable yield. That makes me more interested in the fund.
Valuation
When comparing dividend ETFs, two key ratios are price to book and price to earnings. Index Universe does a nice job of compiling this info from their data toolset, which simplifies a comparison. Here are the surprising results of the valuation ratio analysis.
Click to enlarge
Click to enlarge
ABCS has a middle of the pack P/E ratio but a peer group low P/B ratio. Why is that? It is likely due to its sector make up tilting toward the Utility and Energy sectors, which are more capital intensive. Also ABCS has a bit less Financial exposure than many of the other dividend options. Here's the actual sector breakdown of ABCS from the Sponsor website.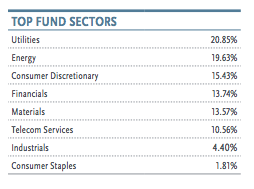 Country Focus
ABCS has a somewhat balanced weighting in Australia, Brazil and Canada. These countries all share a common abundance-- commodities. In fact, Guggenheim specifically designates the investment strategy as Commodity Related Income - a plus or minus depending on your view of the market. I happen to like that tilt. Here's the country breakdown from Guggenheim's website.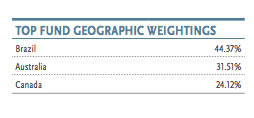 The other leading ETFs are more diversified in their country exposure, except for the WisdomTree Australia Dividend ETF. Of course, it should be noted that global equity dividend ETFs own the top performance spots thus far in 2012 -- no domestic dividend ETFs have climbed that high. In fact, domestic dividend ETFs dominate the bottom of the performance list year to date.
The Conclusion
Sometimes an attractive ETF remains undiscovered. The Guggenheim ABC Dividend ETF fits that profile. ABCS is dividend ETF distributing respectable income and generating attractive capital appreciation. It is a focused play on three stable countries that are rich in commodities. A comparison of ABCS's P/E and P/B ratios to other dividend ETFs shows an attractive value proposition. Finally, given its unique the country and sector allocations, ABCS will likely compliment existing domestic and global dividend ETF allocations. If you haven't taken a close look at ABCS, I believe it is worthy of some attention.
Disclosure: I have no positions in any stocks mentioned, and no plans to initiate any positions within the next 72 hours.