Tuesday Media General (NYSE:MEG) announced that it was able to reach an amendment and extension with Bank of America (NYSE:BAC) and other lenders regarding its $363MM Term Loan. While work still remains, this is a necessary first step in what is basically a two to three step process. The terms of the new loan and what one can infer from BAC's actions are generally consistent with what I have discussed in prior posts. If the remaining two steps can be successfully executed, MEG could be poised to realize major additional value from current prices.
In late January, I discussed incentives driving MEG and BAC to reaching a refinancing deal:
Credit profiles matter but so do incentives. In the current market, bankers have a lot of incentive to avoid writing down debt. MEG's Term Loan A puts its paper in the hands of typical banks with BAC serving as the lead bank. BAC and others in the lending group would likely prefer to extend rather than write down MEG's debt. BAC probably also recognizes that credit markets could improve in terms of health so an extension could give its borrower some more time whereby it could refinance out into a healthier market, should a window like last spring's emerge in the coming years. In structuring the right amendment and extension, BAC could generate up front cash fees, avoid any write down of debt, have a higher yielding performing asset on its balance sheet, and ultimately when credit markets thaw, be made whole when MEG refinances.
As for refinancing terms, almost precisely one month ago, I presented my thoughts on MEG's potential refinancing terms, stating that BAC would be:
..hitting MEG up for $3-5MM for amendment/extension fees and pricing its new debt at L+700 w/a 150 basis point LIBOR floor, MEG would be looking at $31MM on the new loan, $5MM in fees, and then $35MM in interest expense tied to its high yield bonds totaling $71MM in annualized financing expenses.
This is actually quite close to what was realized in the new facility. Per MEG's latest press release:
The amended bank term loan facility has an interest rate of LIBOR with a 1.5% floor plus a margin ranging from 5% to 7% (and commitment fees ranging from 2.25% to 2.50%), determined by the company's leverage ratio, as defined in the agreement. In addition to this cash interest, the company will accrue payment-in-kind (PIK) interest of 1.5%. PIK interest increases the bank term loan outstanding, is accrued on outstanding balances and is payable in cash on amounts outstanding at loan maturity.
Based on MEG's leverage ratio, total interest expense will range from 8%-10%. with up front cash interest expense ranging from 6.5%-8.5%. The extension is contingent on MEG issuing at least $225MM in new notes by May 25, 2012 and using the majority of proceeds to take out the Term Loan. I had expected a high yield offering of about $125MM so the expected offering is significantly higher and also suggests that the offering could be along the lines of a Term Loan B offering. JP Morgan (NYSE:JPM) is arranging the deal and is well regarded in the leveraged loan and high yield markets. One would guess that the $225MM in notes was already loosely discussed by JPM and BAC's syndication desks and is reflective of strong appetite for the credit.
This is playing into the incentives I discussed earlier in the year. BAC is replacing its existing low-return asset with a higher yielding one while also taking advantage of a healthy credit market to reduce its exposure to MEG. The amended facility may also telegraph what JPM is ultimately able to arrange for MEG. The current deal structure in terms of a LIBOR floor, PIK component, and small revolver are consistent with a Term Loan B (TLB) offering and I believe the amended facility is an A Loan in name only. As a result, one can take an educated guess that the deal arranged by JPM may match the terms of the extended facility albeit with a longer maturity.
EXHIBIT I: MEG SUMMARY FINANCIALS POST $225MM TERM LOAN B ISSUANCE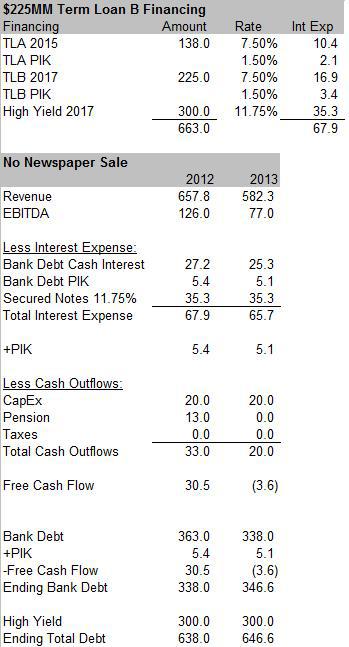 Exhibit I is a crude pro forma estimate of what MEG's capital structure and free cash flow will look like after JPM arranges the $225MM TLB. The TLB deal would be used to take out a good portion of the existing Term Loan based on the parameters laid out by BAC to amend the existing facility. The interest rate is at the midpoint of the L+500-700 range with a 1.5% LIBOR floor but should be towards the lower end of the range in 2012 and higher in 2013 as the spread is based on MEG's leverage ratio. Exhibit I also presents MEG under the assumption of it operating "as is" meaning with the newspaper segment still attached to MEG and incorporates my 2012 and 2013 revenue and EBITDA estimates.
In 2012 MEG should do quite well. Even with the new, higher cost deal, MEG could generate $31MM in free cash flow. Part of this increase is due to $5MM in non-cash PIK interest interest which will accrue until maturity as well as the updated full year capex estimate of $20MM in the latest MEG press release. I initially anticipated about $25MM in capex but the amended credit facility sets a maximum capex level of $20MM – a good thing given the track record of those in charge at MEG. I also assume MEG uses all cash flow to pay down bank debt including any accrued PIK interest. Under the 8-K filed which covers the amended facility, a cash flow sweep ranging from 50%-100% could be required.
The amended facility also provides significant covenant relief to MEG, especially for 2013 when operating performance will be reduced due to a lack of political ad revenue. The amended credit facility allows for a maximum leverage of 9.5x by year end 2013. Assuming about $650MM in year end debt in 2013, MEG's 2013 EBITDA would have to fall under $68MM or so before tripping these covenants. In conjunction with MEG's minimum consolidated interest coverage ratios, MEG's 2013 EBITDA basically needs to be above $71MM although from a practical standpoint in terms of funding capex and other needs, MEG still needs to do a bit better. MEG could tap its $45MM revolver for capex as well but in either event, the company should have some cushion to skirt by in 2013. This is actually very good news as investors have been particularly concerned with how MEG would perform in 2013 given the covenants that were in place in the original facility.
The first step MEG needed to take was to get BAC to amend and extend the existing deal. This was done and for this new deal to go "live" it's up to JPM to arrange a deal for the BAC facility to be reduced/taken out. This two step process will go a long way towards removing the overhang on MEG's stock and allowing the strong fundamentals in 2012 to drive the stock. With the refinancing overhang removed, MEG could be valued around its historical 6.8x EBITDA level which for 2012 would imply a share price of $8+ assuming 2012 EBITDA of $125MM.
While those gains would represent 50%+ upside from current prices, stakeholders such as equity investors and MEG's lending group should not allow management to be complacent one the refinancing is complete and should continue to press management on selling the newspaper segment. Selling the newspaper segment as a third step could completely alter MEG's valuation profile in a very positive and substantial manner.
As I've stated in the past CEO Morton Marshall and his team are the absolute worst in class. This team's unwarranted complacency in H1 2011, during a very large refinancing window, has now officially cost MEG investors $15-20MM in additional interest expense. Poor acquisitions and strategy over numerous years have nearly destroyed the company yet they run MEG unaccountable to anyone. Let's face it, it's a great gig for this team whereby they pay themselves millions and are never held accountable. Once JPM can execute the $225MM TLB, the stock will have some overhang removed and the management team will be ready to get back on the gravy train.
Incentives are always critical and understanding incentives is what allowed me to deduce what BAC would ultimately do with respect to MEG's refinancing. Management's incentives are not on shareholder value as much as preserving their undeserved compensation. We know this because MEG has admitted that it has been approached regarding its various assets – the company stated this in recent press releases. In the Q3 2011 conference call, Mario Gabelli along with other analysts continued to harp on asset sales to unlock value and asset sale questions also followed on the Q4 2011 call. Since 2011, a number of transactions in the broadcast and regional newspaper sectors occurred which would suggest much more value relative to where MEG is trading if the company were to sell off its assets. A skeptic would expect management has been approached numerous times regarding MEG's assets.
However, management has always remained noncommittal with regards to asset sales. This makes sense from management's perspective because they would potentially be losing their jobs. This team pays themselves millions while having no accountability. Management also demonstrates their own lack of confidence in their strategy through the dearth of insider purchases of MEG stock. There appears to be not one purchase of MEG stock by this management team in years. For management, it's option is to keep collecting millions in compensation or sell the company to benefit shareholders while taking an early retirement. This skewing of incentives is why MEG stakeholders need to maintain pressure on disposing of the newspaper segment.
I have been very adamant about this because the upside is so significant, even relative to where MEG could be valued post-refinancing, and it is clear that unless management is being dragged by the collar, it is hard to execute value creating transactions. All one has to do is look back to last year. If management seized upon the refinancing window from anytime from Q4 2010 – Q2 2011, MEG stock at this moment would be higher. Instead, management waited until the last minute dragging investors through a difficult process. If MEG sells its newspaper segment, MEG could be worth $8/share in off-political years.
One potential positive is that the refinancing process seems to be maintaining pressure on management to sell the newspaper segment and the 8-K covering the latest refinancing terms provides a few clues. First, BAC seems to be setting MEG up to enter into the TLB market. I actually expressed this to MEG in the Q3 2011 conference call and this was my initial expectation in January 2012. The overall "look" of the amended facility – LIBOR floor, negligible revolver, and PIK component – are more common with TLB deals as opposed to TLA. What this means is that management will be in for a big surprise in regards to who the new investors in TLB deals are.
TLAs typically have standard bank debt investors. These parties are willing to work with a borrower when troubles arise. TLB investors tend to be much more aggressive and in some cases can get pretty excited about a borrower experiencing potential troubles. If MEG were to experience any challenges once under a TLB deal, I have little doubt that some of those investors would move quickly to push MEG into bankruptcy. In fact, if MEG were facing this same situation in recent months with TLB investors, those TLB investors could very well have waited/hoped for MEG to break covenants and then force the company into serious trouble. MEG management will be aware of who their new lenders are as JPM prepares this deal and that knowledge should encourage management to pursue a sale of the newspaper segment to further reduce MEG's debt load. Getting rid of the newspaper segment would reduce debt and improve the overall cash flow profile of MEG, allowing for an upwards valuation revision.
The PIK component could also be another "positive" in pushing management to sell the newspaper segment. The PIK interest will accrue and raise the overall debt balance and by improving MEG's debt profile through asset sales, the overall debt load and accretion of PIK interest would be reduced. A broadcast-only MEG could also potentially refinance the entire deal post newspaper sale into far better terms.
The other positive piece of data in the 8-K was the indication that BAC seems to have forced MEG to hire AlixPartners. AlixPartners is a very well regarded turnaround advisory firm. Over the past several months, short sellers have had a chance to get excited in recent 8-Ks, first when Capstone Advisory was hired by BAC, and now with AlixPartners, under the far stretched assumption that these parties were hired to escort MEG through bankruptcy. BAC would not be going through the trouble of extending and amending the existing deal and then having JPM involved to arrange and syndicate a new deal if this was the case. I would guess that AlixPartners is directly involved with determining how to efficiently carve out the newspaper operations from the broadcast operations to set up a smooth future sale of the newspaper segment as well as advising MEG on how to improve flagging operations.
In fact, the operational separation has been occurring to some extent. According to MEG's Tampa Tribune rival the Tampa Bay Times:
Media General has moved so decisively in recent months to separate resources and staff between WFLA and sister outlet The Tampa Tribune newspaper. Officials promised TV staffers — who had long complained that the extensive convergence with the newspaper was hurting their performance — the broadcast arm would get its "swagger" back.
This swagger has actually started to come back which could portend some decent news for MEG's Florida division in 2012 as MEG's Tampa NBA affiliate racked up top ratings for its 6AM, 6PM, and 11PM slots in February. Given the embedded value in MEG's assets, it appears that BAC and the various advisory firms could be serving equity holders better than management.
Finalizing the refinancing through JPM will undoubtedly be welcome news but selling the newspaper segment could result in MEG being worth well over $10/share. Exhibit II assumes MEG can sell its newspaper division for $100MM and presents how the company would look going forward. Total debt would be reduced by $100MM while EBITDA based on my estimates using MEG's own filings would only decline by about $20MM. Capex could also be less than what I think is a conservative $15MM in annual expenditures. In either case, what is clear is that MEG can generate positive free cash flow even in off political years. MEG would also be valued like pure-play broadcasters such as Gray Communication Systems (GTN).
GTN is currently valued at 9.5x 2011 EBITDA. 2011 was a non political year and GTN generated EBITDA margins of 33%. In 2011, MEG's broadcast unit had EBITDA margins of 32% with EBITDA of $88MM. Given the similarities in size, MEG as a standalone broadcast unit should be able to obtain GTN's valuation. In Exhibit II I also assume MEG maintains its weak Dealtaker and Blackdot divisions but I would also favor having those shuttered given the losses they generate. There is also some additional overhead to be expected given MEG runs less efficiently than its competitors which I expect AlixPartners to assist with. In either case, I think $80MM in EBITDA in 2013 – an off-political ad years – is a reasonable estimate for a MEG freed of its newspaper segment. Using GTN's "off-political year" valuation of 9.5x EBITDA, MEG's off political year valuation would be about $8.50 – a stark contrast to where MEG is currently valued. In the first post Citizens United election in 2010, GTN on average was valued at 7.5x 2010 EBITDA of roughly $137MM. Using a non-newspaper MEG estimated 2012 pro forma EBITDA (full year estimate) of $106MM, MEG would be valued at $10.
EXHIBIT II: MEG SUMMARY FINANCIALS POST NEWSPAPER SALE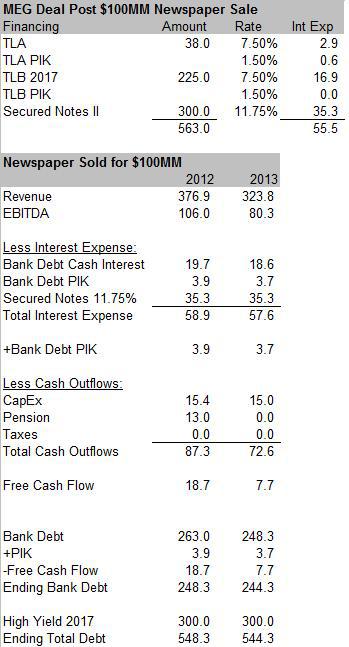 This valuation estimate is actually quite conservative with regards to using GTN's metrics. GTN has about $827MM in net debt against trailing EBITDA of about $101MM. Total debt is 8.2x which is higher than what a post-newspaper sale MEG would carry. GTN also has about $25MM in costly preferred equity which MEG does not. These two items alone could warrant a post newspaper sale MEG valuation of 8.0x EBITDA in 2012 or $12+, and an off political year valuation of 10.0x EBITDA or $10+ assuming a $100MM newspaper segment sale.
As previous stated, on a fully integrated basis, MEG could be valued around its historical 6.8x EBITDA level or $8+ once the refinancing overhang is removed. That reflects a nice nearly 50% gain from current prices. However, assuming a reasonable sale of the newspaper segment with proceeds used to reduce debt, MEG could be worth 100% more than current prices. While the final step in the refinancing process will be a welcome event, I am hopeful that MEG can potentially squeeze out a pleasant surprise in selling its newspaper segment.
Disclosure: Author manages a hedge fun and managed accounts long MEG