I have selected two stocks currently priced as value plays based on PEG ratios and other fundamentals, nonetheless, have outstanding growth prospects the market has discounted substantially. The market has had a tremendous run since the start of the year. Many stocks are reaching overbought and overvalued levels. It has become an arduous endeavor to find opportunities to put new money to work. I believe these stocks still have significant upside potential based on superior management, products and long term secular growth cycles for their respective markets.
Some believe the market is running out of steam based on the tremendous performance as of late. On the other hand, Goldman Sachs (NYSE:GS), in a report to clients, stated this is an "once-in-a-lifetime" opportunity to buy stocks. The firm stated equities in general are undervalued after 20 years of relative underperformance against bonds. Peter Oppenheimer, the firm's chief global equities strategist, in the 40- page strategy paper wrote:
The prospects for future returns in equities relative to bonds are as good as they have been in a generation. Given current valuations, we think it's time to say a 'long good bye' to bonds, and embrace the 'long good buy' for equities as we expect them to embark on an upward trend over the next few years.
I ardently agree with Oppenheimer. I believe we have at least until the end of May before we have a shallow correction of 5% to 10% with the market vaulting higher from there. Apple (NASDAQ:AAPL) and Cisco (NASDAQ:CSCO) are my current picks. I believe they each have great stories and room to run.
Apple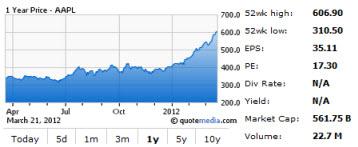 Apple has exploded higher recently with the release of the New iPad and a recent announcement of a dividend. The largest company in the world has the potential to become a dividend growth play going forward. The introduction of the iPhone 5 presumed to be just around the corner the stock should see some well deserved multiple expansion.
Several Seeking Alpha authors chimed in immediately with bullish and bearish points of view. SA editor George Moriarty published a recap article with links to the more than twenty or so articles. I suggest you peruse them at your leisure prior to making up your mind on the stock. Nevertheless, I see the stock continuing to climb higher for three basic reasons.
Break Out From Current Trading Range
Apple has broken out of its recent trading channel significantly as of late. Many technicians are predicting a significant retracement based on this parabolic move. Nevertheless, I must disagree and history is on my side. If you review the history of the stock you will see this same movement has occurred 12 times previously and maintained the increased price level 9 of the 12 times. These are pretty good odds Apple will be able to sustain the current price increase.
Strong Fundamentals and Growth Prospects
Apple is fundamentally sound with a PEG ratio of .91, a Forward P/E ratio of 12.61, and EPS growth estimates of 18.93% over the next 5 years. Some analysts are warning Apple may be following in the footsteps of Microsoft (NASDAQ:MSFT) and heading for a prolonged period of stagnation. Microsoft has just now broken out of a long term trading range as well. I see significant upside for Microsoft going forward based on its upcoming Windows 8 release by the way. The one differential I would propose Microsoft then and Apple now is Microsoft had significant market saturation then while Apple is just now beginning to break into the coveted corporate market. Apple has plenty of room to grow in the future.
Competitive Advantage
Google's (NASDAQ:GOOG) android smart phone operating system combined with Samsung's (OTC:SSNLF) hardware seems to be the major competition for Apple's iPhone currently. There are rumors of Google providing a dividend. I like Google here as well. Nevertheless, with Apple's ingenious creation of its own ecosystem, I see many avenues other than the smart phone for Apple to create new product profit centers. Although, I would wait for a small pullback of approximately 5% prior to starting a position as the short term traders who bought on the news of the dividend and New iPad take profits and move on.
Cisco Systems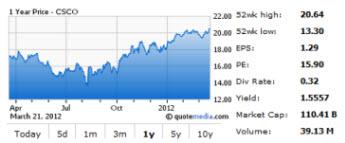 Cisco had a great fiscal 2012 second quarter and increased its quarterly cash dividend to $0.08 per common share. Net sales were $11.5 billion an increase of 11% year over year while earnings per share were $0.40 GAAP an increase of 48% year over year. Yet the stock has gone basically nowhere since the earnings report date in mid-February. Currently, the shares are trading for $20 and change.
Share Price Presents Buying Opportunity
I believe the issue for the stock was the guidance provided by CEO John Chambers on the conference call. He was extremely cautious and undershot analysts' expectations for next quarter substantially. I believe Chambers is using the well-known ploy of under promising and over delivering. I can't really blame him for not coming out and making a bold call regarding future performance though. Cisco is just now rising from the ashes of about a year's worth of missed estimates and poor performance. Regardless of past performance, I say this a buy on weakness opportunity and just the time to start a position. I believe the proliferation of IP addresses for all the new internet devices coming online will spur a secular growth cycle for Cisco's products.
Vertical Integration Equals Higher Profit Margins
Cisco is leaving no stone unturned in regards to potential profits with its recent acquisition of the video software company NDS Group for $4 billion. NDS's software is used by cable and television companies to power set-top boxes and video recorders. It also makes the software that powers streaming video to devices other than televisions. Cisco already provides the technology to get shows and movies from the content provider to devices. Cisco will potentially increase margins significantly by vertically integrating with this acquisition by capturing lucrative downstream revenues.
Pricing Power and Strong Fundamentals
Sterne Agee says checks with F5 Networks, Inc. (NASDAQ:FFIV), one of Cisco's main competitors, indicate "positive momentum with new products" such as its VIPRION 2400 mid-range application delivery controller (NYSE:ADC), as well as "generally positive demand" for ADC products. Though cautioning a "significant portion" of F5's FQ2 sales will occur in the next 2 weeks, it's confident sales cycles remain intact. Shares made new 52-week highs earlier today, but subsequently pulled back.
I see this as a big positive for Cisco's prospects. Cisco remains the 800 pound gorilla in the space with significant pricing power. I see F5's recent success as a positive indicator for Cisco. If F5 is doing well, Cisco is doing better. Furthermore, Cisco is fundamentally sound with a PEG ratio of 1.65, a Forward P/E ratio of 10.44, and EPS growth estimates of 9.76% over the next 5 years. I see the lack of price appreciation in Cisco shares as a buying opportunity at this level.
Conclusion
Apple and Cisco are two tech sector companies with great prospects for future growth and solid management teams who know how to execute. They are coming from divergent angles. Apple is a momentum play soaring to all-time highs. Cisco is a turnaround play just now climbing out of the doldrums. I see significant upside for both based on company specific and macroeconomic catalysts on the horizon coupled with valuations ripe for multiple expansion and capital appreciation. I like Cisco right here but would wait for a slight pull back in Apple prior to starting a position as it is still steaming from the latest news. My price targets for Apple and Cisco are $800 and $30 respectively.
Use this information as a starting point for your own due diligence and research methods before determining whether or not to buy or sell a security. If you choose to start a position in any stock, I suggest layering in a quarter at a time on a weekly basis to reduce risk and setting a 5% trailing stop loss order to minimize losses.
Disclosure: I have no positions in any stocks mentioned, but may initiate a long position in AAPL, GOOG, CSCO, MSFT over the next 72 hours.