It was so peaceful on Wednesday. Actually, it has been quite peaceful for almost a week now. We even had time to enjoy a hamburger together while talking about Sirius XM (SIRI). With the unseasonably warm weather, especially here in the northeast, it's almost seemed like vacation.
Unfortunately someone brought their kid along, and they've been running around screaming on a daily basis about how Sirius XM is going down in flames, and "but but but! P/E ratio!" this and "old short interest data says...!" that. They even brought a few of their friends that nobody has ever seen before. And who would have thought, the kids don't even like hamburgers.
I think we can all agree. The kid stays with grandma next year.
I hope you listened last Friday :
These are times to take advantage of a lull in trading activity and share price. These are great times to go long, and I will be looking for an entry point myself on Friday around $2.25.
It has been a relaxing few days, and Sirius XM has not disappointed in our absence.
Click to enlarge: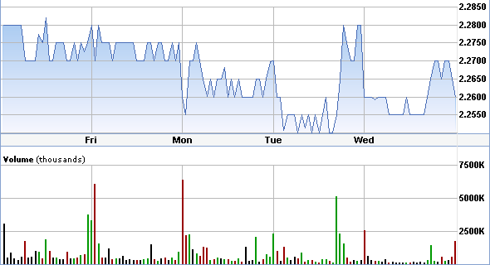 It is almost like the stock itself has been on vacation, winding down and relaxing the entire week on lower and lower volume. It's always nice to return home to find it just how you left it, and it's especially nice to see that $2.25 you expected peeking back at you when you open the door.
Fun's over. Back to work.
Options are done with for March. All options at this point have been sold, covered, exercised, delivered, etc. So what's next?
Let's take a look at a chart with a longer, 3 month duration: (Click to enlarge)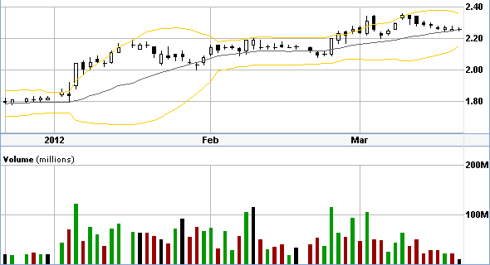 Pay close attention to two things here. First is the black line. This is the 20 day moving average which has served as support now since November 18th. Each and every time the share price has dipped slightly below this line, it has bounced up in response. The upper yellow line is also important. Each time the share price has bounced up from the black line, it has approached the upper yellow line called a bollinger band. These bands tighten as the share price consolidates, and widen with volatility.
Sirius XM has been trading like this for quite some time. A well-versed investor will say here that "past performance is not indicative of future results." This is true, so we need to consider what may or may not be happening for Sirius XM in the immediate future in order to gauge our expectations for the stock.
So what is coming up? Forget about April fool's day, Easter, or Administrative Professional's Day. While it would be great if any of those could move the stock higher, it's highly unlikely.
Coming up for April we have two important events :
Release of March auto sales data, and full data for Q1 2012 auto sales

End of Q1, and possible hints at Sirius XM's numbers, or revisions to guidance
Each of these has the capability to provide actionable news which may send shares of Sirius XM up to resistance again at $2.35, or through it.
We are entering a very important time frame, and Sirius XM investors and traders alike will want to watch the share price closely. We are currently hovering at a critical point, $2.26, directly on the 20 day moving average. Crossing much below this could find the stock testing $2.15. This, in my opinion, would be a wonderful buying opportunity especially if it happens on no news at all.
What I believe is a more likely scenario, is that we continue to trade between $2.25 and $2.35 until March auto sales data is in. As time goes on, we should pop up and trend back again to around $2.28 in the next 7 trading days, trading mostly sideways in consolidation. I won't be worried if we see a dip to $2.23 Thursday, March 22.
Traders will get bored, but don't let this bore you longs out of your shares. Hold tight, and brace yourself. We've been at these prices before, but this time it's different. I believe we're due to break through by the first quarter conference call at the latest.
My money is where my mouth as per my disclaimers below. I'm all in. How about you?
Additional disclosure: I am long SIRI April and June $2 calls.