Earlier this month Dangdang (DANG) teamed up with GOME Electronics, one of China's largest electronic appliance retailers, to sell GOME's home appliances and electronics on Dangdang.com. The two companies hope to compete with 360Buy.com in China's fast growing ecommerce space, where books, apparel and electronics are the top three B2C sales categories.
The partnership is beneficial to both Dangdang and GOME. Dangdang is already a leader in online books, accounting for over 50% of the market share and its general merchandise segment is also ramping up with sales growth of 210% y/y last quarter. Dangdang's baby product segment is already one of the leading online ecommerce platforms in China, and the company can expand its revenue and product mix with home appliances and consumer electronics through GOME. Meanwhile, GOME benefits from Dangdang's increasing traffic. In 4Q11, Dangdang's active customers grew 85% to 12.2 million.
Dangdang and GOME will face an uphill battle in challenging 360Buy in China's 3C (Computer, Communication and Consumer electronics) market. According to Analysys International, 360Buy has 36% market share in China's 3C market, compared to 1% Dangdang and GOME combined.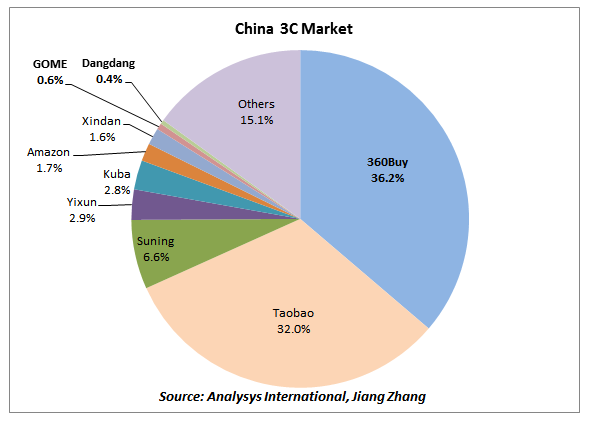 However, I believe that Dangdang and GOME will likely gain market share as Dangdang continues to focus on improving user experience. According to Huangqiu.com, 360Buy is suffering from six major service issues, namely:
Customers' orders are cancelled without proper explanation
Same-day or next-day delivery is not guaranteed
Late delivery on purchase using normal delivery option
Reluctance to offer refund to customers
Poor customer service. For example, unwilling to terminate customers' orders upon request
Purposely alter consumer rating on 360Buy's website to deceive new shoppers
Based on my knowledge, Dangdang has yet to receive complaints of this magnitude, which could indicate that Dangdang's customer service is superior to that of 360Buy. Dangdang and GOME's official 3C store is scheduled to launch on March 25th.