One of the main differences between gold mining stocks and gold bullion is predictability. While the price of the SPDR Gold ETF (GLD) has been rather stable and steadily trending up long-term, many gold mining stocks have plummeted recently and are now hitting 52-week lows. Their stock prices are becoming unpredictable and less and less positively correlated with the price of gold. Here are some examples:
Barrick Gold (NYSE:ABX) - Current Price: $43.62
52-week Range: $42.50 - $56.00 P/E: 9.8 Yield: 1.37%
Kinross Gold (NYSE:KGC) - Current Price: $10.07
52-week Range: $9.71 - $18.25 P/E: - Yield: 1.59%
Goldcorp Inc. (NYSE:GG) - Current Price: $44.02
52-week Range: $41.91 - $56.31 P/E: 20.2 Yield: 1.22%
New Gold (NYSEMKT:NGD) - Current Price: $9.47
52-week Range: $8.69 - $14.15 P/E: 23.2 Yield: N/A
Eldorado Gold (NYSE:EGO) - Current Price: $13.16
52-week Range: $12.84 - $22.12 P/E: 22.9 Yield: 1.37%
Below is a performance comparison between GLD and the bigger gold miners (ABX, KGC and GG) over the past 2 years: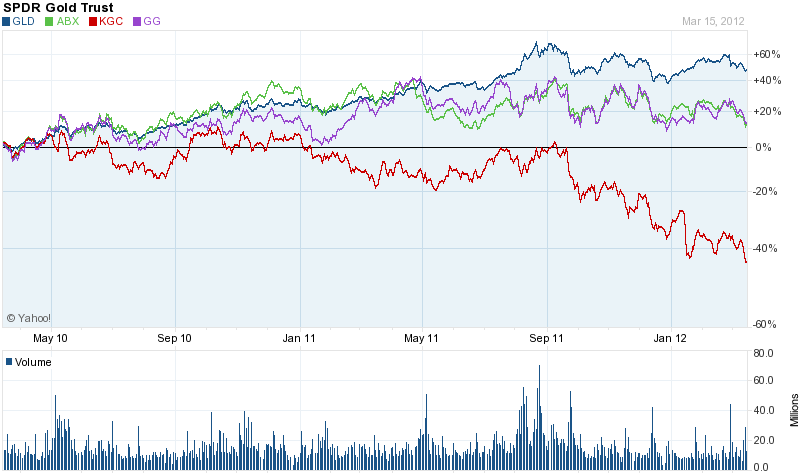 The reasons for the vast disconnect between gold and gold miners appear to be quite irrational. The main potential reasons why many of these stocks haven't benefited from the recent rally in the overall markets are 1) investors are afraid that inflation in the mining input costs (labor, equipment, fuel) will hurt profit margins or at least result in no growth going forward, and 2) the market isn't convinced that $1,700 gold will last.
I believe that both of these reasons are irrational, and at some point there will be an upward price correction. According to Barrick's Q4 2011 Operating Results, "Gold cash margins increased 25% to $1,159 per ounce in Q4 from $928 per ounce in the prior year period and net cash margins rose 18% to $1,282 per ounce from $1,090 per ounce in the prior year period. Full year adjusted net earnings increased 33% from $3.52 billion in the prior year to $4.67 billion ($4.67 per share)". In other words, even though production costs did increase somewhat in Q4, profit margins still went up significantly to $1,159 per ounce!
In addition, the article "Review of Gold's Economic Fundamentals in Q3" already showed that in terms of supply and demand gold is at or near equilibrium. This indicated that no significant price movements are to be expected in the near future, and that's exactly what has happened in the past few months.
I expect that investors will come around and realize that many of the large-cap miners and quality juniors are deeply undervalued. A number of mining projects that I've researched are worth far more than they used to be just a few years ago simply because the price of gold is so much higher than 2-3 years ago. In the meantime, most gold miners are on sale at near rock-bottom prices.
Disclosure: I am long ABX.