Last night on CNBC's Mad Money Lightning Round, host Jim Cramer was asked about ChipMOS (NASDAQ:IMOS), and gave the very unusual response that he needed to do research before providing an answer. We were pleasantly surprised that Cramer, who virtually always has an opinion, took a temporary pass, because we are confident that he will conclude that ChipMOS shares are dramatically undervalued, and can still double from here.
We provided extensive details on ChipMOS in our prior articles, and think the sole sell-side analyst, Richard Shannon from Craig-Hallum, has the call right.
Below are 10 key points regarding ChipMOS that Cramer needs to know:
1. ChipMOS shares, despite their run, are CHEAP. The company had $4.18 of free cash flow per share last year, and based on comments from last Friday's earnings conference call could have $5+ of FCF per share in 2012. They have $78 million of net debt which should be zero by the end of 3Q, meaning shares trade at 3.4x FCF - at 8x FCF it's a $40 stock.
click to enlarge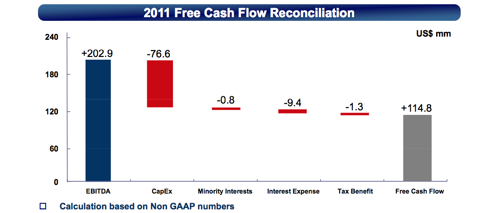 Source: ChipMOS investor presentation
2. ChipMOS has huge earnings power, but it has been masked by depreciation. In 2007, ChipMOS spent $479 million on cap-ex. As a result, depreciation has been approximately $200 million per year, versus cap-ex of $80 million. This outsized depreciation has caused EPS to look non-existent, however, this changes in 2012 as depreciation falls by more than $30 million, and by 2014 should be approximately the same as cap-ex.
3. Cash has been pouring in. ChipMOS has been using its tremendous free cash flow to delever its balance sheet. Since 4Q09, net debt has been reduced from $470 million to $78 million. While the EPS hasn't been there as a result of how US GAAP accounting accounts for depreciation, cash doesn't lie - and the cash has been pouring in.



Source: ChipMOS investor presentation
4. Terrific customer base. ChipMOS has a who's who of memory and driver-IC companies as customers. Key customers include Micron (NASDAQ:MU), Spansion (CODE), and leading Taiwanese NOR flash and LCD driver-IC companies Himax, Macronix, ProMOS and Winbond. ChipMOS is working with top companies who supply into high-growth markets.
5. Exposed to high-growth markets, with limited competition. ChipMOS assembles and tests chips for customers that ship to many fast growth markets, including smart-phones, tablets, servers for cloud computing, and more. Several customers are suppliers into Apple (NASDAQ:AAPL) which is important, although we think it is the proliferation of high-performance mobility in general that is more important than the Apple story.
Notably, ChipMOS revenue from driver-ICs has increased from about 15% in 2009, to 35% in 2011. Equally important, there is little competition in this segment beyond ChipBond, while in other segments of the outsourced semi assembly and test industry, competition is much more fierce with players like Amkor (NASDAQ:AMKR), ASE (NYSE:ASX), Siliconware (NASDAQ:SPIL), STATS-ChipPAC and numerous smaller players.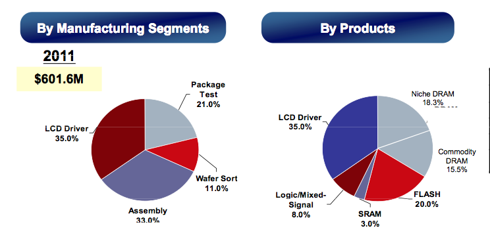 Source: ChipMOS investor presentation
6. Beneficiary of cyclical semiconductor upturn. While we think shares of ChipMOS are unbelievably cheap, and our thesis is not based on a cyclical upturn, it certainly doesn't hurt. Across the semiconductor industry, CEOs are calling a bottom, with acceleration and growth likely for multiple quarters. In 2011, a tough year, and a terrible year for DRAM, ChipMOS had FCF of $4.18 per share. If they are doing $4.18 in a tough year, imagine what they could do in a cyclical peak.
7. Analyst estimates likely too low. ChipMOS provided 2012 revenue guidance of 10%, and gross margin to range from 14-17%. We believe the 10% will prove conservative, and based on Rich Shannon's model which uses the middle of the gross margin range, we expect earnings beats and raises throughout 2012.
8. Now on investor and sell-side radar screens. We are hopeful that ChipMOS will get more analyst coverage this year, following the recent initiation from Rich Shannon at Craig-Hallum, which was a major catalyst in getting shares moving. We also expect institutional funds to do analysis on shares, now that the stock has sufficient market cap and liquidity worth looking at. Most important, we are confident that anyone that actually does the work will recognize that this is a legitimate great story. While the stock has run, it remains dirt cheap on any metric. As a former colleague used to say, "it's got to double before it triples."
9. Buyout candidate. We believe ChipMOS is a viable buy-out candidate. At 3.4x FCF, it could be on the radar screen of numerous players who have been involved in the sector, including Bain, Blackstone, Carlyle, Francisco Partners, KKR, Permira, or TPG (amongst others). At 6-8x FCF (a very low multiple in the world of Private Equity), shares would be $30-$40. An IPO in 2014, after depreciation has rolled off, with EPS of $5.00 and an a-list underwriting team could result in a massive return on equity.
While the outsourced assembly/test industry is consolidating, a strategic acquisition is somewhat less probable due to shares ownership by Siliconware - although they could easily be a buyer. We hope ChipMOS is NOT bought out anytime soon because we believe even at a healthy premium to current prices, we would not receive close to full value for our shares.
10. Buyback in place, but buyback anemic. While we continue to think ChipMOS is a compelling value, we were disappointed by the tiny amount of shares the company has repurchased to date (yes, this is a negative, but we'd like Cramer to have all the facts). ChipMOS repurchased less than $500,000 of its $10 million buyback, which we feel is a lost opportunity to have bought back significantly undervalued shares. We view this as extreme conservatism from management. We believe that following ChipMOS' near-death in 2009 (when two of its customers went bankrupt), it is is now exceedingly cautious regarding every dollar.
While ChipMOS may not pursue buybacks nearly as aggressively as we'd like, they also will not go on a cap-ex spending spree - meaning the huge free cash flow story (and EPS story) that we love will be there for the foreseeable future. Stocks, in great, growing markets, with strong customers, simply don't trade at 3.4x FCF for long.
So, Booyah! Jim Cramer. There's still plenty of upside here.