Stability matters. When designing a stable dividend portfolio, the durability of the dividend is one of the most important factors to consider. As a desired attribute, stability also tends to have a higher value placed upon it. Yet stability does not necessarily have to come at the cost of giving up the search for a higher yield. Too often, investors tend to cave in to the "easy option" when it comes to dividends. This is why popular dividend ETFs such as the SPDR S&P Dividend ETF (NYSEARCA:SDY) and the iShares Dow Jones Select Dividend ETF (NYSEARCA:DVY) support such high volumes while offering a far from substantial yield. While they may be simple and safe investments, not all investors would agree that they are the most ideal positions to own when looking to invest in an income portfolio.
Investing in a few individual stocks can help turn your own portfolio into a high yield income fund. Beginning with a just few high-yielding positions and further rounding out the portfolio with additional investments in other companies over time, an investor can often create an effective income stream to rely on. Proper diversification can aid in the mitigation of loss potential that could occur in a specific sector of the economy. By selecting leaders of distinctly unique industries, a portfolio can spread its risk and further stabilize the yield from unforeseen market shocks. In doing so, stability is taken into account from a macro perspective.
Consistency in a company's dividend history is also a critical component when vetting an investment into the portfolio. While not a measure that necessarily dictates future expectations, such consistency is a strong reflection of a company's lasting sustainability. Is the company committed to distributions? Are they growing their dividends? These are all questions that help to validate the stability of a investment's income component. It is a part of balancing the need for stability from a micro perspective.
The following portfolio is diversified in regards to industry. It also spreads out an even yield across multiple companies thereby mitigating lost income should an investment fail. Last of all, it considers the outlook of the companies themselves. Altogether, the portfolio averages a yield of 7.06%, and all values were taken as of March 21, 2012:
| Company Name | Market Cap. | Yield % | Industry |
| --- | --- | --- | --- |
| Terra Nitrogen Company (NYSE:TNH) | $4.26 B | 8.0% | Fertilizer |
| Government Properties Income Trust (NYSE:GOV) | $1.13 B | 6.9% | REIT |
| Energy Transfer Partners (NYSE:ETP) | $10.72 B | 7.7% | Nat. Gas Pipelines |
| New York Community Bancorp (NYB) | $6.03 B | 7.3% | Regional Bank |
| Altria Group (NYSE:MO) | $61.39 B | 5.4% | Cigarettes |
Terra Nitrogen operates as a subsidiary of CF Industries (NYSE:CF), serving as a domestic producer in the nitrogen fertilizer business. In regards to the global market, Terra retains a strong comparative advantage by utilizing historically low-priced natural gas as an input. With strong demand for food driving the demand for fertilizers and the extended period of low natural gas prices for the foreseeable future, Terra is in a very good position to sustain its yield.
Government Properties Income Trust is a spin-off IPO from CommonWealth REIT (NYSE:CWH), formerly known as HRPT Properties Trust. The company operates as a real estate investment trust (REIT), and must therefore distribute 90% of its taxable income in order to retain its tax advantages allowed under its designation as a REIT. With a holdings portfolio largely consisting of office buildings that are leased to government tenants, the portfolio is largely thought of to be pretty stable regardless of the economic environment.
Energy Transfer Partners operates as a master limited partnership that specializes in the gathering, treating, processing, marketing, and transportation of natural gas. As a company that specializes in the infrastructure of natural gas transportation, the company is less likely to be directly affected by swings in the commodity price itself. This allows for a stable position in an industry that is sure to expand on the basis of growing demand and supply for natural gas.
New York Community Bank operates as a regional bank primarily servicing the New York, New Jersey, and Ohio area. The company principally conducts its business as a traditional banking institution engaged in generating deposits and originating loans. NYB has proven to be able to sustain its yield having continued to steadily pay out its hefty dividend throughout the Great Recession. The banking institution serves as a standout company offering exposure to an industry marked by few winners when it comes to yield.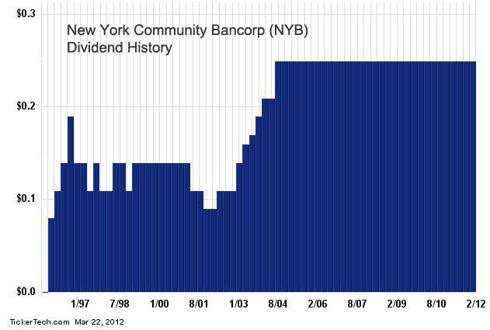 Click to enlarge
Altria Group serves as the one of the largest cigarette and wine companies in the world, and operates primarily in the United States. With its strong position in a consumer-based industry notoriously marked by addiction, Altria has steadily grown throughout the years. Along with an appreciating share price, the company has sequentially been raising its dividend to coincide with its growth. With consistent return business, Altria has been a safe investment regardless of the economic environment.
Disclosure: I am long CWH, NYB.