JA Solar Holdings Co Ltd (NASDAQ:JASO) recently reported a Q4 loss of 39 cents per share. This compares to a profit of 59 cents a year ago. Excluding one time charges, JASO lost just 11 cents per share. This number was slightly worse than the 9 cent per share loss expected by analysts. While the numbers were not impressive, comments made about the business by JASO CEO Dr. Peng Fang were more impressive. (Click here for call transcript.)
Expectations
Expectations for the entire solar sector are extremely low because of the challenges facing the industry. Even industry leaders such as First Solar (NASDAQ:FSLR) have suffered massive declines in earnings and share price. The solar business has been so bad that multiple solar companies, including Evergreen Solar (ESLR) and Solyndra, have been forced to file for bankruptcy.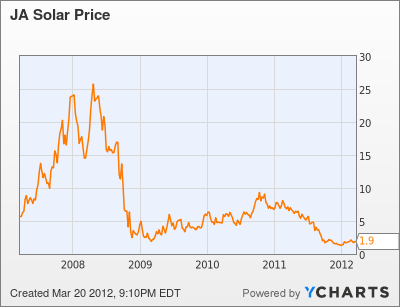 If the share price is not enough to indicate the negative outlook investors have towards JASO, the short interest also indicates a lack of confidence in the company. Short interest is currently just over 10%. In addition to the weak stock performance and high short interest, JASO is currently trading at just 0.29 times book value.
JASO CEO Dr. Peng Fang
During the quarter, we took several key steps to improve our company's fundamentals and the balance sheet. First, we have managed the cash flow proactively, and as a result, operating cash flow turned strongly positive in Q4 to a positive $86.6 million, up from a negative $45 million in the third quarter. We were also able to achieve free cash flow during the quarter, which positions the company well for the sustainable future growth.
The financial position of JASO has improved substantially. The reversal from negative free cash flow to positive free cash flow substantially decreases the chances of a JASO bankruptcy anytime soon.
Despite a challenging business environment, we achieved a positive gross margin during the first quarter, which is a noticeable improvement from a gross margin of negative 4.3 in the third quarter.
The improvement in gross margins is indicative of a company willing to adapt to a changing environment to stay competitive. Positive gross margins are necessary if the company hopes to survive.
Let me give you an update on our shipments for the quarter and our view of global solar market. In the fourth quarter, we shipped approximately 398 megawatt, which is well above the high end of our previous guidance of 330 megawatt.
Demand is stronger than JASO had previously anticipated. Stronger demand in addition to better margins should lead to significantly stronger results for JASO in the coming quarters.
On technology, in 2011, we introduced our breakthrough SECIUM and MAPLE solar cell technologies and the response so far from our customers has been great. We've made good progress with these technologies, converting efficiencies, (inaudible) record of 19.5% for our high-efficiency SECIUM sales and 18.6% for our optimized spend of the monocrystalline solar cells.

This improves the efficiency of solar cells will allow us to produce modules in 60 cells formats with output of 265 watts or more, which is substantially higher than the industry standard for modules and makes this product particularly attractive in terms of ROI.
JASO continues to see the importance of innovation. In business, it is often said that standing still is moving backwards. JASO continues to come up with more efficient solar cells which will help fend off competition.
Conclusion
Comments from JASO's CEO indicate that the company may have turned a significant corner. The combination of better cash management, improvement in margins, better than expected demand, and continued improvements in solar cell efficiency, are all bullish for JASO shares. While the solar business will remain difficult in 2012, expectations are so low that JASO is worth considering as a speculative play.
Disclosure: I have no positions in any stocks mentioned, and no plans to initiate any positions within the next 72 hours.