If you are one of the unfortunate bystanders that missed Apple's (NASDAQ:AAPL) 50% rally this year and are looking for a good entry point, the following analysis may prove extremely helpful.
Apple has traded furiously the past nine trading sessions. It has been up more than 12% since March 7th without much rest. The large order flow during that period dashed the hopes of many bystanders begging for some sort of pullback to get in. An analysis of Apple's chart below shows that its stock doesn't necessarily "correct" per se, but does pause and slightly retreat whenever it significantly diverges from its 10 day moving average and RSI levels scream overbought conditions.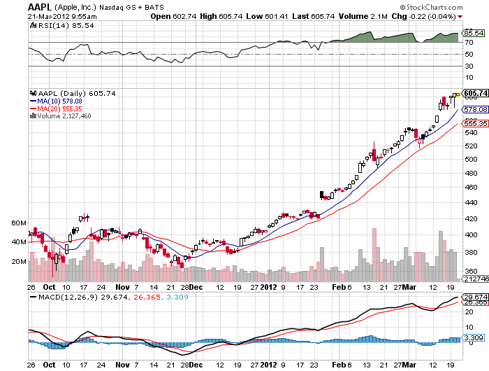 Click to enlarge
click to enlarge
As you can see, there have only been two time frames since Apple's gap up on earnings January 25th where the stock tested its 10 day moving average. The first, on February 15th, the stock briefly touched its 10 day moving average, but closed above it. The second time frame saw the stock touch the 10 day moving average on March 5th, and ultimately closed along that trend on March 6th and 7th. In both instances, the stock bounced back after roughly 3% pullbacks and proceeded to make new highs.
These periods have two things in common: (1) Significant Divergence from the 10 day moving average in the days immediately preceding the 'sell-off'; and (2) RSI levels at or near 90 during those days. In both time frames, the stock traded 5% higher than its 10 day moving average in the days immediately preceding its brief retreat (Feb. 14th & March 1st). In addition, RSI levels were significantly elevated during those days. While an RSI level of 70 typically indicates overbought conditions, the RSI was at or near 90 immediately before the stock had its minor sell-offs.
Apple is no doubt a great buy. It's the flagship Rolls Royce. Despite its lofty price tag, it has great value as its forward P/E ratio is actually lower than the S&P average. With catalysts like April earnings and a soon to come iPhone 5, the stock will likely go much higher from here. However, if you knew that the Rolls Royce might be slightly cheaper in the very near future, wouldn't you hold off before walking in the dealership?
Apple is currently trading at around $606.00, which is just under 5% higher than its 10 day moving average of 578.08. The $578 coincides precisely with the March 14th gap up. The current RSI reading is currently 85.54. If history is any indicator, the stock should decelerate its pace from here to quarter's end. It will likely have a minor pause and retreat, allowing the 10 day to "catch up" before making another run at new highs heading into next month's earnings.
Conclusion: Given the current divergence and RSI levels, allow the stock to test the 10 day moving average and hold before initiating a long position.
Disclosure: I have no positions in any stocks mentioned, and no plans to initiate any positions within the next 72 hours.