When I wrote my analysis of Agrium's (NYSE:AGU) fiscal year 2011 4th Quarter and full year earnings back in February entitled, "Agrium's Landmark Retail Acquisition Reaps Strong Profits In Q4 And 2011", I stated that the company would face tough on year-on-year comparisons given accretive earnings that were the result of the Landmark retail operations the company acquired as part of its December 2010 acquisition of AWB limited.
Those comparisons recently became a little less difficult to top when the company agreed to acquire 90 percent of Viterra's (NYSEARCA:VT) retail facilities from Glencore International (OTCPK:GLCNF) for somewhere between C$1.15 billion plus working capital requirements, estimated at C$500 million and C$1.8 billion total, depending on who you ask. Viterra shareholders will vote on the acquisition during a special shareholders meeting tentatively scheduled for May 2012.
What exactly did Agrium get for its money and how accretive will it be to earnings? In 2011, Viterra's total agricultural products retail business earned C$2.38 billion ($2.41 billion) in revenue and EBITDA (Earnings Before Interest, Taxes, Depreciation & Amortization) was C$244.0 million ($229.1 million) while Agrium's retail business earned $10.32 billion in revenue and EBITDA was $769 million.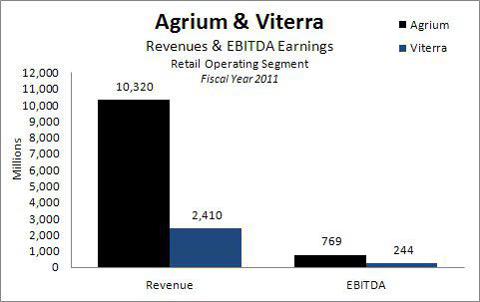 Click to enlargeSource: The Mays Report
Even flat earnings in 2012 suggest strong potential accretive revenue and EBITDA increases for whatever part of fiscal year remains once there is a completed deal. Viterra has 258 retail locations up and down western Canada as well as 17 retail locations in Australia. Agrium acquired more than 200 company owned and 140 franchise and wholesale locations in Australia as a result of its AWB acquisition in December 2010. If those 17 retail locations are a part of the completed sale we'll most likely see consolidation of many of those locations into those Agrium acquired in 2010.
Agrium is also buying Viterra's 34 percent minority interest in a nitrogen fertilizer plant in Alberta Canada. CF Industries (NYSE:CF) is majority owner with a 66 percent interest.
Agrium reported $1.35 billion in cash & equivalents as of December 31, 2011, so the company would most likely take on more debt to complete the transaction. In August of 2011 Standard & Poors Rating Services affirmed its BBB long-term rating and stable outlook on the company. A BBB rating is the lowest investment grade rating available.
Once the companies consummate the deal it will be accretive to Agrium's earnings beginning most likely in the last half of 2012. However, post acquisition debt levels may suggest to management that they slow down the pace of acquisitions until company realizes planned synergies from recent purchases.
Disclosure: I have no positions in any stocks mentioned, and no plans to initiate any positions within the next 72 hours.