In this article, we will provide you with financial fundamental analysis of computer software and services companies on U.S. stock exchanges. For each company, we have provided price targets, buy/sell/hold ratings, buy/sell ranges and theses. Additionally, using a multitude of financial analytical ratios and comparisons, we have given each company a score on growth, profitability, financial health, value and management indices to compare each company and see where the companies excel and where they have weaknesses. We have featured four of the 12 companies in the full report, which can be seen here. You can view part one of our coverage, here.
We have initiated coverage on the following companies - Apple (NASDAQ:AAPL), Equinix (NASDAQ:EQIX) Fusion-IO (NYSE:FIO), Google (NASDAQ:GOOG), IBM (NYSE:IBM), Dell (NASDAQ:DELL), Tech Data (NASDAQ:TECD), Yahoo (NASDAQ:YHOO), Hewlett-Packard (NYSE:HPQ), LinkedIn (NYSE:LNKD), and Teradata (NYSE:TDC).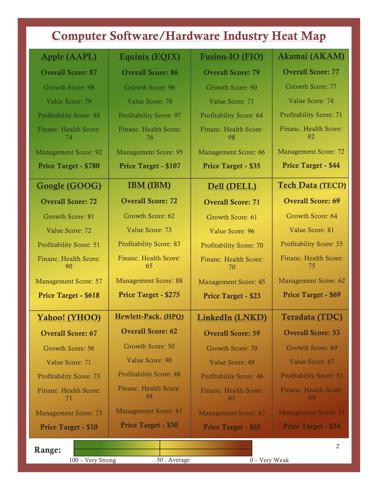 Click to enlarge
(Click to enlarge)
In Part 2, we will look more closely at DELL, YHOO, HPQ, and LNKD:
Dell , Buy, PT at $23 -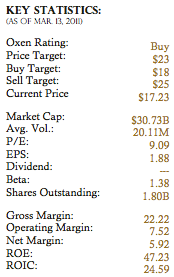 The days of PC heaven have passed and so with it the ability for DELL to offer amazing growth and upside. At the same time, DELL offers a great value in a solid name in a gigantic industry. The company has a cheap PE at 9, and we believe they are the best value play in the industry.
We worry about the PC market, and DELL with it. Dell has, however, started to move in the direction of enterprise solutions like IBM, SAP, and others. The jury is out on whether the company can really make its way forward in this industry. Not to mention that the competition is fierce in it.
Yet, sitting at a 9 PE with still solid profitability in a low growth market as well as pretty solid financial health, we like DELL here.
The company has moved well into the securities area of enterprise solutions with organic and acquisition growth that seems to be an appealing aspect of the company. Additionally, the company is developing into the tablet market with Windows, which may appeal to enterprise and corporations that still often run Windows.
Growth, though, is an issue right now. We see single digit growth through 2015, which is definitely not a major attraction to many. A dividend would go a long way to attract more value players.
Buy if you like value as this company is very cheap even with its industry slowdown. We believe the move into enterprise is solid.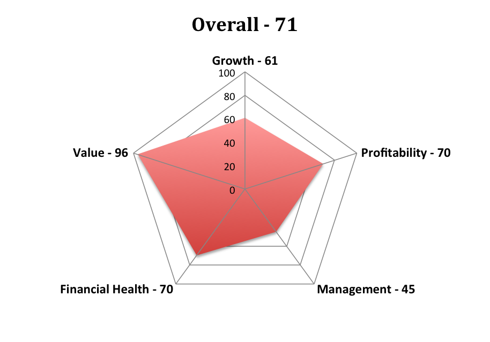 Click to enlarge
(Click to enlarge)
Hewlett-Packard , Hold, PT at $30 -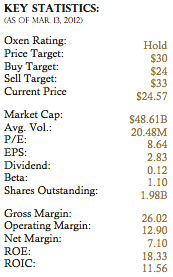 Hewlett-Packard is a great name in the tech history of the PC world, and the company has become synonymous with a stock that goes nowhere. The company has gone nowhere but down over the past two years while much of the rest of the tech world advanced to all-time highs. Why?
HPQ is a dinosaur to most, but we believe that HPQ has done a great job of moving into computer/enterprise services and has some upside from here. The company still will continue to suffer from the fledging PC market, and they are still going to play second fiddle to other enterprise businesses like IBM. Yet, the company has done a nice job of expanding into this sector and offering a wider technology experience that covers many different services.
One major issue for us, though, is that the company is in a fairly low-growth industry now with poor financial health and fairly unexciting profitability for this industry. The company has seen net debt grow by 300%+ over the past five years and seen nearly every financial health ratio (current, quick, acid test) decline in the past year.
We give HPQ credit for its transformation and move to enterprise solutions, but we believe that there are such better offerings in this industry with better financial health, growth, and profitability that we would not be a buyer.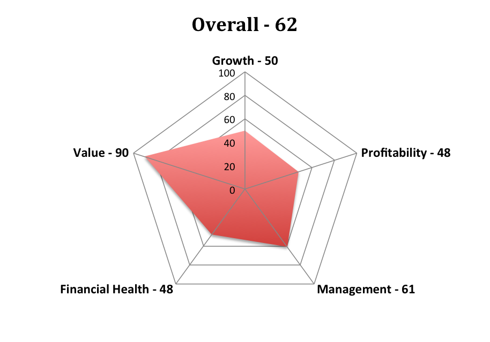 Click to enlarge
(Click to enlarge)
Yahoo! , Sell, PT at $10 -
Do you Yahoo!?
We do not!
Yahoo, to us, is a company that has lost all competitive edge and is a niche stock that offers small growth and would only be a value play, but it has little of that at an 18 PE.
The company's best investment ploy is that they are a prime candidate to be taken over by private equity and be sliced and diced into smaller parts. The company, however, has not taken this route, and so the stock sits in a state of constant nothingness…offering little in growth while everyone waits for it to be bought out by another company.
The company has seen some better comps over the past year, but we put this as a better economic situation for everyone in the industry. Again, a better economy and better spending overall lifts all boats, but we want to be positioned in the best companies…Yahoo! is not that.
With a lack of dividend and growth expectations of 15-20% for the next five years in sales, Yahoo is just not something we even want to hold. It's a $10 stock at best.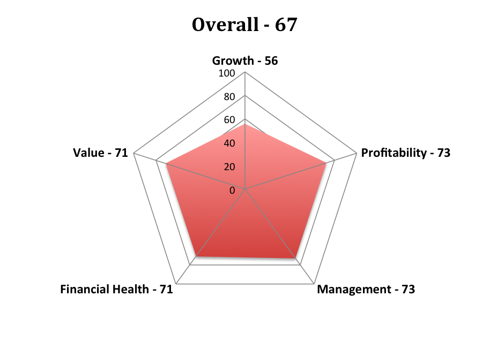 Click to enlarge
(Click to enlarge)