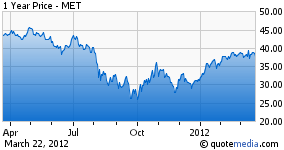 The market has been rebounding over the past few months and a lot of companies that traded at low prices have had share prices bounce back. Investors who stuck to their guns or bought into bear favorites like Bank of America (NYSE:BAC) were rewarded.
However, there are still some stocks that are undervalued. One that has really stuck out to me as of late is Metlife (NYSE:MET). Shares have increased by 27.03% over the last three months (at the close of trading on March 21st), but I believe there is a lot more room for investors to make money on the stock.
Metlife's P/E ratio is currently hovering around 6.2, but earnings do have some growth potential going forward. Analysts expect earnings for Metlife to increase by 9.2% annually over the next five years. Although this is less growth than the market average of 10.55%, it is still enough to justify MET to trade higher. Analysts place a one year target price of $47.50, which is 23% higher than its current price.
Metlife has very little downside because of the nature of its product line, and this strategy positions it to have high customer retention. Many of Metlife's products and services are linked through corporate programs or are long-term in nature. The company's life insurance and dental insurance plans are good examples of this. Although the company has probably peaked in terms of market share, the growing population and the growing price of its products will drive its long term revenue growth.
The company recently failed a federal "stress test" but I would not be too concerned. Metlife was denied to undergo a $2 billion share buyback and a 48.6% dividend increase after failing. After retaining this capital and being more conservative with cash disbursements in the future, they are sure to be financially stable. The smaller dividend and denial of buyback should not affect shareholder value as that cash will still be among the underlying assets of the company.
With Metlife shares having a lot of room for upward correction and very little downside risk, I believe it is a strong buy right now. It also makes for a great long term portfolio stock for a retirement fund since most of the company's revenue comes from betting against disaster. This means that Metlife will do better as a company if people live longer and people who hold the shares and are among those who live longer will realize high returns. With a lot of chatter about a correction around the bend, I believe Metlife is currently undervalued enough so that it will not feel the effects of a bear run. I believe that shares can trade around the $50 mark by the end of 2012.
Disclosure: I have no positions in any stocks mentioned, and no plans to initiate any positions within the next 72 hours.