Well, we had a nice rally on the markets, and under current conditions, this could continue for quite a while. However, as always, there are risks of things going wrong, and here we will focus on the risks facing the world's second-largest economy, China, and some of the consequences for sectors and stocks.
China's remarkable economic growth has been fueled by exports and investments, especially in real estate. In numerous parts of the country, property prices have reached such levels that they are completely out of reach for most ordinary Chinese. Yet the boom continued as long as it was profitable for local authorities to develop new lands and property developers to build.
The property boom resulted in a substantial overhang of empty properties and even whole empty cities, such as Ordos. The problem is that the Chinese economy is more dependent on house building than the United States economy was, before the sub-prime lending bubble burst in 2007.
And while mortgage rules are rather strict (and most flats are paid by cash or with a large up-front payments), the property developers' sector itself is heavily dependent on credit, much of that rather shady.
It is common practice in China where there is a big grey market in private loans to private businesses who cannot get money from the big, official, state-owned banks. [BBC, see previous link]
On the positive side, the Chinese authorities have taken measures, and there is still a large amount of pent-up demand for apartments. After all, Chinese have only been allowed to buy and sell properties for 25 years and massive urbanization is continuing unabated. These measures are beginning to sort effect:
reports of a drop in home prices in 45 Chinese cities, the result of government efforts to curb property speculation [Midnight Trader]
While some fortunes will be lost (many to financing scams), the market could reasonably be expected to balance again now that building is slowing down. But there definitely is a considerable amount of slowing of the Chinese economy:
Industrial production rose by 11.4% in February, which is low by Chinese standards (15%+)
In February there was a huge trade deficit of $31.5B and the current account surplus has steadily moved from 10% to 2.8% of GDP last year (see figure below)
Inflation is falling
BHP's Iron Ore Division president Ian Ashby remarked that China's demand for iron ore will drop "to single digits, if it is not already there,"
The growth target is 7.5% this year, considerably lower than the past years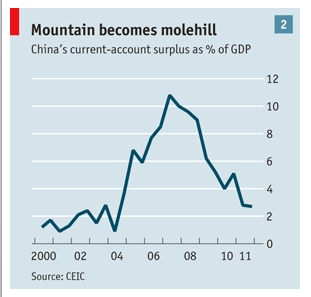 There are some who do argue that China is in the midst of a hard landing (that is, a sharp deceleration of economic growth). Here is Adrian Mowat from JP Morgan:
China is in a hard landing. Car sales are down, cement production is down, steel production is down, construction stocks are down. It's not a debate anymore, it's a fact
There are signs of serious deceleration in the monetary sphere as well [The Telegraph]:
Monetary data for China is remarkable. Real M1 contracted in January, weaker than post-Lehman. The rate rebounded in February but only to zero.
Stephen Roach (former chairman of Morgan Stanley Asia) doesn't buy the hard landing scenario. Policy is also getting less restrictive, especially now that inflationary pressures are easing:
China is easing restrictions on lending capacity at three of the nation's four biggest banks after new loans dropped to a four-year low, officials at the banks with knowledge of the matter said. The government's two-year effort to control the property market helped spur a 25 percent drop in home sales in the first two months of the year after surging 26 percent in January and February of 2011.
What is clear, though, is that China needs a new growth model; that is, to move away from export and investment toward more dependence on domestic consumption. We think the authorities understand it, but navigating the economy is complex.
Much of the export industry operates on rather thin profits, for instance, and letting wages and/or the currency rise too fast could trigger some of the scene's that were visible after the financial crisis in 2008, when tens of thousands of workers in the export industries lost their job and moved back inland where they came from.
Also, monetary easing doesn't work as in many other countries. It doesn't encourage private consumption, for instance. Rather the contrary:
Chinese monetary easing actually reduces consumption. Why? Because expanded credit and lower real interest rates increase the already very high financial repression tax imposed on Chinese households. This implicit tax is the most important reason for China's low household consumption rate, and increasing it will push consumption even lower as a share of gross domestic product. [FT]
The best policies would be to build the beginnings of something of a welfare state, as people save so much for pensions and healthcare, since there is little in the way of a safety net. Building the beginnings of such a safety net would lower households' sky-high savings rate.
Some trading suggestions
Well, whether further slow down, or hard landing, here are some trading suggestions for those scenarios. First in the firing line are commodities and commodity producers.
Copper
Since copper is a prime material used in building, any further slowdown in the Chinese economy (and especially in construction) will affect its price. There are considerable worries already [Reuters]:
China's apparent demand for refined copper slumped 12.5 percent in February as imports slowed and stockpiles held at the Shanghai Futures exchange grew, Reuters calculations based on official Chinese data showed. "China is the most important player for the copper market as it accounts for 40 percent of global consumption. Fundamentally, it's not balanced at the moment because we don't have the drive from China," said Andrey Kryuchenkov, an analyst at VTB.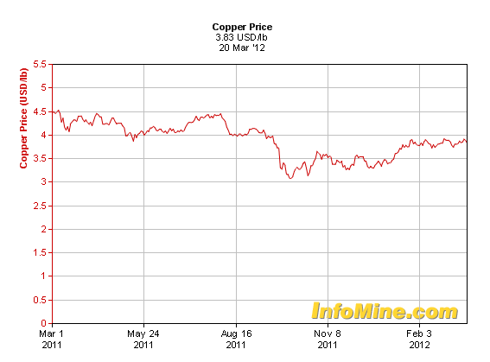 There are interesting copper ETF's, like:
There are, of course, the copper miners, like Ivanhoe Mines (IVN), Teck Resources (TCK), First Quantum Minerals, Freeport-McMoran (NYSE:FCX), Southern Copper (NYSE:SCCO).
Coal
China is the largest consumer of coal in the world and became a net importer in the last decade. Apart from slowing demand from China, there is also other stuff going on that isn't that positive, like high stockpiles due to warm whether and coal plants switching to natural gas because the latter is so cheap.
Two coal EFT's:
Market Vectors Coal ETF (NYSEARCA:KOL), an amalgam of coal miners with over half in US companies
PowerShares Global Coal Portfolio (NASDAQ:PKOL), similar to KOL, but with a lower US exposure
Some coal stocks, like Peabody Energy (BTU) which operates mines in Australia and exports to China, Alpha Natural Resources (ANR), Cliffs Natural Resources (NYSE:CLF), Arch Coal (ACI), Consol Energy (NYSE:CNX), James River Coal (JRCC). But note many of these have already slumped quite significantly.
For the adventurous, there are also Chinese coal stocks listed in the US, like Yanzhou Coal (NYSE:YZC), Puda Coal (NYSEMKT:PUDA) and Sino Clean Energy (SCLX.OB).
Iron ore
Here is also some trouble brewing, apparently [CNBC]:
Global markets have been weaker overnight as a BHP Billiton executive, speaking in Australia, said that iron ore demand from China would be slowing down. Ian Ashby, president of BHP's iron ore division, said demand for iron ore will drop "to single digits, if it is not already there."
And the recent figures have not been so good [Livemint]:
Global crude steel production data for January shows output falling by 7.8% y-o-y, according to the World Steel Association, with China's steel output falling by 13%. That is one reason to agree with the miners' concerns. February's data, released on Tuesday evening, shows an improvement, with global output up by 1.9%, and in China by 3.3%.
However, not everybody agrees with the pessimistic outlook:
it seems to me the Street is seriously misinterpreting the comments from BHP that iron ore imports into China will be down into the single digits in 2012. Judging by the reaction of the markets, you would think steel production is collapsing in China. It's just not true. Yesterday, Morgan Stanley said: "Sentiment in Chinese steel markets is improving as mills gradually raise prices and inventories decline." Chinese steel production is UP 5.3% month-over-month in February (down 0.3 percent year-over-year). No collapse here! [CNBC]
Iron ore stocks like BHP Billiton (NYSE:BHP), Rio Tinto (RTP), Vale (NYSE:VALE) could be affected or otherwise through ETFs like the iShares S&P Global Materials ETF (NYSEARCA:MXI) or the Market Vectors Steel ETF (NYSEARCA:SLX). MXI is a commodities ETF, which would capture any downward draft from Chinese demand over more than just iron ore. The three stocks above (BHP, RTP and VALE) comprise some 20% of MXI. SLX is a steel ETF, so only a proxy of iron ore.
Currencies
If Chinese demand for commodities like coal, copper, and iron will slow down further, this is also likely to have a negative effect on the currency of big commodity exporters like the Australian and Canadian dollars. You might want to trade directly in the currency markets, or do so via ETFs, like:
Currency Shares Canadian Dollar Trust ETF (NYSEARCA:FXC)
Currency Shares Australian Dollar Trust ETF (NYSEARCA:FXA)
Disclosure: I have no positions in any stocks mentioned, and no plans to initiate any positions within the next 72 hours.