I've been hearing that the unemployment number today was a "surprise". For the life of me I don't know why. I'm not the smartest guy out there but even I can follow a simple correlation.
If you followed this chart, and knew the correlation, you would not have been surprised by the employment data so far this year: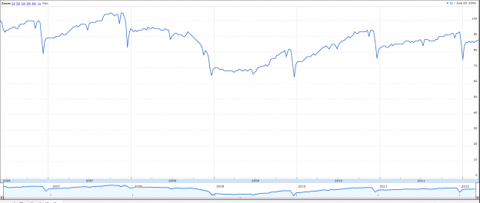 Or this one: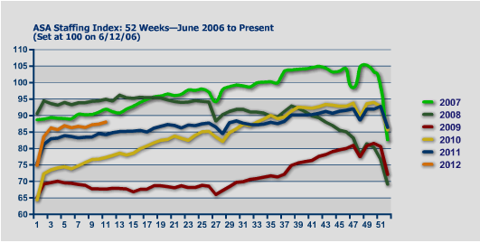 The temp employment index leads NFP by ~3-4 months. When it is rising, and when it is higher YOY, you will have employment data that is higher YOY. When it is the highest in 4 years, you will have data that is the best in 4 years (see "bold" in Post article below).
The index has a very strong December and the Christmas holiday dip was mild and the rebound in it was stronger than normal. So, it should no surprise that we are having a strong spring on the employment front. This was telegraphed. In fact, on 12/28 I said:
Now remember that the index is a leading indicator of NFP by ~3-4 months. The current strength we are seeing in the payroll numbers was predicted back in Sept when the staffing index began its rise out of its summer malaise. What we have seen since then tells us very clearly the improvement we are seeing now will continue, if not accelerate into and through Q1 of next year
Here is a Washington Post article on it:
The number of people seeking U.S. unemployment aid fell to a four-year low last week, bolstering the view that the job market is strengthening.

The Labor Department said Thursday that weekly applications dropped 5,000 to a seasonally adjusted 348,000. That's the lowest level since March 2008, just months into the Great Recession. The four-week average of applications, a less volatile measure, dipped to 355,000, matching a four-year low.

Applications have steadily declined since last fall. The drop has coincided with the best three months of hiring in two years. From December through February, employers added an average of 245,000 jobs per month. That's pushed down the unemployment rate to 8.3 percent, the lowest in three years.

The report suggests that employers added a similar level of jobs this month. This week's figures cover the same week that the Labor Department surveys companies about hiring in March. Applications are slightly lower this week than in February's survey week, which points to more job growth.

"U.S. employment growth looks to have continued in March at a respectable pace," Jennifer Lee, an economist at BMO Capital Markets.

Companies are hiring more because the economy is picking up. The economy grew at an annual rate of 3 percent in the final three months of last year. That was better than the 1.7 percent rate in the previous quarter.

There are other signs the economy is steadily recovering. Consumers are more confident and have stepped up spending. Auto sales are rising. Even the battered housing market is showing signs of improving.

January and February comprised the best winter for sales of previously occupied homes in five years, according to figures released Wednesday by the National Association of Realtors. January sales were the most since May 2010, the final month that a federal tax credit for home buyers was available. Sales dipped in February but were still 13 percent higher than six months earlier.

Developers are even seeking to build more homes. Requests for permits to build single-family homes and apartments rose 5 percent last month. That brought the annual rate for permits to the highest since October 2008, though they are still running at about half the rate of a healthy market.

The number of people receiving unemployment aid fell. Nearly 7.3 million people received benefits in the week ending March 3, the latest data available. That's about 140,000 fewer than the previous week.
Just follow the temp staffing index. It is FAR less volatile than the weekly numbers and give a clear picture of what is happening…