With science increasingly integrating itself with small technology, genetic engineering has grown over the past 20 years into a booming industry that is well capable of commercializing research. Advancements in sequencing technology and a growing knowledge base has helped open the field to everyday sciences. Few better examples of this can be found than in the genetically modified seed industry that has come to change the face of agriculture.
The genetically modified seed market is dominated by a oligarchy consisting of five companies - Monsanto (NYSE:MON), DuPont (NYSE:DD), Syngenta (NYSE:SYT), Bayer (OTCPK:BAYRY), and Dow Chemicals (NYSE:DOW). Yet in a world controlled by intellectual property, the market share is not always so evenly divided in light of the comparative advantages that a superior product can offer end-users. By the start of 2010, intellectual property allowed for Monsanto to control almost 95% of the soybean market and 80% of the corn market in the United States through its genetically modified seeds used for farming.
However, as the fight continues to rage on between rivals, the battlefield is beginning to move to new territory - a new industry altogether. The leaders are already known for their insect-resistant crops and battery of research titans when it comes to optimizing farmer yields. Now, new battlelines are being drawn over the development of innovative oils. More specifically, the race is on for the development of tailored oils that can address new markets altogether or improve those in existence.
In June 2010, the United States approved the commercial use of a genetically modified soybean engineered to contain healthier oils. Made by DuPont, the product approved by the Agriculture Department, served as an opening blow dealt to long-term rival Monsanto. At the time, Monsanto was also working on a genetically modified soy oil product, and had stated it was not far behind in its release. Finally making its way into the market in January 2012 after the USDA gave its approval, Monsanto's product was released under the brand name of Vistive Gold. Claimed to contain 60% less saturated fat, both DuPont and Monsanto's high oleic soybeans give credence to the evolving field in this relatively unexplored industry.
The same story primarily holds true for other crops used predominantly for their oils. In 2011, Bayer began collaboration with KeyGene in an exclusive trait development agreement for oilseed rape hybrids. The oil derived from oilseed rape was also the focus of seed giant Syngenta, whose seeds have thus far shown positive results in improving oil quality. Independent tests have shown that oil extracted from Syngenta's seeds contain additional amounts of omega fatty acids that are known to promote healthy living. Watching this video from Syngenta's website helps illustrate the company's keen interest in developing plant oils for the future.
In a world of science so often thought of as being fast-paced, genetic tailoring is a development process that is surprisingly slow. Both a time-consuming endeavor and one that requires immense amounts of capital, even Monsanto's own website acknowledges the difficulties faced by the seed industry. One section reads: "On average, companies typically invest between $50 million to $100 million and spend approximately 8 to 10 years in order to bring a biotechnology product from concept to reality. Additional time and expense is often required to produce breeding stacks."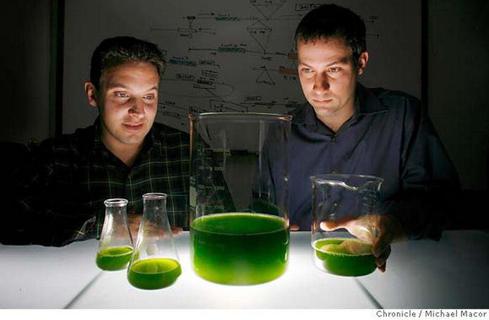 With this concept in mind, perhaps another company that appears poised to take significant market share in the coming years is one that is beginning to change the dynamics of how the industry works as a whole. As a renewable oil company and leading developer of tailored oil profiles, Solazyme (SZYM) uses microalgae inside standard fermentation equipment to convert sugars into customized oils that either enhance or mimic current oil profiles. Already proven to operate on a commercial scale since 2007, the company is in the process of creating its production capacity.
Yet what makes Solazyme seemingly unique compared to these genetically modified seed companies is the large advantages the company has unknowingly stumbled upon in its initial quest to create biofuels. With its bioengineering technology platform, Solazyme has been able to develop tailored oil products at a fraction of the time that the Big GMO oligarchy takes. By using fast-growing algae in a controlled environment, Solazyme can literally do in a matter of days what would take its competitors years to accomplish with seed-based plants. Additionally, the level of customization that Solazyme is able to harness far exceeds that of its competitors. Perhaps this war between rivals may see some new faces very soon when it comes to customized oils.
Disclosure: I am long SZYM.