John Paulson's activism with Hartford Financial Services (NYSE:HIG) is starting to pay dividends. The company announced today it was going to sell off its annuity business. Paulson, who has an 8.4% stake in the company, stated this was a good first move but will continue to push for further actions to unlock shareholder value. Investors could do well by investing along with one of largest hedge fund managers on Wall Street.
The Hartford Financial Services Group, Inc., together with its subsidiaries, provides insurance and financial services primarily in the United States and Japan. The company's Property & Casualty Commercial segment offers workers' compensation, property, automobile, marine, livestock liability, and umbrella coverages, as well as customized insurance products and risk management services, including professional liability, fidelity, surety, and specialty casualty coverages. (Business Description from Yahoo Finance).
7 Reasons Hartford has long term value at $22 a share:
After selling off its annuity business, the company will have a return on equity of 12 to 13 percent up from 5 to 6 percent. It will also take out $100mm in operating costs.
Judging from Paulson's comments, he will continue to advocate for further divesture of assets outside Hartford's core Property & Casualty business, which should result in improved shareholder value.
Hartford is dirt cheap at 43% of book value and 44% of annual revenue.
Earnings are going in the right direction. HIG earned $1.94 a share in FY2011, and analysts project it to make $3.35 in FY2012 and $3.69 in FY2013.
Credit Suisse estimates the restructuring will free up $2.5B to $4B in capital over the next few years. They also have an "Outperform" rating and a $27 price target on HIG.
The stock is selling for less than 6 times forward earnings, has a low five year projected PEG (.84) and no insiders have sold shares in over six months. It also yields 1.8%.
The stock is down some 80% since its highs prior to the crisis. It also looks like it has bottomed, is gaining technical strength and recently crossed its 200 day moving average (See Chart).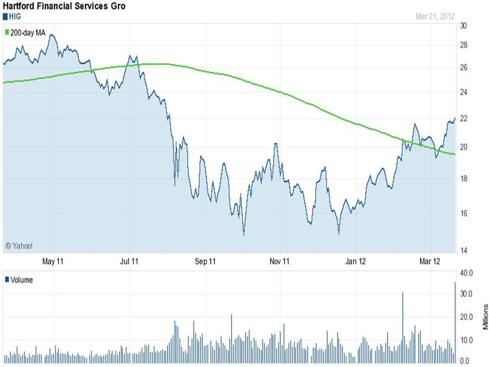 Disclosure: I have no positions in any stocks mentioned, but may initiate a long position in HIG over the next 72 hours.