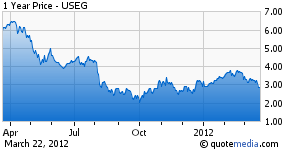 U.S. Energy (NASDAQ:USEG) emerged as having the most upside from a series of four previous articles where I compared the announced 2012 capital expenditure budgets for 20 various small/ mid/large-cap stocks versus their enterprise value, which is total market cap plus long-term debt. This provides a bang-for-the-buck ratio, which will be a strong predictor of future production and revenue growth of each respective company. The higher the percentage of planned capital expenditures to total capital structure, the greater the growth potential to current valuation. Three smallcap companies exhibited much higher ratios than the other 17 companies in the comparison; Triangle Petroleum (NYSEMKT:TPLM), U.S. Energy , and Voyager Oil & Gas (VOG). Since these three companies emerged from the screening process, I will attempt to give a more in-depth look at each of the three. It should be noted U.S. Energy is a microcap company and all microcap companies carry higher risks than larger more well established companies. In general microcap companies can have more difficulty accessing the capital markets to raise additional capital and are often subject to a much higher beta (swings in price) than larger companies.
As of March 19, 2012, U.S. Energy has 27.3 million shares outstanding and a marketcap of $85.4 million. The company recently sold 75% of its non-producing working interests in the Williston Basin North Dakota to Brigham, GEO Resources, and Yuma for $30.4 million. On January 25 U.S. Energy announced that it used the cash proceeds from the transactions to payoff its line of credit with BNP Paribas (OTCQX:BNPQF) and that the company had $10 million in the bank. BNP Paribas has raised the $75 million line of credit to the company to $100 million and has raised the borrowing base to $30 million, all of which is available to be borrowed by the company. The only outstanding debt the company has is a $9.9 million mortgage on a discontinued from operations 216 unit apartment complex that is listed for sale and currently valued at $18.1 million. In addition to the apartments as a source of future liquidity the company has a $2.3 million investment in a Geothermal project and future potential royalty payments on two separate and currently non-operating uranium mines. The company also has corporate assets valued at $9.2 million. The 2012 capital expenditure budget is $48.1 million focused mainly on production. Between existing cash, cash flow, and room available on the line of credit, U.S. Energy has the liquidity to fund its 2012 budget.
The company has two main assets; its oil and gas business and a molybdenum mine. U.S. Energy has a 100% working interest in the Mt. Emmons molybdenum mine located in Gunnison County, Colorado. Molybdenum is an alloy used to strengthen steel. There are only four other elements that require a higher temperature to melt than molybdenum. Therefore, steel with a high molybdenum content is used in many deep high pressure wells in the oil and gas industry. The mine is estimated to contain 800 million pounds of molybdenum in one of the highest concentrations in the world. The company intends to file a Plan of Operations with the Forestry Department by April of 2013 and enter the NEPA permitting process. Upon filing the plan, U.S. Energy intends to sell outright, or find an operating partner, to take-over the lion's share of the mine. Molybdenum is currently selling on the spot market for $14.10 per pound. U.S. Energy plans to expense $2.5 million in 2012 to move the mine project forward. To date $180 million has been invested in the mine to provide access to the ore, roads, power, a water treatment plant, and permitted water rights. While the mine provides a current drag on earnings, it offers a significant source of new liquidity to be re-invested in the oil and gas sector sometime over the next year or two.
U.S. Energy's main business line is the oil and gas sector. At this time the company primarily uses a non-operator business model and is focused on shale plays in the Bakken and Eagle Ford. The company's primary asset is a joint-venture working interest in 20 wells and 1,170 additional net acres in the Williston Basin with Brigham Exploration. The latest well in the joint-venture, the Lloyd #2H, came online this month @ 4,300 Boepd. Brigham plans to drill three additional wells on U.S. Energy participated leases in 2012. The company also has a similar Williston Basin joint-venture with Zavanna that consists of a working interest in 5 producing wells and 5 wells drilled in 2011 awaiting completion, two of which have been fracked and are ready to flow-back. U.S. Energy also retains an additional 1,650 net acres with Zavanna. U.S. Energy has 25 gross producing wells (8.5 net wells) and 5 gross wells (1.3 net wells) awaiting completion in the Williston Basin. The drilling costs (not completion costs) for the 5 wells were paid for out of the 2011 capital budget. They are scheduled to drill several more wells in 2012 with both Zavanna and Brigham with lower working interest percentages than previously drilled wells. The company also has 18,714 net Bakken acres in Montana that they are seeking an operating partner for. Recent transactions in the Bakken surrounding U.S. Energy's leases have sold for $8,000 per non-operated acre and $90,000 per flowing barrel of oil per day.
U.S. Energy has 4,136 non-operated net acres with Crimson Exploration (NASDAQ:CXPO) in the oil window of the Eagle Ford in Zavala and Dimmit Counties, Texas. The company has drilled two gross wells to date with I.P. rates averaging 394 Boepd. One of the two wells hit water and they were only able to complete 11 frack stages. A third well is awaiting completion. Chesapeake Energy (NYSE:CHK) is very active in the area and owns most of the leases surrounding this position. In addition to the Eagle Ford companies in the area are starting to drill Buda wells with I.P. rates over 600 Boepd. U.S. Energy also has several producing natural gas wells in the Gulf Coast region with Petroquest, Houston Energy, and Southern Resources. At year-end the company reported 2,644,779 of Boe in proven reserves, of which 86% is oil.
In the fourth quarter the company earned $.01 from continuing operations on $8.84 million in oil and gas sales, a company record. Cash flow in the fourth quarter from continuing operations before depreciation, taxes, and non-cash charges was $.13 per share. Oil sales increased 11% from the third quarter to 92,838 barrels and natural gas sales declined 31% to 131,757 Mcf as the company focuses on oil. The profit and cash flow include the expenses of working on permitting the molybdenum mine. It should be noted the apartments are discontinued operations and were written down $3.1 million in the fourth quarter to $18.1 million resulting in an overall taxable loss for the fourth quarter.
Based on the four wells already completed in the third quarter and the existing backlog of five additional wells awaiting completion it appears U.S. Energy is poised to continue growing in the first half of 2012. The company has the challenge of monetizing the apartments and the molybdenum mine, finding a partner for the Montana Bakken leases, and finding additional drilling opportunities beyond its joint-ventures with Brigham, Zavanna, and Crimson. U.S. Energy is significantly undervalued based on either a value metric or a growth metric. If the company is able to execute its business plan over the next 12 months it offers a compelling upside opportunity for investors.
Disclosure: I have no positions in any stocks mentioned, but may initiate a long position in USEG over the next 72 hours.