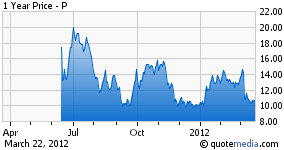 The Pandora (NYSE:P) revolution is now. Nothing like Pandora has ever existed before, nor can it be duplicated thanks to the genius of Tim Westergren and his U.S. Patent 7003515. Pandora's uniqueness lies in a complex algorithm that identifies, examines and organizes approximately 400 song attributes into a DNA like listener preference. Other predictability algorithms lack the comprehensive, in-depth evaluation that Pandora brings to its listeners. According to Sarah Macbride of the WSJ:
Tim Westergren has revolutionized the way we listen to music with Internet radio site Pandora.com. By mapping the DNA of the songs we love, he can predict others we'll like too, allowing us to create our own personalized radio station.
Forget about tediously searching for songs or programming complicated play-list. The music you love will find you. Think about it? Why would anyone continue to pay SiriusXM (NASDAQ:SIRI) 14.95 per month or iTunes 1.29 per song to search for the music they love, when Pandora will find the music you love and stream it to your ears, free?
With an average 65,000 new users being added daily, Pandora's growth has doubled this year and is exploding beyond expectations. CEO Joe Kennedy and CFO Steve Cakebread believe that Pandora has just begun to scratch the surface of a 37 billion dollar market. Venture Beat says:
Pandora is also leading the pack when it comes to connected devices and partnerships. The company's updated metrics state that Pandora is now available on over 450 connected devices, including many automotive music systems. And the car radio is arguably one of the few places where radio still matters in our ultra-connected world of mobile devices. So, Pandora having partnerships with 23 auto companies (up from the four partnerships it had a year ago) is a big deal.
Consider these impressive metrics:
Revenue from audio advertising has doubled.
Most recent quarterly revenue grew 71% year-over-year.
Individual listener hours grew 25% year-over-year.
Expanded sales force penetration in ten major markets.
Over 65,000 new users added daily.
Gross revenue projected to double this year.
Pandora is on the verge of virtually owning the market. Last year when I first started listing to Pandora I began telling everyone about the power of Pandora. Nearly everyone said the same thing. "Pandora, I listen to it all the time. Downloaded the app to my phone." Amazingly, Pandora has more listeners than they report because not everyone that listens is a "registered user." A few months ago I found Pandora on my TV. They have become the number one U.S. Internet listening portal and are growing exponential.
Most recently, Pandora received unfair criticism for not meeting projected earnings estimates. CNBC Contributor, Ron Insana, offered these observations, "I don't think individual investors should go near the new social media stocks - they're just too dangerous." But I disagree with Ron's comments in this sense, "individual investors" should invest in social media stocks, provided they research the risk and reward potential and only invest within their means.
Earnings expectations called for a .02 per share loss, not the .03 per share loss reported, non-GAAP. Going forward Cakebread estimated earnings for Q1 2013 to come in around .18 -.21 per share loss non-GAAP. My suspicion is that Cakebread is sandbagging Q1 earnings. Don't be surprised if they come in better than forecast. That being said, the question that comes to everyone's mind is how can revenue double and Pandora not turn a profit? The answer is explained in the following excerpt from Pandora's conference call:
In addition, we've been investing significantly in the expansion of our sales capacity, and that will continue in fiscal 2013. We expect our expanded sales capacity to become increasingly more productive over the course of the year (CFO Cakebread).
Pandora's aggressive scaling up to meet demand and move to the next level was and is necessary due to overwhelming demand for their service and to capture new ad revenue. Cakebread sees the sales force becoming "increasingly more productive" and is confident that the significant financial investment will result in profitability.
Some may suggested that Pandora is overly aggressive and needs to slow down spending, but they would be woefully wrong. At this stage of the game increasing market share in ad revenue is crucial. Profits will follow as market share grows and Pandora builds out the business. It is important to note that Pandora only operates in the U.S., but the foundation they are laying now will facilitate a strong launch into global markets. Nevertheless, the share price was punished for falling short of expectations, creating an attractive buying opportunity.
Analyst at Stifel Nicolaus upgraded Pandora to a Buy from Neutral with a $18 price target after learning of their unbridled success.
Theflyonthewall.com published this positive outlook on Pandora:
Barrington recommends buying shares of Pandora on the sell-off post the company's Q4 results and guidance. The firm expects Pandora to continue gaining market and maintains an Outperform rating on the stock with an $18 price target.
Citi lowered Pandora from a Buy to Neutral, Raymond James from Out Perform to Market Perform.
JP Morgan reiterates an Overweight rating and a price target of $17.
Needham reiterates a Buy rating on Pandora with price target of $13.
Credit Suisse John Blackledge initiated coverage a Neutral rating and a price target of $12.
Disclosure: I am long P.