Starbucks (NASDAQ:SBUX) and Green Mountain (NASDAQ:GMCR) recently inked a deal in which Starbucks would sell coffee packets for Green Mountain's new Keurig Vue machines.
As soon as the news was announced, the stock saw a massive jump up. It ended the day up 10%.
(Click chart to expand)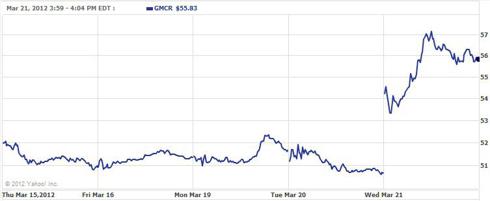 Click to enlarge
Mark Astrachan, an analyst from Stifel Nicolaus commented on the deal and still holds his sell rating for the stock.
Specifically, in today's announcement GMCR said it will distribute Starbucks Vue packs initially in specialty, department store, and mass retailers in the U.S. as well as on GMCR's websites by fall 2012. Interestingly, the release did not mention distribution in grocery or club, growing channels for K-Cup sales, and in Starbucks stores, all of which were included in the press release announcing the initial agreement.

Further, while economics have not been disclosed for any partner agreement, we believe it likely Starbucks received more favorable per unit economics for Vue, and potentially for the original K-Cup agreement, given Starbucks' negotiating leverage (e.g., aiding validation of the Vue system and GMCR's share price reaction post Verismo announcement). This is notable as partner brands continue to take share of system-wide K-Cup sales and we believe have lower per unit economics than GMCR's wholly owned brands given Green Mountain's role as manufacturer not brand owner.
- Mark Astrachan, Stifel Nicolaus
I have to agree with Mr. Astrachan on the partnership between both companies. It is likely that Starbucks will see the greatest benefit, while Green Mountain gets the short end of the stick.
For those of you who remember David Einhorn's presentation on Green Mountain that caused quite a stir, you may remember the current deal terms.
Einhorn estimated that operating profit per K-cup is .22 cents. Starbucks is said to get 2/3 of that profit for simply just delivering the roasted coffee to Green Mountain. In return, Green Mountain pays Starbucks a royalty fee for using its name. Green Mountain also handles the packing and delivery to stores. So you can already tell that Starbucks is getting the better end of the deal.
Green Mountain is still a small company so it needs the help of larger corporations such as Starbucks. Green Mountain will build these partnerships at the cost of future cash flows.
It's interesting to see Green Mountain jump 10% on such a deal, when Starbucks will reap the most benefits. I believe that speculation has gotten ahead of itself and investors should consider taking a short position in the company or purchase some puts.
Green Mountain needs Starbucks, not vice versa.
Disclosure: I have no positions in any stocks mentioned, and no plans to initiate any positions within the next 72 hours.