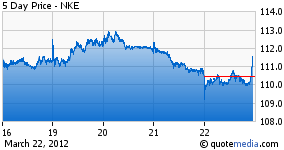 Nike (NYSE:NKE) is expected to report Q3 earnings after the market close on Thursday, March 22 with a conference call scheduled for 5:00 pm ET.
Guidance
Analysts are looking for a profit of $1.17 on revenue of $5.82B. The consensus range is $1.09-$1.26 for EPS, and revenue of $5.75B-$5.9B, according to First Call. In December, Nike said FY12 revenue growth would grow in the mid-teens percentage range, and that growth would be higher than expected. The company said Q3 gross margin would narrow to 150 basis points and Q4 gross margin would narrow to 50 basis points.
Analyst Views
Barclays expects Nike to report Q3 EPS of $1.19 and revenue of $5.5B. The firm expects revenue opportunities to build driven by ongoing momentum in mature markets, strength in emerging markets and summer athletic events. Citigroup believes Nike could report futures up 16%-17% due to higher prices at retail, the NFL license and momentum in footwear. The firm sees more upside in the stock despite the recent rally. The firm also believes Nike's NFL license, which launches on April 1, can exceed $400M in sales in year one. Goldman sees potential upside to Nike sales this quarter and significant gross margin opportunity ahead. The firm expects March-June futures orders to be strong and for inventories to get under control. Citing expectations of higher futures orders, improving gross profits, and strong margins, Susquehanna expects Nike to report solid results.