Investors looking for a tech play not including the red fruit would be wise to take a closer look at Technology Investment Capital Corp. (NASDAQ:TICC). I feel it is a double-threat mainly because it has an impressive 10% dividend yield and the potential for long-term capital growth in an improving economy. It has had some important announcements lately that have largely flown under the radar in the shadow of larger names such as Apple (NASDAQ:AAPL).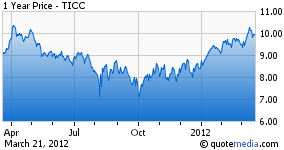 Basics
TICC Capital Corp. is a non-diversified, closed-end investment company. TICC is a specialty finance company principally providing capital to primarily non-public, small and medium-sized, technology-related companies. Its investment objective is to maximize its portfolio's total return, principally by investing in the debt and/or equity securities of technology-related companies.
Developments
They recently increased their quarterly dividend from 25-cents to 27-cents.
There has been strong inisder buying the last six months of over 1 million shares.
Impressive dividend yield of over 10%
The company recently obtained credit on attractive terms to expand its investments.
Recently commenced a public offering of 4 million shares @9.96
Closing
This technology focused business development company will continue to perform through its investments in an improving economy. Revenue is continuing to show solid growth. Pick it up under 10 while you can.
Disclosure: I am long TICC.