I should begin by noting that I'm personally not buying at the moment, mainly because my appetite for stocks is already largely satisfied. I am keeping cash on hand for a true panic sell-off; I would need to see the S&P 500 fall to at least 1,300 -- probably lower, but it depends on price action, sentiment, and how individual gold stocks fare -- at the time, before I can really consider buying.
But that's a personal decision based on my risk tolerance, budget, and existing portfolio. If you're appetite for gold stocks is not yet satisfied, and if you want to take advantage of the recent weakness to add some more, here are some opportunities I think are pretty ripe for the taking:
Pretium Resources (NYSE:PVG). The main reason to buy this stock is because of Bob Quartermain, the man who grew Silver Standard (NASDAQ:SSRI) from a market cap of $2 million to a market cap of 1.9 billion -- an increase by a factor of 950. Quartermain brings over 35 years of experience to the mining industry. This type of success and experience is rare, and instantly catapults a stock to my watchlist.
The stock has gotten hit extra hard of late, a development I suspect is due to warrants that will be expiring in early April that have a strike price of $12.50. I really like the way the technicals are shaping up at this time; the chart below illustrates. To summarize, I think we are at a point where buyers may be ready to step in.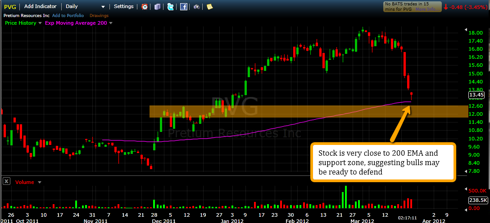 Click to enlarge
Rye Patch Gold (OTCQX:RPMGF). Rye Patch is a company I find very promising; I consider it to be one of the most appealing targets for a takeover. Its positioned in the Carlin Trend in Nevada, which is one of my favorite regions to invest in (see my previous write-up of opportunities in the Carlin Trend). The stock is over 18% off its all-time highs of $0.81 per share, which I think offers an okay opportunity, although I'd really like to see the stock fall to $0.53 -- which would amount to over 34% off its all-time highs. If it can fall to $0.53, I'll almost certainly be buying, but because I think it is an especially promising acquisition target, I think a solid case can be made that its current price is reasonable. Here's a chart that illustrates.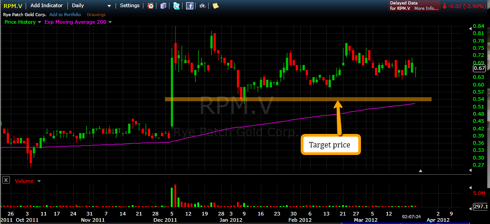 Click to enlarge
McEwen Mining (NYSE:MUX). McEwen Mining is another stock that has fallen sharply over the past few weeks, and is one I recently purchased. This is one of my favorite mining stocks; just as I find Bob Quartermain's success with Silver Standard to be the primary reason to buy Pretium, I believe the success Rob McEwen (CEO of MUX) with Goldcorp -- a major gold producer that grew to prominence under McEwen's leadership -- to be the primary reason to invest in MUX. The company is already in production, has no debt, and has $78 million in current assets on its balance sheet -- including gold and silver it is waiting to sell at higher prices. Out of the stocks listed in this article, McEwen Mining is the one I'm most comfortable recommending. With McEwen's leadership, production under way, operations in a number of jurisdictions, and an exceptionally strong balance sheet, a lot of the risk has been removed while much of the profit opportunity is still ready and waiting for the patient investor.
Eurasian Minerals (NYSEMKT:EMXX). Led by David Cole, a seasoned mining executive coming from Newmont (NYSE:NEM), EMXX is a royalty mining firm. The royalty model, which is more about investing in mining operations with other people's money and building a portfolio rather than pulling out the trucks and drills and doing the mining one's self, is an extremely powerful model that has generated outstanding returns -- especially since 2008. A look at how other companies with such models, such as Silver Wheaton (NYSE:SLW), Franco Nevada (NYSE:FNV) and Royal Gold (NASDAQ:RGLD), illustrates the path that EMXX could go down. Below is a chart of EMXX going back six months; the white line represents the performance of the S&P 500 (NYSEARCA:SPY), and the purple line shows the stock's 200 day exponential moving average. EMXX is trading below both of those metrics. The stock has a number of promising projects in its portfolio, and its recent merger with Bullion Monarch provides the firm with another royalty income stream as well as a unique opportunity to enter the oil market. Ultimately I think this stock has outstanding growth potential. I think it's a great buy now, and an even better one if it can reach my preferred price of $2.25.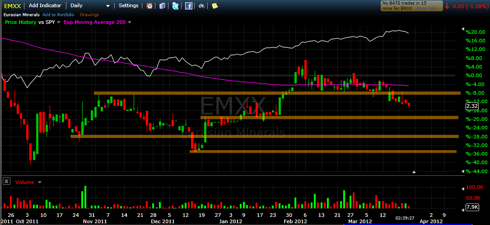 Click to enlarge
I do think gold is in the process of bottoming, and I expect the $1600 level to be successfully defended by the bulls. I view gold and stocks as being positively correlated, and I expect quality mining stocks to outperform bullion in this next leg of the gold market, which I think will put us past $2,500 an ounce. From this perspective, buying mining stocks that have really sold off and are still running promising operations is an outstanding opportunity.