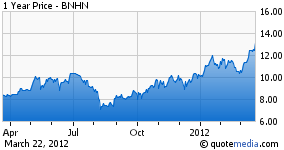 Benihana (NASDAQ:BNHN) announced last week that it would reopen the company sales process. The 97 unit Japanese themed steakhouse chain with three sub brands has the U.S. rights for development, and recently has been able to realize modest single digit same store sales increases and a return to profitability after losses in the 2008-2010 period.
A recent Bloomberg article (here) pointed out several interesting perspectives, among them what metrics private equity companies value in possible acquisitions. The puff piece article expressed one investment manager's opinion that a price per free cash flow metric is preferred, and that Benihana is in good shape currently.
We agree that free cash flow is a good metric. We have opined on Seeking Alpha in the past the hope for an EVA-like capital adjusted net income per share number visibility in the future. Restaurants are capital intense, new restaurants of the BNHN brands can easily run $4 million each.
But in BNHN's case, the components of the free cash flow trend need to be examined carefully. Through the great recession, BNHN capital spending (CAPEX) was dramatically slashed, so much so that we wonder if the restaurant asset base is wearing out. In fact, BNHN CAPEX has been less than depreciation/amortization expense, as per the schedule below shows:
| | | | | | |
| --- | --- | --- | --- | --- | --- |
| FY Ending Metric | 2012, 3 Qtrs. | 2011, 3 Qtrs. | 2011 | 2010 | 2009 |
| CAPEX | $7.1M | $6.8M | $8.1M | $17.0M | $48.8M |
| Depreciation/Amortization | $15.0M | $17.2M | $21.6M | $20.1M | $18.7M |
| Memo: Free Cash Flow Total | $18.1M | $10.6M | $19.5M | $10.4M | -$14.9M |
Source: BNHN 10Q and 10K filings.
The question is - how sustainable is such low CAPEX? We bet not for long. Depreciation is never enough to recapitalize and renew most retail operations, and BNHN is under that. IT is a requirement, along with new stores, buildings and equipment. for customer facing entities.
Questions: What's best M&A metric? Will too high of a valuation metric layer in too much debt and make BNHN future difficult? With 97 units in an overcrowded U.S. market, and international growth blocked off, is there a better solution? Does its rival Benihana of Tokyo have the ability to buy it? Aren't all the other casual dining operators specialty seafood brands such as those under the Darden (NYSE:DRI) umbrella (Red Lobster, Eddie Vs etc) and in the Ruth Chris umbrella (NASDAQ:RUTH) (Mitchell's) desperately struggling to grow as well?
Disclosure: I have no positions in any stocks mentioned, and no plans to initiate any positions within the next 72 hours.