Even though the market has had a big run over the past few months, the Dow 30 is trailing the Nasdaq significantly in 2012, (the Dow is up 6.78% YTD vs. Nasdaq's 17.59% gain as of 3/22/12),
We looked for Dow dividend stocks with low PEG ratios, and strong earnings, and came up with these two familiar giants, Boeing, (BA) and Microsoft, (MSFT):

Boeing is up approx. 7% in 2012, (please see performance table at the end of this article), but is still only up less than 3% over the past year. Meanwhile its earnings have grown substantially, giving it a much lower P/E than its peers.
With its strong growth forecast for its next fiscal year, BA has the second lowest PEG ratio of all the Dow 30 stocks. Although BA's high Price/Book may look scary, it also has an off-the-charts Return On Equity, (ROE) of 127.72%, which helps to explain this. (See Financials table further on in article.)
After being range-bound within the $20s for approximately two years, Microsoft has finally gotten back into the low $30s. However, it still looks cheap on a PEG basis, coming in at .97. Although its earnings and sales growth trail its industry averages, MSFT is one of the few dividend paying stocks within its industry, and offers a fairly good dividend yield and a very good dividend growth rate.
Dividends: Boeing increased its quarterly dividend in Feb. 2012, to $.44/share from $.42/share. MSFT increased its quarterly dividend by 25% in 2011, from $.16 to $.20/share.

Covered Calls: Income investors looking to hedge their bets sometimes use covered calls, selling call options on a stock to create additional immediate income, and thereby lowering their break-even cost.
As the table below shows, in these two covered call trades, the call options pay you three to six times what the dividends pay during the 4-5 month period. The catch is that you're obligated to possibly have to sell the shares at the strike price by expiration time. In general, your shares will get assigned if the stock goes above the strike price at or near expiration.
There are two approaches below - the BA call has a higher strike price than BA's share price, which gives you some room for potential price gains, whereas the MSFT call strike price is right "at the money," meaning the strike price equals MSFT's share price.
This leaves no room for potential price gain, but gives you a higher call option premium. More bullish covered call sellers would sell at a higher strike price, earning a lower call premium, whereas less bullish call sellers would sell closer to the share price, and would get paid a higher call premium.
(You can discover additional details for this and over 30 other high options yields trades in our Covered Calls Table.)

Cash Secured Puts: An alternative option trading strategy is to sell cash secured puts, which obligate you to potentially have to buy the stock at the strike price, if the stock goes below the strike at or near expiration. Generally, call and put options don't get assigned until sometime near the expiration date, since call and put buyers don't want to forfeit too much of the options' time value.
Why would you sell cash secured puts? If you want to buy a stock at a lower price than its current price, the put premium money that you receive lowers your break-even cost, so, even though you may end up being assigned/sold BA at the $72.50 strike price, your net cost is only $68.70, the difference between the $72.50 strike price and the $3.80 put premium you received. Meanwhile, you have the use of that put premium money.
You may be surprised to hear that Warren Buffett has been known to sell put options, (via private off-market deals), on companies he's interested in buying, sometimes pocketing millions in put premiums now on expiration dates that go out a few years - pretty good for the cash flow, eh?
The put options in these two trades pay out four to over seven times what the dividends pay out during this 4-5 month term. (You can find more details on these and over 30 other high yield Cash Secured Puts trades in our Cash Secured Puts Table.)

Financials: Both firms have management efficiency ratios that far exceed their industry averages. BA's debt load looks higher than average, but its interest coverage is very strong, but not as high as MSFT's incredibly high interest coverage of 77.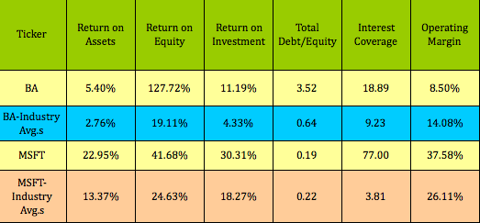 Performance: Although MSFT has been one of the best stocks to buy in 2012 for price gains so far, it's still has a moderate Relative Strength of 55.55. BA is closer to the sub-40 oversold area:

Disclosure: Author holds no shares of any stocks mentioned in this article at this time.
Disclaimer: This article is written for informational purposes only and isn't intended as investment advice.
Disclosure: I have no positions in any stocks mentioned, and no plans to initiate any positions within the next 72 hours.
Additional disclosure: Author may sell cash secured puts on BA and MSFT during near-term market pullbacks.