Shares of Randgold Resources Ltd (NASDAQ:GOLD) plunged over 12% following news of a military coup in Mali. The military coup is significant because GOLD relies on its mines in Mali for roughly two-thirds of production.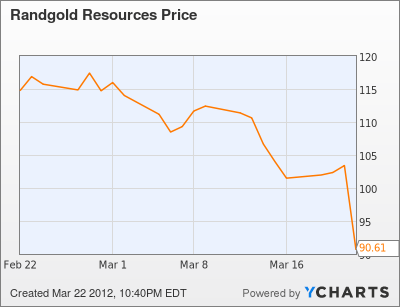 Interestingly, GOLD executive told CNBC that operations are running smoothly for now. However, it is certainly a possibility that mining is ultimately shut down for a significant period of time. In addition to this, a possibility remains that the new military run government will attempt to seize mining operations from GOLD. At best, the outlook for GOLD is uncertain.
GOLD's reaction to the news of the military coup in Mali highlights the advantages of owning a gold mining ETF instead of individual gold mining stocks. By owning a gold mining ETF instead of individual miners, investors significantly lower the risk of unexpected geopolitical instability having an impact on their holdings.
Which gold mining ETF is best?
The two most prominent gold mining ETFs are the Market Vectors Gold Miners Index ETF (NYSEARCA:GDX), and the Market Vectors Junior Gold Miners ETF (NYSEARCA:GDXJ). Both of these ETFs provide investors with the desired diversification. However, for the reasons mentioned here, I prefer GDXJ.
Conclusion
The military coup in Mali highlights why investors should air on the side of diversification when it comes to investing in gold miners. Unfortunately, much of the world's gold is located in politically unstable regions. The location of gold has led to, and will almost certainly continue to lead to unexpected mining disruptions across the globe. Owning a gold mining ETF will reduce the risk of a geopolitical event causing massive loses for investors.
Disclosure: I have no positions in any stocks mentioned, and no plans to initiate any positions within the next 72 hours.