Recently, a hardware device retailer grew its P/E with buzz surrounding dividends and buybacks. No, I'm not talking about Apple (NASDAQ:AAPL). I'm talking about RadioShack (NYSE:RSH). Investors saw cash flow and an apparently cheap stock, and decided to buy the rumor, the rumor being that with dividends and share repurchase, RadioShack was an undervalued, reliable cash machine. But sober earnings guidance sent shares back to reality, with sales of iPhones messing up RadioShack's margins. Contrarians who sold the rumor did well.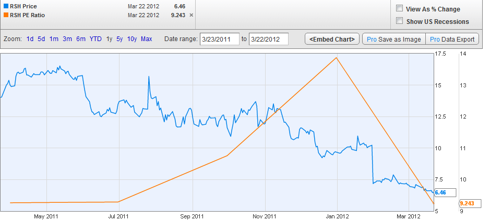 (Image from Ycharts, right-click to enlarge)
Rumors in the past, fears in the present, we recently got some news from RadioShack. A franchise agreement with Berjaya Retail Berhad will double the total number of international RadioShack franchises. Let's think about the big picture here:
RadioShack offers master franchisees a range of modular, flexible approaches to retailing: stand-alone, mall-based units or strip-center units, leased or built; kiosks; shop-in-shop units; sale or distribution of exclusive private brands in consumer electronics; and facilitated access to leading global brands and manufacturers.
The way I see it, RadioShack's profit margin comes from 1) the immediacy of its physical locations and 2) the vulnerability of customers who rely on RadioShack for technological consultation.
But a third added value is RadioShack's brand, which signals reliability. Domestically and abroad, kiosk operators, strip mall retailers, and shop-in-shop units attempt to rip off customers by selling them things like positive ion bracelets, overpriced cell phone plans, and overpriced cell phone accessories. By stamping RadioShack on the overpriced plans and accessories, hustlers can differentiate themselves. That's what this deal is all about: expanding the hustle. In the foreseeable future, RadioShack's Southeast Asia deal will result in a total of twice as many international hustlers across 39 countries.
My thesis with RadioShack is: its business model is inherently sustainable, for the above 3 reasons, and although the rumor overpriced the stock, fear is now underpricing it relative to news. I rated shares a "buy" as they fell below $7. Shares have slipped lower, but franchise expansion news should serve as a potent reminder to the market that RadioShack is still a fertile cash machine. So I'm uprating RadioShack to a "strong buy" for contrarian value investors at these levels. Note that RSH has broken its 52-week low.

Click to enlarge
(image from Google, right-click to enlarge)
For a variant perspective, I suggest Adam Levine-Weinberg's analysis, as he feels the stock could be a good buy around $6 or $5 a share. Unlike Mr. Levine-Weinberg, I don't believe RadioShack is a troubled company. It's a company with a few troubling qualities. See past its flaws, and look at the substance of what RadioShack does: sell technology like the new iPad and 50 Cent Headphones.
News is RadioShack is doubling franchise operations internationally. Rumors deserve a discount after what happened this winter. My suggestion is, at least for now, consider selling RadioShack rumors - and buying the news.
Disclosure: I have no positions in any stocks mentioned, and no plans to initiate any positions within the next 72 hours.