"I don't compare 'em, I just catch 'em." - Willie Mays
On January 10th, I published an article here on Seeking Alpha titled "Homebuilders, Lumber, and the Winter Resolution of 2012" in which I argued that should the move in homebuilder stocks be real and indicative of a recovery in housing, then lumber stocks likely would be a surprise winner in 2012. As it related to the "Winter Resolution," I specifically stated that "Homebuilders may be just another confirmation that the "Winter Resolution" idea whereby correlations break, volatility drops, and a trend asserts itself may actually be a bull."
Since then, lumber prices have risen, touching $300 recently as more and more investors believe in the message price has been sending since early October about a return of housing (or at least potential end to the downtrend). The stock side of the equation has done well, but with a caveat. Take a look below at the price ratio of the Guggenheim Timber ETF (NYSEARCA:CUT) relative to the Dow Jones Industrial Average (NYSEARCA:DIA). As a reminder, a rising price ratio means the numerator/CUT is outperforming (up more/down less) the denominator/DIA.
click to enlarge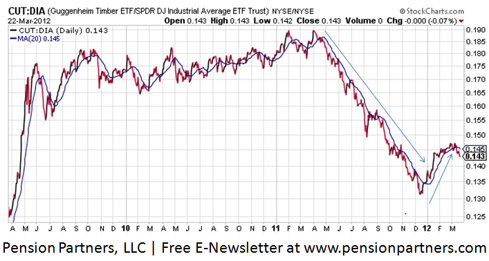 We can see that the ratio collapsed last year and began rallying in the middle of December with a decent period of strength for the bulk of 2012 so far. However, the far right of the chart does not look all too encouraging, with some weakness setting in for lumber stocks independent of rising lumber prices and the perception of a recovery in housing. Note that this is a global timber ETF - only about 38% of the fund is in U.S. lumber stocks.
As I have noted before, international stocks have in general been underperforming the U.S. in recent weeks, which could explain why the above ratio is beginning to turn over. When I look at U.S. stocks like PCL and WY, the trend in outperformance still looks intact.
In terms of the Spring Switch, I think the recent bearishness in emerging economies can easily reverse as investors switch to more risk-taking, which in many ways means positioning into "riskier" emerging markets. Should that happen, that means the Timber ETF would benefit from both rising Lumber prices alongside broader international stock market strength. The potential remains high for a real and sustained outperformance period for all things wood-related.
Disclosure: I have no positions in any stocks mentioned, and no plans to initiate any positions within the next 72 hours.