American Software Inc. (AMSWA) develops, markets, and supports an array of software designed to address: enterprise management and collaborating supply chain solutions around the world. It has three segments: Supply Chain Management; Enterprise Resource Planning; and Information Technology Consulting.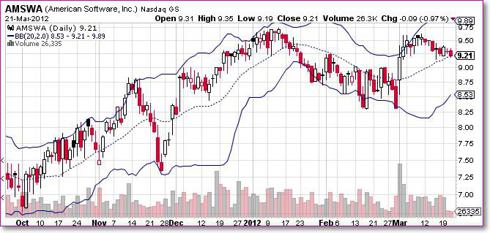 American Software has an average dividend yield of 3.91%, with a payout ratio of 65.85%. Two key ratios give this company a healthy grade with us. Not only does it provide a nice dividend, but it is a good value stock. With regards to the growth potential of this stock, we can look at the price/sales ratio. The lower the better, and as we compare it to the (Application Software) industry as a whole, it comes in at 2.47 to 7.59. So, in effect, it is a very healthy stock, set for future growth. If we want to look at the cash flow compared to its price, we have to see the price/cash-flow ratio. The lower the ratio, the more money it has to use. Comparing American Software to its industry, we have a strong showing for the company, as it comes in at 16.5 to 20.2 - almost 20% lower.
In my opinion, American Software looks like a strong little company, with good dividend payouts.
CA Inc. (CA) sells software that help automate IT tasks such as managing databases, backing up data, and checking for compliance with regulations such as security standards. Over 99% of Fortune 1000 companies and other governmental, educational, and corporate customers use CA's services.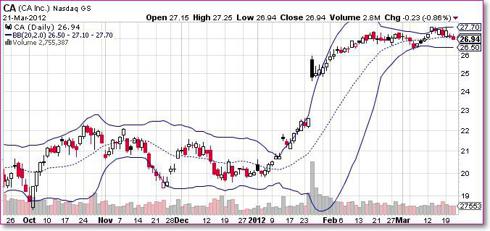 CA is another (Application Software) company that pays out an annualized dividend of 3.71% . Trading at 28.94 after a huge run in January that saw the stock spike on a gap from 22 to 25, it has held its ground and continues to inch its way up. This company is fundamentally strong. It recently expanded its dividend, has put together an aggressive buy-back program, and management continues to work on improving execution as accompany.
Analysts believe this is a good company to buy and hold for dividend investors eyeing the long term.